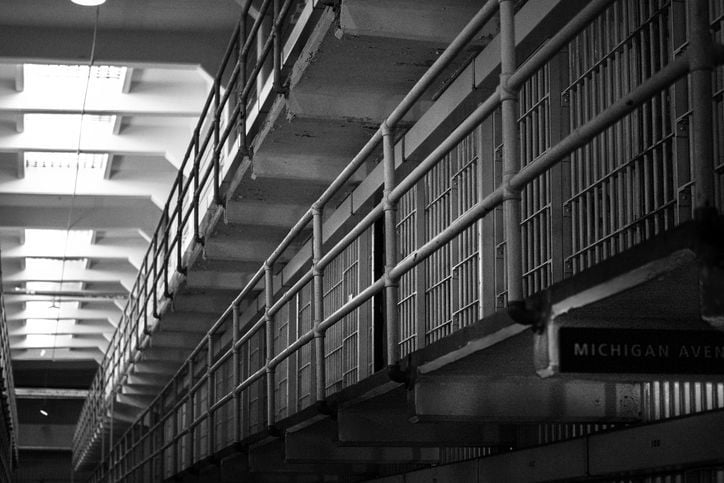 Ray Carpenter was beaten inside his cell at Crossroads Correctional Center near Shelby one summer night in 2016. He was attacked from behind by another prisoner, and when falling he hit his head on a bunk. On the floor, he says he was kicked for five minutes, including in the head — with no intervention from prison guards.
Early the next morning, he was taken to the prison medical unit where his head wound was cleaned and, after a few hours, stitched up.
And that's where Carpenter lay for five days, vomiting, his head swelling, dipping in and out of consciousness before he was taken to a medical clinic in Shelby.
At the clinic, he got a CT scan showing a hematoma on his brain and then was sent to Great Falls, where on the same day a doctor cut into his skull to remove the clot and discovered a blood vessel still bleeding, according to a lawsuit filed by Carpenter.
The 51-year-old Carpenter, who is on parole in Billings, now has post-concussive epilepsy, a speech delay, dizziness and headaches, among other difficulties.
It's unclear whether those problems are the result of the beating, the delay in having surgery, or both.
Carpenter is suing the prison; its contract medical providers; owner CoreCivic; and Robert Todd Kelsey, the inmate who allegedly attacked him. He seeks an unspecified amount in damages.
The defendants have not yet responded.
Kelsey is awaiting trial in Toole County District Court on charges of assault with a weapon and criminal endangerment in connection with the attack on Carpenter.
Carpenter was serving eight years in prison for witness tampering, according to Yellowstone County records. He was accused of threatening his girlfriend, stalking her and telling her to drop partner or family member assault charges against him. He admitted the tampering charge and prosecutors dropped the other charges.
Carpenter's allegations
In court filings, Carpenter says he was at "substantial risk" inside the prison because he had instigated an investigation into a sexual relationship between another inmate and a prison employee. The lawsuit does not elaborate or name the employee or inmate involved. Carpenter's attorney did not respond to multiple interview requests.
On June 2, 2016, Kelsey allegedly hit Carpenter in the back of the head with a lock inside a sock and then tackled him, the complaint says.
Kelsey continued to assault Carpenter and then left the cell at one point and returned, continuing to kick Carpenter in the head and torso. Carpenter said that during the beating he lost his sight and control of his arms and left leg.
After the beating, Carpenter's unnamed cellmate eventually helped him into his bunk, where he "passed out," according to the complaint. Carpenter awoke at 2:30 a.m., vomited multiple times, went to the medical unit and had the wound in the back of his head cleaned. He said he was told to rest.
At 9 a.m., a different prison nurse saw Carpenter and concluded he had a severe concussion and a brain bleed. She told the nurse practitioner on staff she believed Carpenter needed to go to the hospital, but the nurse practitioner — Peter Molnar — said instead he would sew the wound shut, according to the complaint. He did. Carpenter said he was still vomiting intermittently.
During the next five days, Carpenter rested in the medical unit as his head swelled and he continued to lose consciousness.
By June 8, Carpenter's condition had deteriorated, the complaint says. He was sent to the Marias Medical Center in Shelby, where he got an emergency CT scan that showed a large hematoma on his brain, as one of the prison nurses had suspected.
Carpenter was sent that same day to Benefis Health System in Great Falls for surgery to remove the hematoma and to address damage to Carpenter's skull. The operating doctor found a vessel in the brain that was still bleeding, the complaint states.
After recuperating for another five days, Carpenter was returned to Crossroads. In March, he was released on parole.
Carpenter now suffers from post-concussive related epilepsy, memory loss, speech difficulties, headaches, dizziness, impaired vision, ringing in his ears, trouble concentrating and anxiety, the complaint said.
Claims against CoreCivic
Carpenter is suing CoreCivic, which owns the Shelby prison; Molnar, the nurse practitioner who declined to immediately send Carpenter to a hospital; eight other employees of CoreCivic who Carpenter says should have intervened; and Correctional Medical Associates Inc., the prison's contract medical provider.
He is seeking an unspecified amount in punitive and compensatory damages to cover his past and future medical costs, pain and suffering, lost wages and attorney fees.
Carpenter also argues the state constitution's $1.5 million cap on awards from suing a public body contradicts other sections of the state constitution, including its right to full legal redress.
A spokesman for CoreCivic said the company had been served with the lawsuit but would not comment on active litigation. 
CoreCivic is the frequent target of lawsuits.
In March, a Tennessee widow filed a wrongful death suit against the company over her husband's death, saying he was beaten by other inmates at the Hardeman County Correctional Center and found unconscious but not taken to a hospital for three hours. He died from bleeding from a severe head injury, according to the lawsuit.
In April, three inmates of a CoreCivic facility in Georgia sued, claiming the company forced them to work for as little as a dollar a day to pay for toilet paper and other necessities.
In 2014, the company — then called Corrections Corporation of America — agreed to pay Idaho $1 million for violating staffing provisions of its contract with the state. The company admitted falsifying records by claiming thousands of hours of work by prison guards, while those positions had actually been left vacant for months.
Sign up for our Crime & Courts newsletter
Get the latest in local public safety news with this weekly email.