A 55-year-old Roundup man was hospitalized with a gunshot wound to the leg following a shooting west of downtown Billings early Sunday. No arrests have been immediately made, according to Billings police.
The victim was transported by ambulance to St. Vincent Healthcare, Sgt. Bret Becker said at the scene, speaking at about 3:30 a.m. He was shot once in the hip area, and his injuries are not believed to be life-threatening.
The shooting took place at a home on the 800 block of Terry Avenue. It was reported at 2:52 a.m. by the shooting victim, according to Becker.
Police were looking for a person of interest in connection with the shooting, but did not immediately know his name or place of residence, Becker said. The man left the scene before police arrived.
Police believe he is a male with longer hair, wearing a tan t-shirt and blue jeans. A subsequent press release stated the suspect is Hispanic and in his teens.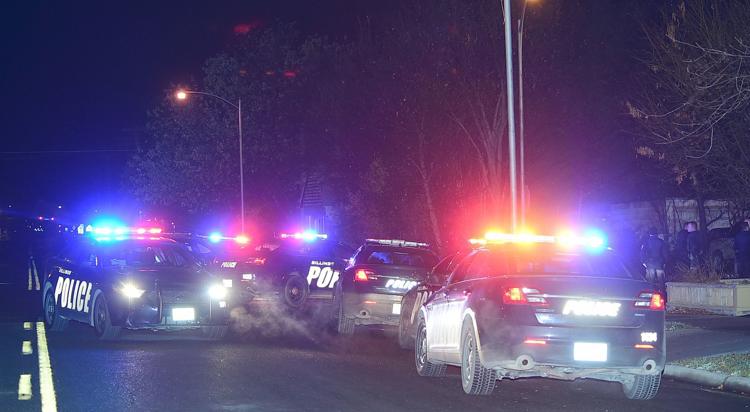 A handgun used in the shooting had been fired at least two times, Becker said. The victim was shot while on the house's front porch, he said, and shell casings indicated the shooter was standing near a Cadillac Escalade parked in the driveway when the gun was fired.
A woman in her early 20s was sitting in the SUV when police arrived but had not been cooperative, he said. The owner of the house was home at the time and had allowed police to search his house, he said.
The other man, who police continued to search for, had arrived at the house with the victim in a Chevrolet Impala prior to the shooting, according to Becker.
It was unclear what prompted the shooting, although Becker said some drug paraphernalia had been found.
Police do not believe the incident poses any danger to other residents in the neighborhood.
"They all knew each other here, it was some sort of dispute" between them, Becker said.
Ten police cars were parked around the intersection of Terry Avenue and Eighth Street West, and police could be seen searching the house and front yard with flashlights and peering into the two vehicles.
Becker said police would likely have to wait for a warrant to search the two vehicles.