A former high school athletic trainer continued his decades-long system of sexual abuse in Miles City for a year or longer after officials terminated him following a report of his misconduct, several alleged victims told The Gazette Saturday.
The trainer is accused of sexually assaulting as many as 100 boys during his nearly 30-year tenure at Custer County District High School beginning in the early 1970s.
A civil lawsuit filed recently names the school, the Miles City Unified School District, and John Does A-Z representing as yet unnamed school and athletic officials who may have known of Jensen's alleged sexual abuses and failed to stop him.
Fred Anderson, a Great Falls legislator who was principal at Custer County District High School from 1982-2002, told the Great Falls Tribune the district first heard the misconduct allegations in 1998 and that the superintendent subsequently let Jensen go.
Anderson declined to speak with The Gazette.
Montana law requires all school employees who suspect abuse to report it to the state Department of Public Health and Human Services. Anderson said after he told the superintendent he doesn't know what happened.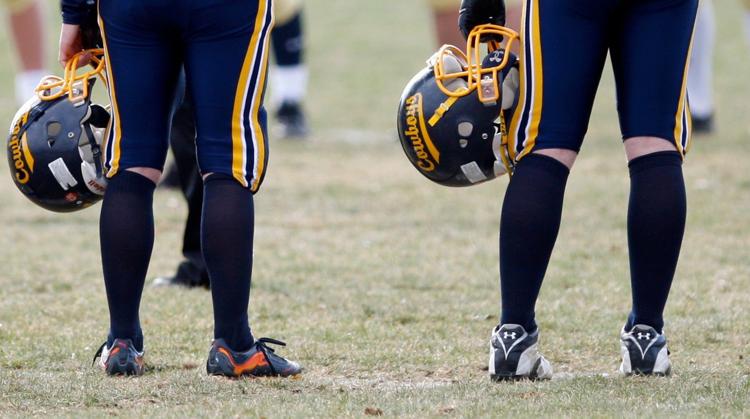 The 'Program'
Jensen had developed an elaborate grooming scheme he called "the Program," a system he promised would enhance the athletic performance of the boys, some as young as age 14, by boosting their strength, fitness and testosterone levels.
To increase their testosterone, Jensen convinced the boys he would need to masturbate them, according to a lawsuit.
Jensen, who has no professional medical certification, also performed school-mandated physicals on the young athletes. The physicals and other "treatments" in the "program" included Jensen fondling some of the boys' genitals and digitally penetrating their anuses, the suit alleges.
Several victims told The Gazette they were led to believe Jensen was a doctor, and because they were young and many were sent to Jensen by their coaches, they trusted that his methods were legitimate. The victims say in the suit they were also warned by Jensen to keep the athletic "program" secret because it was so successful it could be seen as an unfair advantage by other schools.
The "treatments" were performed in a training room Jensen kept in a coaches' office in the high school boys' locker room. The coaches' office has a large window that overlooks the boys shower bays. Jensen also had a training room at his home and that's where he continued to molest boys after he was terminated, several victims allege.
After Jensen was fired
School officials apparently told no one in Miles City why Jensen was let go, including law enforcement, coaches, parents, and the young athletes. That allowed Jensen to tell the boys remaining in "the Program" that he had retired and would continue his "treatments" at his home, several of his victims told The Gazette.
"They (school officials) had actual knowledge of what was going on. They knew about the problem and that makes them an accessory. That makes them at least as guilty as Jensen," said C.D., one of the victims.
The Gazette has a policy of not naming the victims of sex crimes. For this article, the victims have been given arbitrarily chosen initials. The newspaper knows their names and has verified their identities and details of their allegations with their attorneys.
A.B., another alleged victim said, "Who was the school protecting by letting him go away quietly? It wasn't us. It wasn't the kids."
After Jensen was let go, he told the boys still in the program that he had retired and that they would have "to keep up with the program so we wouldn't fall behind," one victim said. "How would we know he was fired?"
"Jensen would tell us to pop by his house whenever we were free to continue the program. He would say, 'I'm home all the time now that I'm retired so just come by," A.B. said.
He said when he did go by, there were always five or six young athletes waiting for their turn.
You have free articles remaining.
Victims were groomed to not question Jensen's methods, to stick with "the Program," and to keep quiet about it, the lawsuit alleges.
When reached by The Gazette, Jensen admitted to masturbating boys but denied other allegations.
"Something that I'm having a hard time dealing with is that there was no adult intervention after (Jensen) was fired," said H.I., another alleged victim. "There wasn't a peep, which really enforced that what he was doing wasn't wrong."
Mandatory reporting
Anderson's initial admissions raise the question of whether the school followed the state's mandatory reporting requirement for child abuse.
The 1997 Montana Code Annotated has similar reporting requirement to the current law.
It requires action from educators who have reason to suspect abuse or neglect: "School teachers, other school officials, and employees who work during regular school hours," who "know or have reasonable cause to suspect, as a result of information they receive in their professional or official capacity, that a child is abused or neglected ... shall report the matter promptly to the department of public health and human services or its local affiliate."
It is unknown whether law enforcement or the state department of health and human services were ever contacted. 
A report from the Department of Public Health and Human Services explains the importance of educators' role in reporting.
"Since schools are one of the few places where children are seen on a daily basis over extended periods of time, school staff have an opportunity to compare and contrast unusual behavior to behavior considered normal," it says. "In addition to the legal obligation, the moral and ethical obligations are compelling reasons for school personnel to take an active role in reporting suspected child abuse and neglect cases."
Anderson told the Tribune he was "sickened" by reports of the extent of systematic abuse.
He told the newspaper the school's Vice Principal, Jack Regan, a longtime Custer County educator and coach, received a complaint from a parent about alleged misconduct by Jensen.
The two shared the complaint with athletic director Ted Schreiber and then forwarded it to the superintendent, Anderson said. It's unclear what happened from there.
The 1998-99 Office of Public Instruction Directory of Schools lists Robert Richards as the district superintendent, a position he held for more than a decade. Attempts to contact Richards, Schreiber, and Regan were unsuccessful Friday.
"I honestly don't know what happened after that," Anderson told the Tribune.
Current school board 'concerned'
Montana's current law requires mandatory reporters to call the DPHHS as soon as possible. And it doesn't limit reporters when more than one knows about potential abuse.
Yellowstone County Deputy County Attorney Molly Rose Fehringer, a board member for the Children's Alliance of Montana and the prosecutor for the Yellowstone Valley Children's Advocacy Center's Multi-Disciplinary Team, addressed the general law in an email.
"Even if the mandatory reporter believes another mandatory reporter has made a report, the law still imposes a mandated report on each person with the knowledge or reasonable cause to suspect," she wrote. " ... Failure to report can result in civil liability for damages proximately caused by the failure to report, and a person who purposefully or knowingly fails to report or prevents another from doing so can be charged with a misdemeanor offense under (Montana law)."
School board chairman Robert Wagner read a statement at Thursday's school board meeting.
"We are, naturally, extremely concerned about the well-being of the men who filed the Complaint. The allegations made in the Complaint are horrific, wholly unacceptable, and heartbreaking for those of us who dedicate our lives to children," he said. " ... Our District is working around the clock to get to the bottom of exactly what has taken place. This is an exceptionally difficult process, given that these acts took place 20, 30 and 40 years ago. But to the extent the District has any information, we are dedicated to finding it. I can say that coaches and administrators who were present at the time are in shock at the allegations... And as the facts of the past will affect our educators today, we cannot jump to conclusions and must allow the legal process to play out."