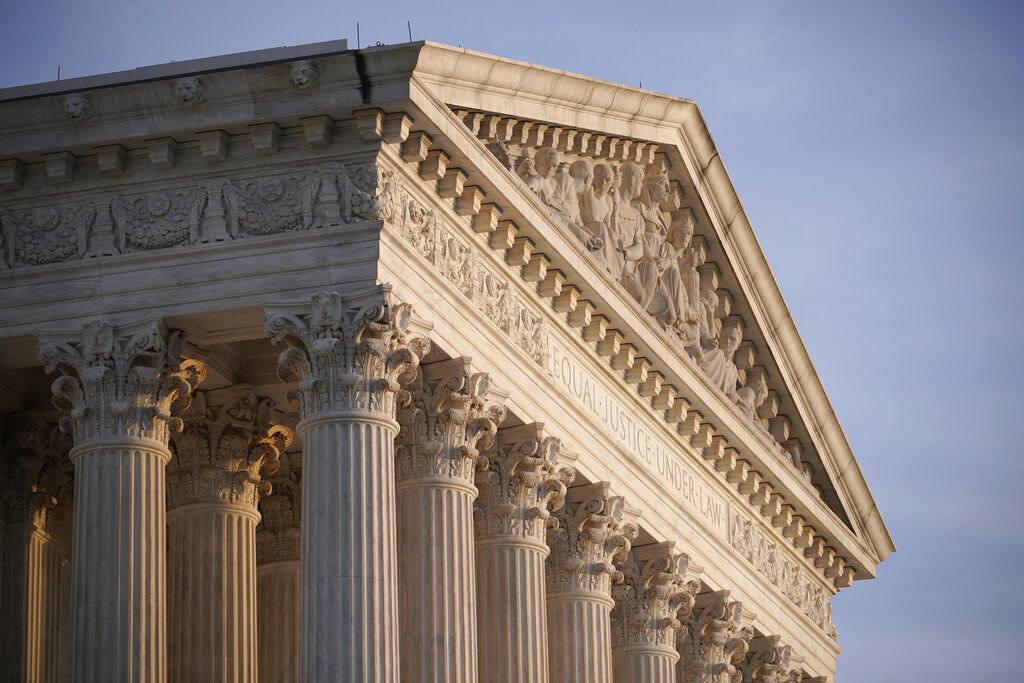 The U.S. Supreme Court on Tuesday unanimously held that a Crow tribal police officer had the authority to detain and search a non-Native suspect on a highway traversing through the reservation, a ruling advocates say is a win for treaty rights and public safety in Indian Country.
"No one can remember the last time that Indian Country got a unanimous victory in the Supreme Court," said Jennifer Weddle, attorney for the National Congress of American Indians, which represents of hundreds of tribes and more than 1 million tribal citizens. "It's really emotional."
The opinion reverses a ruling from the 9th Circuit Court of Appeals, which said tribal police have a higher bar to clear than other law enforcement agencies in order to stop and search non-Natives within the confines of tribal lands.
Tuesday's opinion from the U.S. Supreme Court, written by Justice Stephen Breyer, doubted the workability of the 9th Circuit's new standard. The U.S. Attorney's Office said in briefs that roughly 3.5 million of the 4.6 million people living on Native American reservations are non-Natives, while the National Indigenous Women's Resource Center said in its amicus brief more than 70% of residents on several reservations are non-Native. This makeup in population, the Supreme Court wrote Tuesday, would create a frequent problem of interpreting whether or not someone was obviously committing a crime.
The high court noted previous rulings have held that a tribe retains inherent sovereign authority to address conduct that threatens the health and welfare of the tribe.
"To deny a tribal police officer authority to search and detain for a reasonable time any person he or she believes may commit or has committed a crime would make it difficult for tribes to protect themselves against ongoing threats," Breyer wrote.
Justice Samuel Alito wrote a concurring opinion, stating his determination that the ruling would have limited application to a public roadway moving through the reservation.
The case, United States v. Joshua Cooley, stemmed from a 2016 meth bust on a highway crossing through Crow tribal lands that landed in Billings federal court. Cooley, who has denied the charges, argued prosecutors had conflated tribal law enforcement's ability to detain and transport non-Native suspects with the ability to police them.
More specifically, Cooley's attorneys contended that Crow tribal police officer James Saylor didn't have the authority on the U.S. highway, technically off tribal lands yet within its borders, to temporarily detain and search Cooley's vehicle. Federal court filings state the search turned up methamphetamine, rifles, a pistol and "wads of cash."
U.S. District Court Judge Susan Watters in Billings granted a motion to suppress the evidence from Saylor's search. The 9th U.S. Circuit Court of Appeals likewise said tribal law enforcement does hold some authority to help enforce state and federal law against non-Natives on non-reservation lands, but only if they have "apparent" or "obvious" evidence of a crime.
"That line-drawing … was just not something you want a law enforcement officer to do on the fly in the middle of the night in a dangerous situation," Acting U.S. Attorney for Montana Leif M. Johnson told the Montana State News Bureau in a phone interview on Tuesday. "From our perspective, this (Tuesday opinion) gives them the tools to deal with people like Cooley, drug dealers who are working the reservation."
Authorities with the Crow Tribal Police Department were not available Tuesday for comment on the opinion. The University of Montana Native News Service reports the Crow Nation Tribal Police force disbanded last November.
Attorneys for Cooley did not immediately respond to an email seeking comment.
The U.S. Supreme Court seemed poised to rule in favor of tribal police authority back in March, when the court heard oral arguments on the suppression argument. Weddle, who also filed briefs in support of tribal police authority, said Tuesday the Supreme Court opinion that emerged nailed several important points raised by the former U.S. attorneys and the National Indigenous Women's Resource Center in their amicus briefs regarding the Violence Against Women Act, tribal jurisdiction and the accompanying statistics that 1 in 3 Native American women have been sexually assaulted.
"It comes at a time when the need has never been greater and the tribes are fighting for the right to protect everyone," Weddle said. "And I think especially for Montana and tribes throughout the Rocky Mountains and Great Plains who try to protect their citizens in some of the most geographically remote areas of the country, this recognition of how tribal law enforcement officers put their lives on the line to protect everyone is especially poignant."