One in five Billings teens knows an adult who's sold drugs sometime in the past year, a public health consultant told stakeholders gathered at RiverStone Health on Friday.
"Talk about access, right?" said consultant Katie Loveland.
Loveland was citing a recent survey taken in the Billings schools by eighth-, 10th- and 12th-graders.
Loveland is wrapping up a final report on her study of drug and alcohol abuse problems in Yellowstone County, which is billed as the second prong of a federal effort to crack down on violent crime.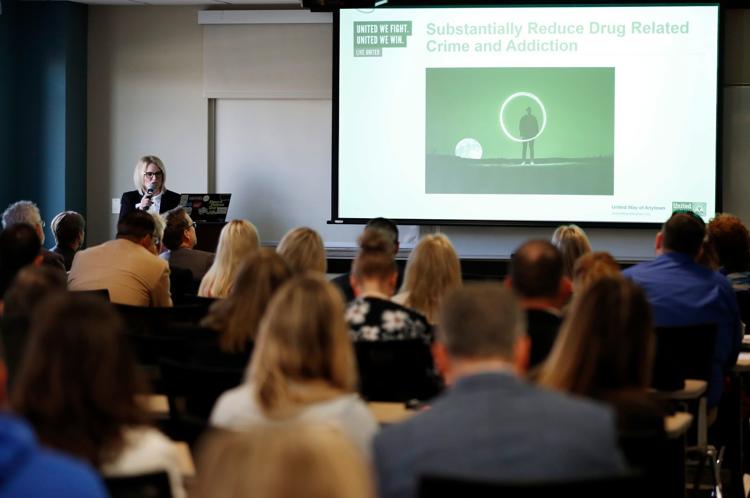 That work, called Project Safe Neighborhoods, has targeted meth trafficking, armed robberies and felons in possession of a firearm in a broader effort to reduce violent crime.
Loveland said it's necessary to address addiction if the community wants to cut crime. And addiction starts early, she said. 
Out of a recent focus group of 10 patients receiving addiction treatment services at Rimrock, Loveland found that all but one began abusing drugs or alcohol between the ages of 10 and 12.
You have free articles remaining.
Adverse childhood experiences, such as being placed in foster care, increase a person's risk they'll abuse drugs or alcohol later in life, Loveland said.
Loveland's final report is expected June 30, and a related strategic plan is scheduled to be complete by December.
Loveland's work is facilitated through United Way of Yellowstone County, which partnered with U.S. Attorney Kurt Alme's office to form the Yellowstone Substance abuse Connect Coalition. The group has members from more than 50 area nonprofit, government and service agencies. 
The work is funded through a federal drug prevention grant set to expire in December.
Kristin Lundgren, project lead and director of impact at United Way of Yellowstone County, said additional federal grant requests have been submitted to continue the work.