The three locations of the Crow Tribe's Head Start programs barely functioned last school year, leaving 3 and 4-year-olds without a resource for everything from academic and social growth to vision screenings to several square meals. 
On a reservation where American Indian students are less likely to graduate or go to college and more likely to end up in jail or die young than their white peers, the loss of a program that research shows can help those outcomes looms large.
A recent federal report shows that the program's future is in jeopardy. It criticized almost every aspect of the program, from the safety of buildings to the reporting of finances, including:
The tribal chairman — presumably A.J. Not Afraid — directing "individuals to use $131,000 of Head Start funds to pay for non-Head Start related costs such as a Rodeo for $11,000, a Pow Wow for $40,000, and Racing for $40,000," in an August 2018 email.
Having "not reconciled its bank accounted used by the Head Start program since 2016."
Roofs at the Pryor and Crow Agency centers "in need of immediate repair" and a litany of other facilities problems.
Discrepancies in time sheets and employment records, including the program saying "only 14 employees were working the months of July and August 2018; however, 35 employees were included on the General Ledger report used for requesting reimbursement."
Accusations that Not Afraid misled federal officials about the programs' shuttering last school year.
Jeanine Pease, a former director of Head Start for the tribe who now works at Little Bighorn College, called the closure and imperiled future "a huge tragedy" for young children and their families.
"The 3-year-olds have had no services whatsoever," she said. "There's really no one to pick up the slack."
Between centers in Crow Agency, Pryor and Lodge Grass, the program is funded to serve more than 270 students, plus 30 more in other settings. The program was fully enrolled in the 2017-2018 school year, according to federal Head Start information, but only enrolled 237 students the year before.  
Calls to a cell phone for Not Afraid on Friday went unanswered, and the number's voicemail was full. Repeated attempts to contact tribal Head Start officials were unsuccessful. 
A spokesman for the Administration of Children and Families, the federal agency that oversees Head Start, responded to questions about the state of the Crow program in February and June by email.
"ACF is very gravely concerned about the lack of services and has conveyed these concerns to Chairman Not Afraid," said the spokesman, Patrick Fisher. "There are likely many factors internal to the tribe contributing to the lack of Head Start services."
Murky future
In February, Fisher said that the ACF was examining the tribe's grantee status, and that ACF was unable to answer whether the Crow Head Start program would be operational in the future. In June, Fisher said the tribe was still within the corrective action period from the April report, and that no further action could be taken until that period passed and ACF performed a follow-up review and issued an official report.
More than 25,000 children were served by Head Start programs classified as American Indian or Alaska Native, according to the most recent federal data. More than 8,000 families received services through those programs, like parenting education, mental health services, housing assistance and health education.
The report also found that children improve their social skills, and develop more positive approaches to learning skills like attention, persistence and independence.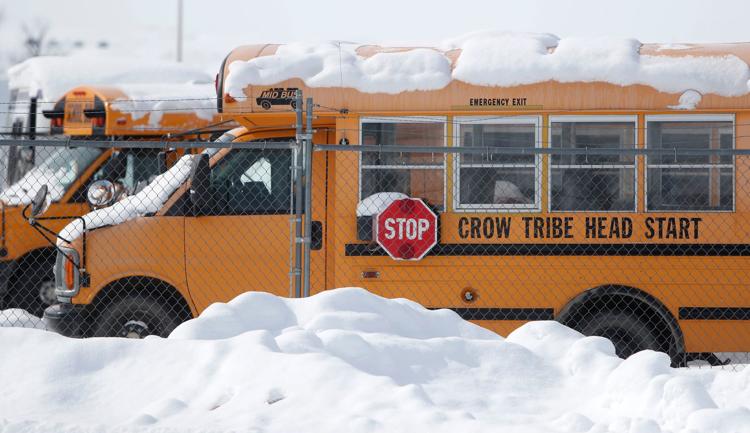 But despite the improvements, children still lagged behind national averages on the assessments. Achievement gaps appear early in data in K-12 schools, and snowball into measures like graduation rate as students age.
Pease also pointed to additional services offered by Head Start, like health screenings and parenting classes. 
Exactly how the Crow Head Start program never launched last year is unclear, but the federal money spigot was turned off quickly.
"ACF released a small amount of funding this year. ACF was unable to release full funding because the tribe has not submitted required documentation necessary for the release of additional funds," Fisher said.
According to the April report, the tribal government "was delinquent" submitting financial reports between June 2016 and July 2017. The feds put the tribe on "cost reimbursement" in June 2017 and required additional reporting, almost all of which was submitted late.
The tribe also didn't submit its yearly audit for the 2017 fiscal year and failed to meet its 20 percent local match in funding.
Reporting continued to be late, missing or incorrect, and "reported program expenditures did not agree to the General Ledger on many submissions."
The report doesn't state exactly when funding was cut off. Pease, who said she had no specific knowledge of the current situation, said that generally federal administration for Native American programs is "very strict" about how money is used; if reporting dates are missed, accounts can be frozen.
Speaking in February, she suspected that "irregularities in management of grant" led to the program's closure that school year.
The program's leadership has also seen significant turnover in recent years. Reports addressed to the tribal government in 2016, 2017 and 2018 show three different executive directors and three different Head Start directors in the time span.
You have free articles remaining.
Keep reading for FREE!
Enjoy more articles by signing up or logging in. No credit card required.
The federal report cites additional "frequent changes in key personnel without approval from the Regional Office in both Finance Manager and Acting Child Financial Officer positions" on seven different dates in 2018 and 2019.
"Such frequent changes in key personnel and not receiving prior approval did not allow the grantee to conduct its financial activities with a sufficient quality of internal controls or oversight," the report says.
Not Afraid, the tribal chairman, cited turnover as a source of problems for the Head Start program in a February radio interview amidst a power struggle over his seat. 
He said that money diverted to Crow Fair from Head Start was compensation for an earlier use of Crow Fair money to bolster Head Start. However, the federal reports cites letters received from Crow community members that said teachers hadn't been paid since May 2018, and that Head Start utilities hadn't been paid. The report says the program hadn't submitted food service reimbursement since July 2018. 
On the Crow Tribal Head Start Facebook page, posts stand as a record of halting efforts to get the school year going. 
Through August, September and October, several posts about health screenings and enrollment seem to indicate preparation for opening. But a post on Oct. 21 says that the start date is postponed. Picture day was scheduled by November, but no start date was set. 
At least one classroom was launched on Dec. 17, but only two days later a post warned of an "immediate release" because of a blocked sewer drain. 
The most recent post on Jan. 13, colored red and white like a stop sign, said "Head Start will not be starting session until further notice!"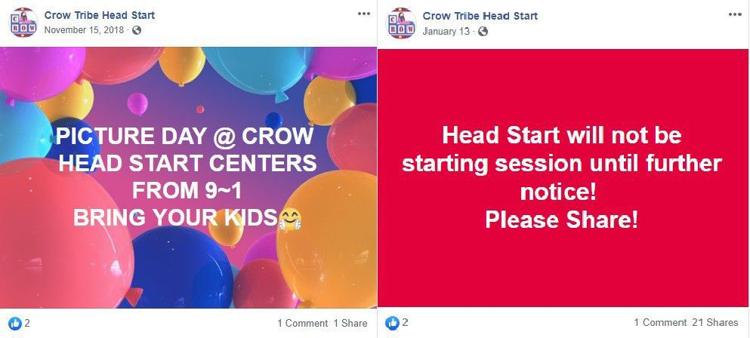 Parents have few other places to turn. A public preschool program in Hardin, just north of the reservation, said they saw an increase in inquiries but had no additional slots to offer. A Crow-language immersion preschool began in 2018, but has only one classroom. There are a handful of preschools run by private schools, but they already typically have full classrooms. 
Relationship with feds
Several tribal programs have had a complicated history with Head Start.
A 2010 review of consultation with tribal programs across the nation illuminated a wary relationship with regional offices and concerns about communication and turnover among federal staffers. Tribal officials had widespread concerns about the difficulty of meeting local funding match requirements (then 15 percent) and coming up with their own money for facilities improvements to meet federal requirements. They worried about meeting new program standards, and struggled to attract and keep qualified teachers.
No one from the Crow program participated in the consultation sessions, but three officials from other Montana tribes did.
In 2014, Ginger Goes Ahead, then the Crow Head Start program manager, testified before the Senate Committee on Indian Affairs. She framed Head Start as an educational cornerstone, but also an economic one. She said that it was the tribe's second-largest employer, at 70 people.
"An opportunity and access to early childhood educational settings are crucial in changing mindsets, lives, communities and families within the reservation," she said.  
She said that the tribe had been placed in the feds' designated renewal system, where programs have to re-apply for their grants.
Goes Ahead also questioned evaluation methods, arguing that they can clash with Crow culture.
"This scoring system does not take into account the Native culture and imposes ideologies of mainstream non-native ways of instructing students of this age," she said, according to the congressional record. "Two of the four domains; Classroom Behavior and Instructional Support, does not take cultural communication into account."
Her comments also hearkened back to the boarding school era, endorsed by the U.S. government at the time, which encouraged the obliteration of the culture of American Indian tribes.
"Crow Head Start students are a product of ancestors that were once educated in boarding schools against the will of the parents, thus creating distrust of public educational systems," she said. "The seed that was once planted has reaped generations of Crow people who have not only discouraged obtaining an education but also, the importance of attendance. This misunderstanding can only be changed continually, starting with young parents."
"All of the directors expressed their belief in the important role that Head Start programs play in providing information and support to parents involved in nurturing and raising their children," the authors wrote.
They also found that the directors also saw Head Start as a vehicle for teaching and preserving tribal culture. 
The paper also looked at barriers to operating effective programs.
"All the participants acknowledged the sensitive nature of their relationships with tribal council and policy council members. A retired director was frank, 'Politics. One word has so much influence on every situation, every outcome. You can't live on the reservation and not know this; it is a fact of life.'"