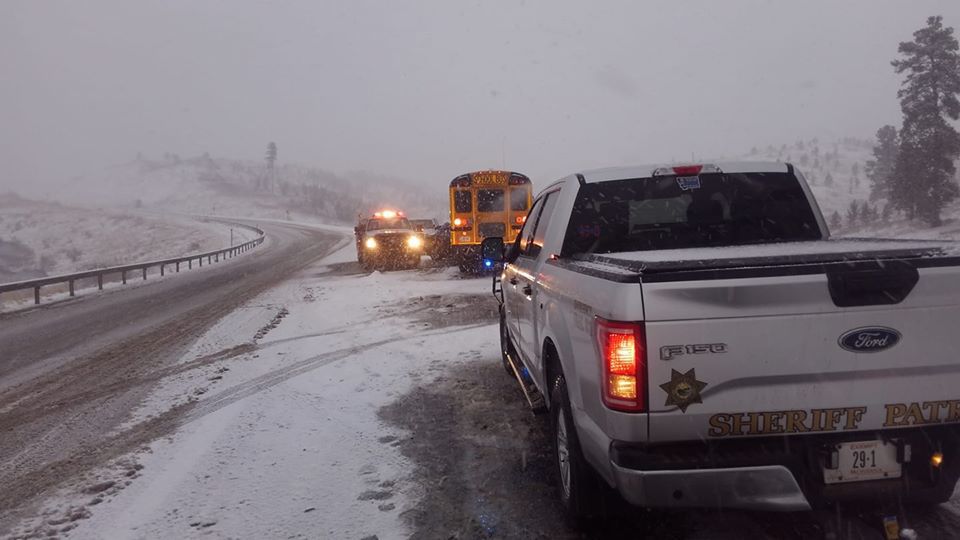 The two people who died Thursday after a crash involving a school bus and a car on U.S. Highway 212 between Lame Deer and Ashland have been identified. 
The victims are Aubree Elizabeth Nielsen Wallery, 28, and Steven John Wallery, 59, a father and daughter from Billings, according to the Rosebud County Coroner's Office. The pair, both traveling in a passenger car, were pronounced dead on scene. 
The crash happened at about 6:46 a.m. on U.S. Highway 212 at about mile marker 51, according to a crash narrative from the Montana Highway Patrol. 
Aubree Wallery was driving east on Hwy 212 in a Mitsubishi. The car was driving on a downhill slope curving right when it crossed over the center line and collided with a school bus that was driving west.
You have free articles remaining.
The car and bus came to a rest on the westbound lanes. The bus had three occupants. A bus driver, student and bus monitor were transported for medical treatment, but that was a precautionary measure, Rosebud County Sheriff Allen Fulton said Thursday. According to the narrative only one person in the bus was injured from the crash.
Aubree Wallery was wearing a seat belt at the time of the crash. Steven Wallery was not, according to the narrative.
The roads were icy. Speed on the part of the Mitsubishi is considered to be a factor in the crash. Drugs or alcohol were not suspected.
Agencies that responded to the crash include Ashland Fire, Ashland QRU, the Bureau of Indian Affairs, Lame Deer Ambulance, Lame Deer Disaster and Emergency Services, the Montana Highway Patrol, Montana Motor Carrier Service, the Rosebud County Sheriff's Office and the Rosebud County Coroner.
This crash was the first of two fatal crashes on Thursday. In Yellowstone County a 49-year-old man was killed on Billings' far West End after his car drifted into the wrong lane Thursday evening. The man over corrected and rolled his truck several times into a ditch. He died in a local hospital. 
Thursday's fatalities bring the death toll Montana's roadways to 10 since the first of the year. This time last year saw 11 fatalities, according to MHP's crash data.