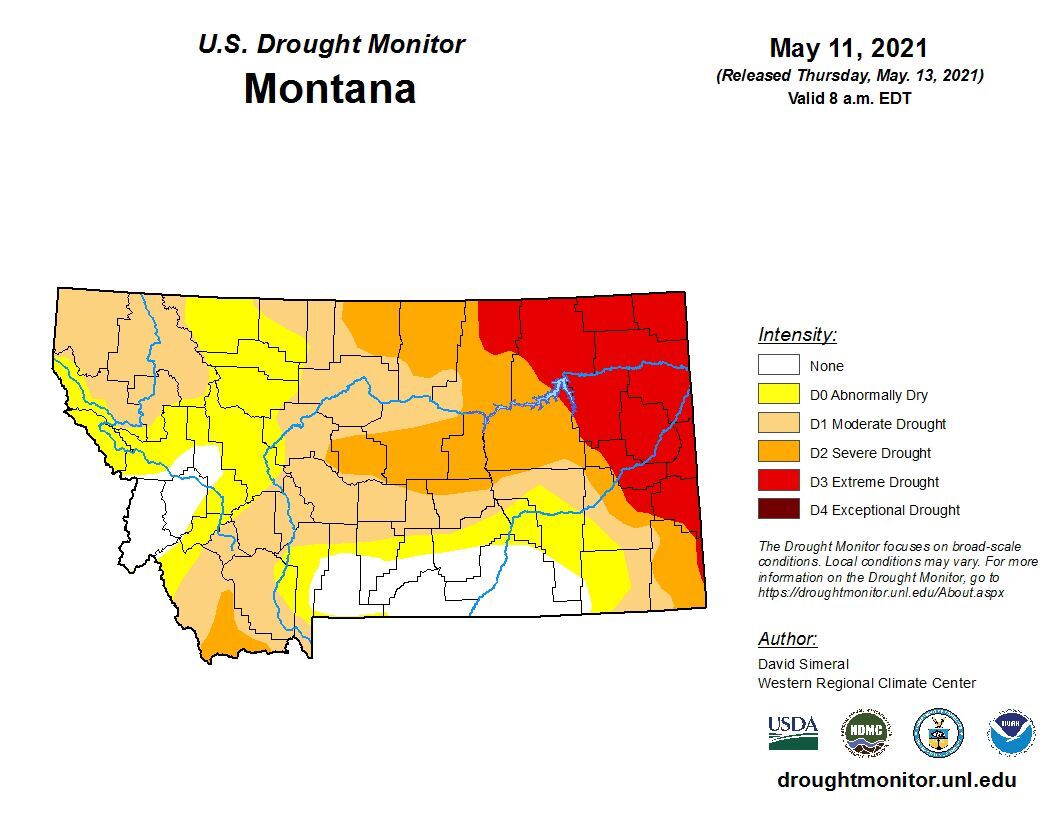 A little May soil clenched into the palm of a calloused hand can tell a farmer plenty about the state of spring and whether a spattering of recent storms have undone the spell of a very dry winter.
It has snowed three times since Hi-Line farmer Adam Carney started seeding 20 days ago. His tires are leaving ruts going in and out of the field, but the soil in his hand tells him the moisture stops a few inches below the surface.
"It's still dry when I run my hand, you know. It will hold and make a ball when I grab dirt, but you can tell the moisture I did receive, there's still dry dirt if you dig deep enough," said Carney, who farms west of Scobey near Peerless.
Montana's spring is starting out dry. The U.S. Department of Agriculture crop progress report for the week ending May 9 has 88% of Montana in an abnormally dry condition and 34% in a state of severe to exceptional drought.
The water elevation at Fort Peck Reservoir is 4 feet lower than it was at this point a year ago. The water level of the Eastern Montana reservoir stems from a Western Montana problem, where the Upper Missouri River Basin recorded its ninth driest April in 123 years.
The Ruby River in southwestern Montana was closed to fishing for 14 miles on May 14 until further notice because of low flows. Low flows make fish in the river more susceptible to disease and death. Unless stream flows are better than 20 cubic feet per second, the Ruby will stay closed until Sept. 15 for the stretch between the Beaverhead River confluence to and Duncan District Road.
Snowpack in the Jefferson River drainage, where the Ruby River flows, is 62% of the 40-year average. In the neighboring upper Madison River drainage, snowpack was 68% of average.
Carney's northeast corner of Montana is experiencing the driest conditions. The 10-county region, which produces most of the state's durum and roughly 45% of its spring wheat, is part of a dry area stretching from Whitewater, Montana, east to Grand Forks, North Dakota, some 500 miles away.
Daniels County where Carney farms is experiencing its 16th driest year since 1894. He raises spring wheat, durum, peas and lentils
There's no complaining about dry weather, Carney said. All a farmer can do is live from raincloud to raincloud and hope they're timely from now into summer.
In Richland County, the extension office is advising ranchers to plan ahead for summer pastures that don't offer cattle much to eat. At the end of April, the office hosted the Montana State University "Ranch Cats," a group of livestock, range and forage experts.
There is still time for May and June moisture to turn things around, but Extension Agent Tim Fine said ranchers need to be familiar with the precipitation received so far and understand how much rain would need to fall in the next month and a half to bring the region back to normal moisture levels.
"Fortunately, we got about an inch of rain, depending on where you are in the county, this past weekend, but that's the most we've had in a long time," Fine said. "It helped, but didn't necessarily pull us out of the really dry category."
It's a good time to be thinking about where to get hay if conditions get worse and whether it makes sense to wean calves early. Northeast Montana is still looking pretty beige, lacking the green up that comes from normal spring moisture and decent subsoil moisture from winter snow. Here the Missouri, Milk and Yellowstone rivers thread a green irrigated hem around the otherwise dry prairies even in normal years.
There are miles of dry range where the only water available for livestock is the occasional dugout. Managing those conditions takes careful planning.
"It's better to develop your plan, your backup plan and backup plan ahead of time so you can decide 'okay, what kind of strategies can we implement now?'" Fine said. "If things don't get any better, what can we do to that may help mitigate some, whether it be early weaning or stricter cull practices," Fine said. "We just really stress the importance of, you can't really wait until the last minute and see what's going to happen."
The U.S. Department of Agriculture has designated Richland and Garfield counties primary disaster areas at the request of Montana Gov. Greg Gianforte. The designation means surrounding counties are recognized as drought disaster areas, as well.
In April, Gianforte recognized drought conditions as most severe in 12 Eastern Montana counties. Adequate water for livestock in the east will be a major concern without significant spring rain according to the Montana 2021 Water and Supply Drought Outlook.