Abigail Ryman was driving to her home located 10 miles outside of Miles City when a storm hit the area Wednesday evening.
She had just pulled up to her house and gotten off the phone with her dad about the incoming storm when tennis ball-sized hail started slamming into her truck.
"It was just shaking my pickup," Ryman said.
Ryman ran with her head down and back upward toward the sky to get her dog that was sitting in a kennel outside.
She was pelted with hail, and had two large welts on her lower back, and a few on her upper back and legs. Hail also rained down on Ryman's horses that were in a pasture by the house, and the loud banging of hail hitting the horses' shelter spooked them.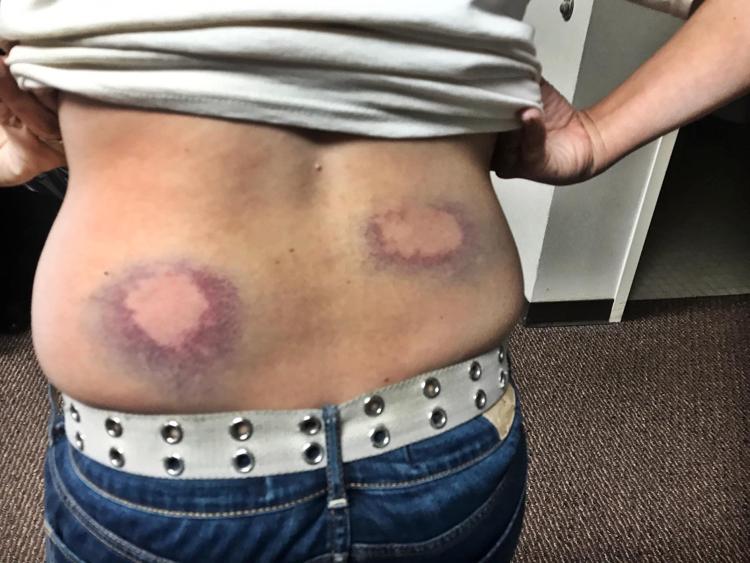 A line of thunderstorms that moved Wednesday night through parts of Eastern Montana produced straight-line winds as fast as 90 mph and a small tornado between Glasgow and Nashua.
The storm left widespread damage behind, blowing over trucks, knocking out electricity, damaging structures and shattering windows and windshields.
Survey teams from the National Weather Service in Glasgow fanned out Thursday to collect information to compile into reports about the band of separate storms that may have stretched across 70 miles.
The storms apparently emerged from Rosebud and Custer Counties, according to the National Weather Service in Glasgow. Powder River County was also hit by super cell storms. Some barns and shelters were destroyed, said Brian Tesar, a meteorologist with the National Weather Service in Billings.
Before continuing north, the storms smacked the Miles City area with hail the size of golf balls and in some cases tennis balls. NWS Billings also got reports of baseball-sized hail about 10 miles northeast of Miles City.
Ryman and her fiancé's home lost two windows. The couple's cars were severely damaged, and a camper and trailer had also been beaten. Luckily, the dog and the horses were okay.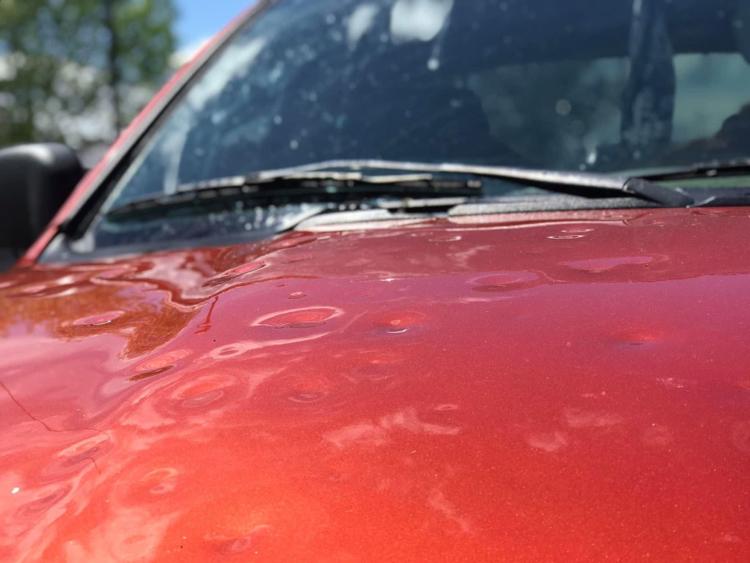 Most of the couple's property is insured, so Ryman said she isn't too concerned about fixing what was damaged in the storm. She decided to visit a doctor Thursday morning, but was cleared.
"I've never seen hail that big in my life," Ryman said.
Parts of Custer County were thrown into chaos. At one point two semi trucks blew over on I-94, both within about 5 miles of each other. One had been headed west and the other east. One of the semis had food headed for an Oregon Walmart and the other was filled with FedEx boxes. The winds put one of the vehicles on its side and the other onto a guard rail.
The underpass in Miles City flooded with a vehicle in it. The person was apparently able to get out, according to Bud Peterson, the disaster and emergency services coordinator and fire warden for Custer County.
Four or five power lines went down with trees wrapped in them. "I do know of one incident where a young man was in a pickup and had a softball-sized hail hit him in the windshield and shattered his windshield," Peterson said.
The power outages left another person stuck in the elevator of a Sleep Inn. "This all happened within an hour-and-a-half," Peterson said.
The DES coordinator said he had heard from one person that they got nearly 3 inches of rain from the storm.
The band of storms continued into Garfield and McCone Counties, reaching southern McCone County by about 8 p.m.
"There was enough damage to knock down 100 power poles on Highway 200 between Brockway and Circle," said Ted Jamba, a meteorologist with NWS Glasgow.
Garfield County Disaster and Emergency Services reported that McCone Electric was counting 100 three-phase poles down between Brockway and Flowing Wells, with 14 transmission line poles also down. The total count of single poles down was still unknown by Thursday evening. Crews from other parts of the state were coming in to help, and power outages could last between two and three days for certain areas, according to Garfield County DES.
Crews with McCone Electric worked to restore power Thursday and will continue to work all day Friday, according to Garfield County DES.
The storm knocked out power across the county, including for the communities of Jordan, Cohagen, Angela, Brusett, Rock Springs and Van Norman, which was hit especially hard. There was power in Sand Springs, according to Anne Miller, the DES coordinator for Garfield County.
As of 8:30 p.m. Thursday, power was restored to Jordan and Brusett.
Speaking shortly after 8:30 p.m., Miller said that a few lambs had drowned in their corrals in the storm on a property near Van Norman. The county plans to reach out to ranchers and other producers for reports of killed livestock.
"We do have some producers in our area that have been lambing, so that will be a concern," she said. The sheriff's office had conducted a flyover of the county earlier Thursday to survey some of the damage. "We have significant damage to out buildings in rural areas as of right now," Miller said.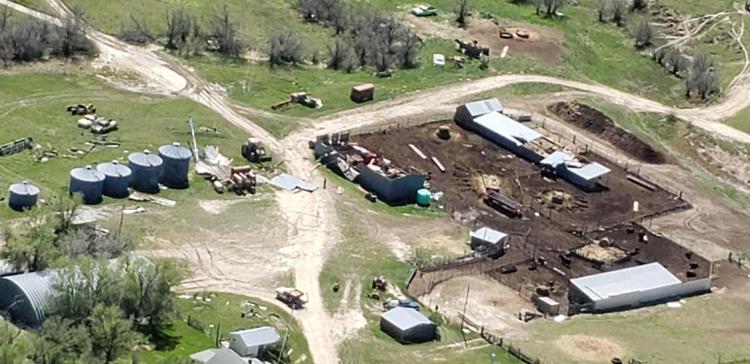 Several businesses, including Ryan Grocery in Jordan, were also shut down because of the power outage, but the store regained power around 2:30 Thursday afternoon. Miller said DES was working to check with businesses who may need assistance finding generators. 
After hitting McCone and Garfield counties, the line of storms continued and "it seemed like it intensified again as it got up close to the Glasgow area," said Jamba, the Glasgow meteorologist.
The suspected tornado between Glasgow and Nashua wasn't especially strong as far as tornadoes go, with winds that may have been around 80 mph.
The tornado touched down just southeast of Whately on the south side of Highway 2 around 9:17 p.m. It hit a metal barn, where its barn doors were blown in and part of the roof was thrown about 100 yards. A house next to the barn lost some siding and a nearby tree was snapped in half, according to a public information statement from NWS Glasgow.
Another home to the north suffered minor roof damage, and a carport next to the home was thrown. A boat was also moved about 100 feet to the southwest.
The tornado was on the ground for no more than five minutes, according to the statement.
A preliminary estimate put the tornado at EF 0 on the Enhanced Fujita Scale, which measures the strength of tornadoes. The scale tops out at 5, which is reserved for the strongest tornadoes.
"An EF 0, we probably get two or three of those in Eastern Montana every year," Jamba said.
Elsewhere, straight-line winds created more havoc. In St. Marie, wind gusts might have reached 90 mph, Jamba said.
As far as Valley County goes most of the damage was caused by wind.
"It really was a wind event for us. It wasn't really a hail event for us at all," the meteorologist said. Still, there was plenty of rain. The weather service's rain gauges collected 1.94 inches of rain between 9 p.m. and 11:30 p.m.
The jet stream helped keep the storms organized. In referring to a storm as organized, Jamba said he was talking about to the way in which the updraft and downdraft in the storm were interacting so as to allow spin.
"If there's no organization with these storms, the downdraft will choke out the storm and it will die," he said.
Billings was largely spared by the extreme weather. Forecasts early Wednesday had said Billings had a chance for isolated severe thunderstorms, but areas to the east were considered at greater risk. There were some reports of pea-sized hail in the Heights and around Shepherd and Huntley.
"The storm system itself had some drier air that kind of cut up through our area and the best moisture and the best dynamics with the storm were located to our east," Tesar said.
In Garfield County, Miller, the DES coordinator said she wanted to thank NWS Glasgow. They got in touch with her about the potential for the storm earlier in the week and stayed in contact, which gave her a chance to try to get the word out.
"I really feel like that, even though we had locations sustain damage, I feel like that early warning about this storm system in particular was really helpful," Miller said.
Reports from NWS Glasgow detailing the behavior of the storms and some of the damage caused could be released late Friday afternoon or early evening.
Be the first to know
Get local news delivered to your inbox!