The legitimacy of NorthWestern Energy's 20-year energy plan, heavy on gas-fired power plants, is being questioned by analysts who say the utility ignored cheaper options for its Montana customers.
Synapse Energy Economics reports that Montana's largest monopoly utility either undervalued or excluded energy sources that would have been more affordable for ratepayers.
Synapse said that by feeding preselected results into a computer program, NorthWestern made it a "forgone conclusion" that natural gas-fired Reciprocating Internal Combustion Engine, or RICE, power plants were chosen as the utility's best power source for the next 20 years.
Other energy sources such as solar and wind energy, along with power purchased on the open market, weren't selected either because their reliability or cost wasn't correctly represented, or because they were left out of the analysis conducted by using PowerSimm software. The study by Synapse, a third-party consultant, was commissioned by the Montana Public Service Commission.
"NorthWestern concluded in the final plan that the best way to meet its capacity deficit and ensure resource adequacy is to procure hundreds of (megawatts) of 'flexible' gas-fired generation in the form of RICE units. This is essentially a foregone conclusion given certain input assumptions and constraints present in the PowerSimm model that favor thermal resources over renewables and storage," Synapse economists concluded.
"First, NorthWestern did not allow for market capacity purchases in its modeling runs, which leads PowerSimm to build 985 MW of gas-fired generation over the analysis period in the base portfolio. Inclusion of an option to purchase capacity from the market likely would have led to a smaller capacity build and lower revenue requirement in the resulting resource portfolio."
The report comes two months after Montanans concerned about high electric bills and climate change packed public meeting rooms to object to NorthWestern's 20-year supply procurement plan. In Helena, Missoula and Bozeman, no one spoke in support of NorthWestern, a South Dakota-based company with more than 370,000 Montana customers.
It wasn't until the Public Service Commission held a hearing in Billings that people spoke in favor of NorthWestern's proposal. Most of those in favor were from Colstrip, where NorthWestern plans to increase its ownership of Colstrip Unit 4, a coal-fired power plant.
The Synapse report suggested that energy options in the next eight years were not only likely to be available, but also cheaper for NorthWestern's customers than what the utility has planned.
NorthWestern on Friday reiterated its assertion that the region is six years away from an energy shortage as a result of retiring coal-fired power plants.
"NorthWestern Energy's main concern with the comments made by Synapse is that they do not adequately weigh the significant generation shortfall of both NorthWestern's Montana supply resources and the region's power supply," said NorthWestern spokeperson Jo Dee Black, in an email.
"They also overlook NorthWestern's limited access to import energy. For example, Synapse points to PacifiCorp's reliance on purchasing energy as an example that NorthWestern should follow. But Synapse overlooks the fact that NorthWestern already counts on the Mid-Columbia market to provide more energy to meet winter peaks than even PacifiCorp believes is reasonable. Given the shortfall in both NorthWestern's supply and the shortfall expected in the near term in the broader region, NorthWestern also believes that Synapse has an unreasonably high confidence that renewable resources will generate when NorthWestern needs them to (in other words, the capacity value for wind and solar that Synapse recommends is higher than what existing renewable resources have historically provided during NorthWestern's peak load periods)."
Synapse cited three emerging events in northwestern states that could provide a cheaper, reliable power alternative to NorthWestern's plans.
First, the economists cited the emergence of the Western Energy Imbalance Market, which is supposed the improve energy reliability while also lowering costs in coming years. In 2018, NorthWestern announced it would join the EIM by April 2021. The market should address NorthWestern's concerns about the fluctuations in the availability of power from in-state wind and solar farms, Synapse said.
"The short story is that to assume that the market can supply the significant capacity needs for NorthWestern Energy's Montana customers during peak demand, which is what Synapse proposes, will compromise reliability significantly. Utilities and power planning agencies across the region are now working to address the growing capacity shortage in the region as coal plants retire," Black said in her email.
"NorthWestern Energy is by far the most exposed to the market of utilities in this region because of its significant capacity shortage. Additionally, other utilities have better transmission connectivity than NorthWestern, which allows them greater access to buy power from others. The strategy of relying on the market also exposes customers to the market's price volatility when demand is high. "
Second, Synapse economists said buying surplus power from neighboring utilities, like Avista Corp., would be cheaper for NorthWestern's customers than the utility building gas-fired power plants. In the last year, NorthWestern has told investors that it could build as many as four 200-megawatt gas-fired power plants in the next five years, each one costing more than $200 million, for which customers would put on a multi-year payment plan.
Synapse also pointed to emerging regional energy sources as a cheaper alternative. The Bonneville Power Administration plans to begin selling carbon-free hydropower to regional utilities and other large buyers in 2028.
Not only were these alternatives not considered by NorthWestern in its analysis, they were also not used to prove the economic benefits of not only NorthWestern's gas-fired power plants, but also its purchase of an additional share of Colstrip Unit 4.
NorthWestern did not include a scenario in which the cost of natural gas was high when the utility needed the power most. NorthWestern's 20-year plan indicated that it had factored in a high gas price scenario, but Synapse could not find where the utility has actually run the numbers.
"We believe that NorthWestern did not actually model a High Natural Gas Price scenario despite describing one in its plan," the economists reported.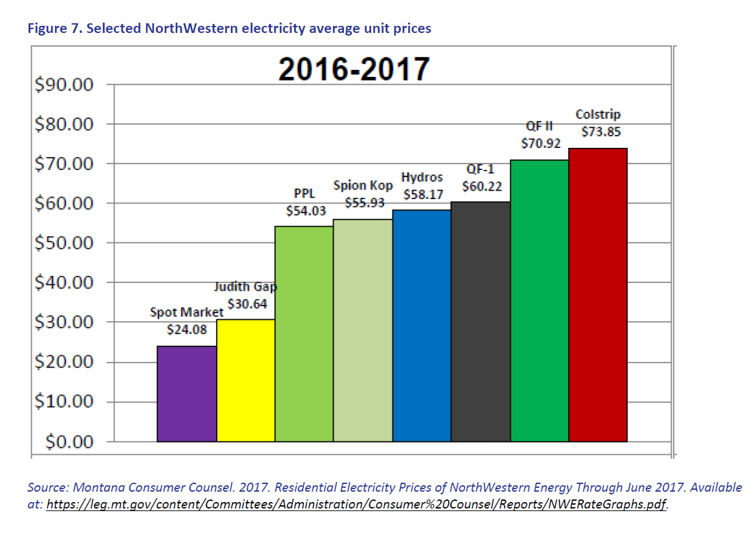 Concerning Colstrip, economists say NorthWestern didn't allow its PowerSimm program to consider whether the power plant should be retired based on increased operating costs and repair expenses increasing because of age.
"This is important with respect to the operation of the Colstrip units. They are the most expensive resource in NorthWestern's resource portfolio, inclusive of all costs collected in rates," economists include.
The cost of Colstrip power was based on a Montana Consumer Counsel report that identifies Colstrip power as the most expensive electricity NorthWestern customers pay for, once purchase debts and other expenses are factored in. In 2017, for example, Colstrip power cost NorthWestern customers more than $70 a megawatt hour, which spot market energy cost customers the least at $24.08.
Be the first to know
Get local news delivered to your inbox!