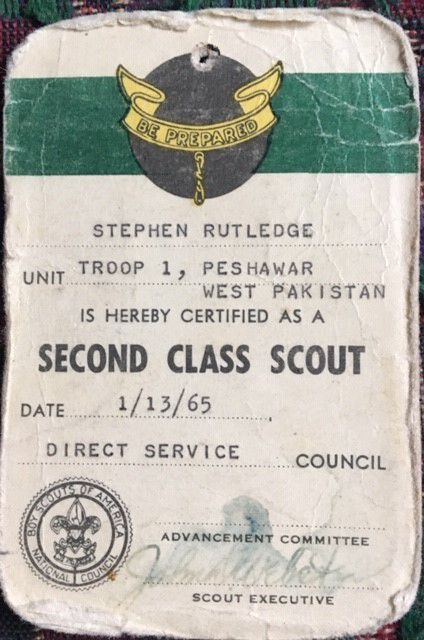 Editor's note: In this series of profiles, four men with Montana connections describe their experiences, and the lifelong aftermath, of being sexually abused by leaders in the Boy Scouts of America. Several of the men are identified by initials. The Billings Gazette has a policy of not naming the victims of sexual crimes unless they wish to be named. The identities of the men using initials have been verified with their attorneys. 
Unanswered questions
A well-tanned, bald man, wearing glasses often visits Stephen Rutledge in his nightmares.
Rutledge was 11 years old when he met his troop leader after joining an international Boy Scouts of America troop at an Air Force base in Pakistan, where his father was stationed.
That year his Scout leader would molest Rutledge in his tent while on a Scout camping trip.
In April, Rutledge joined a national legal group working across the nation to bring cases against the BSA alleging sexual abuse by leaders.
Rutledge is a retired police officer on a SWAT team living in Missoula. He retired from Mobile, Alabama in 1998. 
Now 66, he wouldn't remember his sexual assault for decades.
It only happened once. His leader molested him under his pants. When it happened, Rutledge remembers he didn't realize it was wrong.
"As far as I was concerned he was just shaking my hand," he said.
The situation was dealt with swiftly. Rutledge was among other boys who testified against the leader after suspicions arose from his behavior.
His father, an Air Force officer, and family, transferred to a base in Germany. No one ever spoke of the abuse again, and Rutledge was never told the results of the investigation. The memories faded, and Rutledge moved on.
It wasn't until his 40s that the memories came back. He doesn't remember what first triggered the memories. Revulsion quickly followed, compounded by shame he learned as an adult.
"There's always that little guilt thing," he said. "Steve, you must have liked it if you let him do it to you."
The trauma that had never been dealt with as a child suddenly slapped the full-grown man in the face. But it was too late to take any definitive action against his abuser, which made moving on a whole lot harder.
As the memories percolated, Rutledge began dealing with sudden health problems, including severe anxiety, and post traumatic stress disorder brought on by the trauma. In 2016, Rutledge was hospitalized in part because of mental health related issues, and has since sought out a psychologist.
But therapy isn't helping, he said. He needs answers. He's worried the man wasn't punished.
He's attempted to get records on his abuser, including contacting the Air Force's Office of Special Investigation. He was told they don't keep records that long.
"I get the run-around," he said. "The major thing is that I need to find out what happened to that son of a bitch. Did they say 'bye-bye, go have fun with other little boys?'"
He's hoping his attorneys with AIS will be able to dig up more information on the perpetrator, to help the retired police officer find answers.
"I need closure and I'm not getting it," he said.
Until then he holds dear to the few physical anchors tied to his abuse, while his memories fade in and out, like his Boy Scouts ID card, dated January 1965. 
'These things happen'
When P.B. told his father that his Boy Scouts of America troop leader had sexually assaulted him, his father shrugged it off.
"These things happen," he told his son, who was 11 years old when he was abused by his troop leader in Great Falls. Later, when the boy suggested he report the abuse to the police his father again dismissed the claims.
The 57-year-old's voice is still tinged with anger when he describes his father's lack of support, his abuse and the trauma that has plagued his life resulting in anxiety, depression and severe trust issues.
P.B. grew up in Great Falls, but now lives in Idaho. This summer he joined the Abused in Scouting law group, which is preparing to bring dozens of suits against the BSA.
In speaking with The Gazette P.B. requested anonymity.
P.B.'s troop leader asked a group of Boy Scouts to expose themselves in exchange for cookies during a troop meeting at his apartment.
It was the first instance in a series of sexualized encounters between P.B. and his Scout leader. It turned into showers with the troop leader, oral sex and at least one instance of anal sex.
Now, well into his 50s, P.B. catches himself when assigning blame for the sexual assaults. He questions whether he deserved the assault, or whether it was because he has some feminine mannerisms, or whether some small part of himself liked the attention.
"It was interesting. It was like, somebody's paying attention to me," he said, of the abuse and why he feels like he chose to return to the leader. When the abuse stopped, shame and guilt began to haunt P.B.
"I'm angry at myself for the way I am," he said. "For the way I've been treated, like I don't matter."
Broken trust by both his troop leader and his parent compounded his trauma, making him feel like his abuse didn't matter.
Not addressing the trauma quickly developed into trust issues. Anxiety and paranoia have made it difficult for him to hold a job, and form meaningful relationships with other men. He's also struggled with alcohol and suicidal behavior.
"It crippled my life in every way, shape or form," he said. He's even struggled with smoking cigarettes in public because of the way it puckered his lips, like "woman lips," he said.
Healing is a slow process, but he's getting better, he said. He's 10 months sober, sought medical treatment for anxiety, and goes to counseling. He also has finally found familial support through his wife and two adult children.
"Some things have gotten easier, some things will stay the same. In your mind trauma is like an endless extension cord which is tangled and you'll never get to the end. I guess the end is when your life is over," he said.
Better precautions
David Yancey doesn't remember the name of the Boy Scouts of America troop leader who sexually molested him during a camping trip on Fort Peck Lake. But, he'd be able to pick him out of a lineup.
Yancey, then just 10 years old, and his younger brother, 8, stuck to the troop leader like glue during a camping trip to the Pines Camping area in 1959, he said.
Neither boy was old enough to be a Scout, but tagged along with their father who was a district supplier for the BSA.
When the troop leader invited the boys to spend the night in his tent they were excited.
"We were all for it," he said. That night the troop leader snuggled between the two boys and molested Yancey.
When Yancey shoved him off, the troop leader turned to face Yancey's younger brother.
Yancey, now age 70, has asked his brother what happened to him that night.
"He doesn't remember the trip," Yancey said, who has suspected something did happen to his brother.
Yancey has lived in Grand Junction, Colorado, since 1978. He grew up in Arizona. After his parents divorced he spent much of his childhood summers in Glasgow where his dad moved after the divorce. 
Yancey is one of 15 men alleging sexual abuse in Montana who have joined a national law group preparing lawsuits against the Boy Scouts of America. 
The day after he was molested, Yancey said he told his father, who being a district supplier for the Scouts, refused to believe him.
"He just went on like nothing had happened," Yancey said.
It broke Yancey's trust. Afterwards, he wouldn't confide in either of his parents, and kept to himself, he said. But, he did join the Boy Scouts while living with his mother in Arizona.
A devout Christian, Yancey has let go of a lot of anger, he said. Learning that he can't change the past, or people, but only how he responds to situations.
Mostly, he's forgiven the BSA and still strongly supports the organization. The BSA, which holds many of his own traditional values, supports children and helps raise them right, he said. 
He holds individual troop leaders responsible for the actual molestation. But, the BSA should have done better protecting children's safety, he said.
"I do not hold the BSA responsible, but they are responsible for weeding out their garbage," he said. "(Troop leaders) are not hired, they're volunteers and that in itself is where the problem comes in."
He wants the BSA to learn from its mistakes.
"I sincerely hope they take this lawsuit responsibly and set up high qualifications (for volunteers) and background checks for future and current volunteers," he added.
A liberating truth
O.T.'s mother welcomed the close attention of a father figure.
It was 1958 when O.T.'s father died. It was also the year he joined the Boy Scouts. His assistant troop leader, Robert "Bob" J. Gagnon "took a shine" to the boy.
"My mother thought he was the best thing since sliced bread," O.T. told The Billings Gazette. O.T. has joined a national group of lawyers, Abused in Scouting, who are crafting dozens of lawsuits against the Boy Scouts of America. 
In speaking with The Gazette, O.T. requested anonymity. The Gazette, which has a policy of not identifying victims of sexual abuse, has verified O.T.'s identity with his attorneys.
About a year into the Boy Scouts, Gagnon invited the 14-year-old O.T. into his Virginia home. 
In the basement, Gagnon asked to touch O.T.'s genitals. Misunderstanding the situation, O.T. was hesitant but with childhood naivety he acquiesced.
"That's what started," O.T. said. At first, O.T. didn't understand that it was inappropriate. But the basement meetings quickly escalated from light touching, to oral sex and eventually rape.
Gagnon paid for O.T. to go to a Boy Scout Jamboree in Colorado, and he paid for other out-of-state trips with the boy. 
"He would take me every once in a while to Washington D.C.," O.T. recalled, where the leader would "pass him along" to other men. He remembers at least three other men assaulting him.
The abuse continued into his late teens, and even into his adult married life. Gagnon used threats and deft manipulation to ensure that O.T. remained quiet about the abuse.
"He told me, 'If police find out we're doing this you'll go to jail.' I was dumb, I didn't know any different," O.T. said.
By age 16, O.T. wanted out. So he left.
He dropped out of high school amid rumors he was gay, and on his 17th birthday he joined the Navy. When O.T. returned from the service, so did the abuse.
"He came back and forced himself on me," he said. "He was threatening he'd tell my wife what was going on."
Life continued for O.T., despite the abuse. He got married and had kids, and enlisted in the Army, all while Gagnon continued to blackmail him to ensure sexual abuse continued, including saying he'd telling his Army superiors about the 'affair.'
In 1975 O.T.  moved to South Korea where he lived for two years.
When he returned again to Virginia in 1977, O.T. learned that Gagnon was dead. His wife called to tell O.T. that Gagnon shot himself in his backyard, between serving sentences for multiple charges of molestation.
Gagnon had been sentenced on multiple charges of child molestation, and contributing to the delinquency of a minor out of Hanover County, Virginia. He served 30 days in jail, but died before serving a two-year sentence, according to newspaper archives from the time. 
Curious whether his name had appeared in court records, O.T. tried to get Gagnon's documents. He knew Gagnon had taken hundreds of nude photos of him, but the court had sealed the charges because the case included minors. He was never contacted by investigators.
After retiring, O.T. worked a farm in Virginia. In 1997, he moved to the Flathead Valley where he has lived and ranched for about 20 years. He sought out the solitude of Montana, shying away from rapid development in Virginia, he said. In mid-October he turned 74. 
"Looking back on it now, it really ruined my life," O.T. said. He wanted to become a doctor, and had an uncle who would pay for his tuition. That dream was cut short when he dropped out of high school and ran away.
"This just got in the way of everything," he said.
The letter
For 40 years O.T. kept the secret. 
"I was embarrassed to tell anybody. I never told my mother or anybody, until I wrote this letter to the Boy Scouts," O.T. said.
Two years ago O.T. in the letter renounced his Eagle Scout badge. He didn't feel he'd earned it. He was only given the badge as a reward for sexual favors.
In the letter he asked what the BSA had done to protect boys since his time scouting.
He never got an answer to his letter. 
The letter was the first time he had ever acknowledged the abuse to anyone else. It was liberating, he said. But it also opened wounds he had tried for decades to forget. 
"It makes me feel bad, you know. Because it seems like I'm not the brightest person but I'm not the dumbest person. I should have had enough sense to turn him in," he said.
He wonders if reporting Gagnon would have spared other children from being abused.
Retroactively, O.T. can take some control by holding the BSA responsible for allowing an abuser among its ranks. 
"I just want to get the message out to parents to watch these adult leaders. It's not only in the Boy Scouts, it's in Little League, football and soccer," O.T. said. "Pedophiles are like lice, you know."
Since his 2017 letter to BSA, telling his story has gotten easier. He's told his wife, and his children, who now have their own children. He was met with respect and belief, and has felt some relief from a 70-year-old secret. 
"It was difficult for me telling my wife, but she understood. She was very good with it," he said. "I've kind of comes to terms with what's happened and I just want to try to help somebody else."
Be the first to know
Get local news delivered to your inbox!