VALLEY CITY, N.D. — As triceratops go, Bob was a big one, and he garnered lots of attention during the year and a half he was displayed at the Barnes County Historical Society in North Dakota.
But in early 2016, Bob was shipped off to a commercial fossil seller in Arizona amid talk that a buyer in the United Arab Emirates had designs on him. The asking price at the time was said to be about $1.4 million.
Then things got quiet, and Bob's fate became something of a mystery — until now.
"I sold him (Bob) to a doctor over in South Korea. He was going to put him in the foyer of his hospital," said Alan Komrosky, whose Valley City business, Hell Creek Relics, works with rural landowners to dig up and market fossils like Bob the triceratops.
Komrosky said Bob's Korean buyer ran into difficulties with Korean authorities who frowned on his plans for the dinosaur, so Bob's overseas journey never happened.
Komrosky declined to share what the Korean doctor paid for Bob's bones, but he said as far as he knows no other triceratops has sold for more.
Paleontologists with the Burke Museum of Natural History and Culture and the University of Washington have discovered a Tyrannosaurus rex, inc…
According to Komrosky, Bob is still with a fossil broker in Arizona and is once again up for sale.
Attempts to reach the broker were not successful.
Meanwhile, Komrosky said the remains of another triceratops have come to light near Rhame in Bowman County, and signs indicate it could be larger than Bob, whom Komrosky described as one of the largest — if not the largest — triceratops on record.
Komrosky is tentatively calling the new dinosaur Willard, but he said the final naming decision will reside with the owner of the property where the dinosaur remains were found.
Traditionally, dinosaur fossils are named after the landowner on whose property the bones were dug up.
You have free articles remaining.
According to Komrosky, another recently unearthed triceratops is also unusually large and he said there is speculation that that dinosaur as well as Willard could both belong to a new variety of triceratops.
By comparing bones, Komrosky said it appears Willard was two feet taller at the hip than Bob.
Wes Anderson, curator at the Barnes County Historical Society, said people there were saddened by Bob's departure in early 2016, but he said the arrival a short time later of a different, albeit smaller, triceratops named Gundy helped to fill the void created by Bob's absence.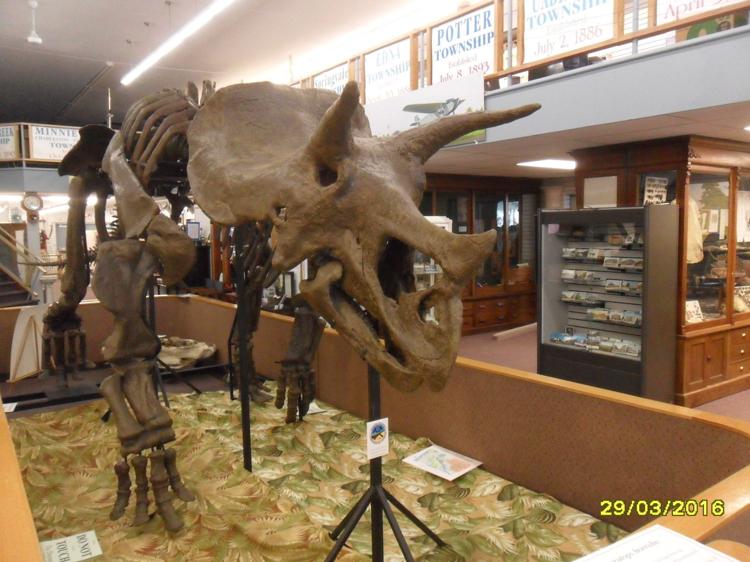 "Oh, we miss (Bob) terribly," said Anderson, but he added that Bob's replacement has become a popular attraction in her own right.
At about 18 feet long, Gundy is significantly smaller than Bob's 26-foot length.
And unlike Bob, who is an actual fossil, Gundy is a cast of a fossilized triceratops that makes its home in a museum in Japan, Anderson said, adding that while Gundy is smaller than Bob, she may be a better fit for the museum.
"Bob took up a lot of space," he said.
HELENA — About 66 million years after two dinosaurs died apparently locked in battle on the plains of modern-day Montana, an unusual fight ove…