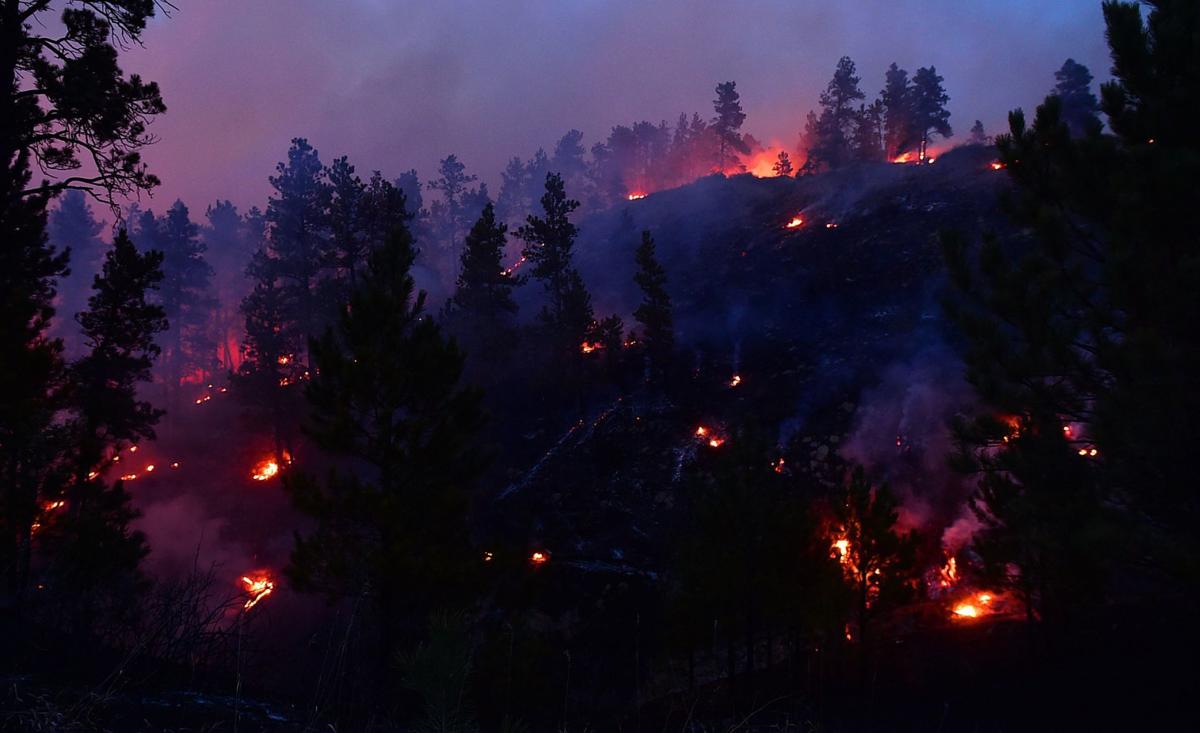 A fire that spread rapidly Sunday afternoon on the Northern Cheyenne Indian Reservation reached the town of Lame Deer after it burned through culverts that pass under U.S. Highway 212.
At one point the fire, called the Cut Across fire, threatened numerous structures, closed part of two highways, and prompted evacuations in the town of Lame Deer. 
Firefighting officials say the fire started as a structure fire before spreading into timber, grass and other fuels in "a pre-green-up" fire. That term refers to fires that occur after the winter thaw but before vegetation takes on spring moisture.
Firefighters halted and ultimately contained the Cut Across fire Sunday night due to a large response involving multiple firefighting agencies.
In addition to local Bureau of Indian Affairs fire management resources and volunteer firefighters from Lame Deer and Ashland, firefighting personnel and equipment responded to the fire from Crow Agency BIA, Miles City, the Bureau of Land Management at Fort Howes, Forsyth Volunteer Fire Deparment, the Montana Department of Natural Resources and Conservation and the Colstrip Volunteer Fire Department.
The burn area from the fire was estimated to be 1,700 acres as of Sunday evening, but officials were working to take a more accurate GPS measurements Monday, said BIA Fire Management Officer Adam Wolf.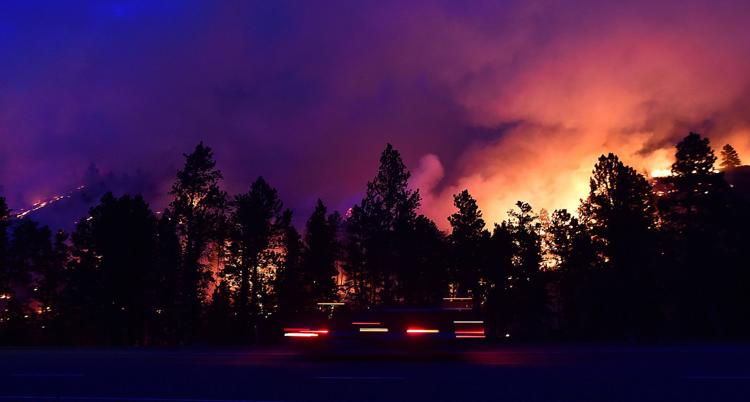 Wolf said it was difficult to explain how the fire moved Sunday without a map.
"When you see it on a map, it's like 'holy cow,'" he said. "It's tough to describe how this fire moved. It grew pretty fast, and it's a pretty good distance from the point of origin to where we finally stopped it." 
The Cut Across fire is believed to have developed from one of three different fires BIA was called out to in the area Sunday morning, according to a press release from Jon Kohn, public information officer assigned to the fire. Jimtown Cutoff Road about a mile north of U.S. 212 is where the Cut Across fire began and Wolf said he believed the fire began as a result of a structure fire. 
"We almost had it, then the wind picked it up and just pushed," Wolf said in the press release. Winds driving the fire were estimated by the BIA to be at 30 miles per hour, sending fire and smoke downhill east of Lame Deer, and causing the fire to burn through dry vegetation in concrete culverts under U.S. Highway 212 and into the Alderson Creek cattail marshes inside town.
The National Weather Service in Billings had published information online heading into the weekend about elevated fire risk in their coverage region caused by dry fuels, gusting winds and low humidity. 
Sunday around Lame Deer the wind was gusting from the west to about 20 miles per hour by noon; from about 1 p.m. until 6 p.m. gusts were at or above 30 mph, according to meteorologist Aaron Gilstad. 
Relative humidity in the area around the time of the fire's spread was in the upper teens to low twenties. 
You have free articles remaining.
The fire ended up burning about 20 acres of creek bottom between Lame Deer Elementary School and the Lame Deer Trading Post, per the press release. 
There was some water in the creek bottom. "We were lucky that creek bottom was filled with water and it stopped where it stopped," Wolf said.
The Northern Cheyenne Tribal Elder Care Center and the Indian Health Service Clinic both prepared to evacuate because of smoke concerns and homes along Highway 39 north of downtown Lame Deer were both ordered to evacuate before the fire was contained near those homes.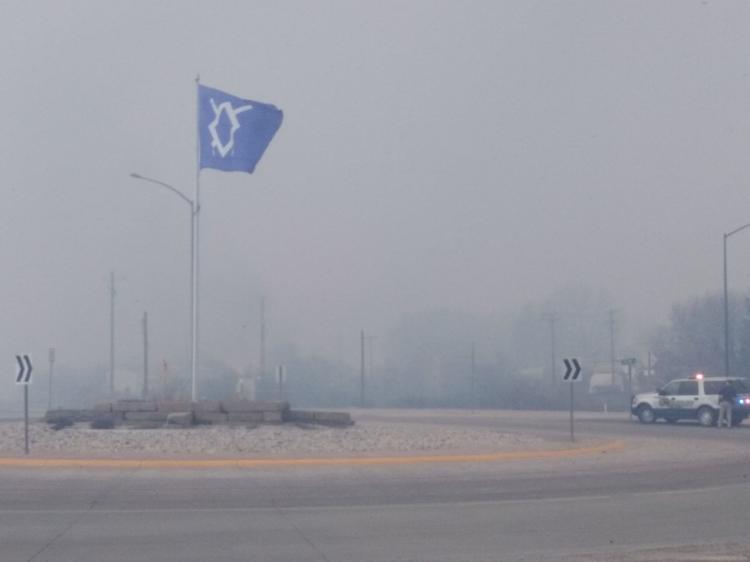 Wolf said by phone Monday morning that things could have been much worse if it had been later in the season.
"If it was in August, we'd be in a whole 'nother ballpark," Wolf said. "We were lucky that creek bottom was filled with water and it stopped where it stopped. It was a pretty good flash fire." 
The fire was able to burn even in marshlike areas in town where cattails caught fire above the water, putting firefighters in a situation where they were unable to move equipment freely due to mud. 
At one point a back burn operation was conducted on two separate areas to limit the fire's ability to spread, according to the press release.
"It's common to have fires like this, but it's uncommon in April," Wolf said. "The fire occurrence we had last year was pretty low, so we knew there was a lot of fuel out there from the growth."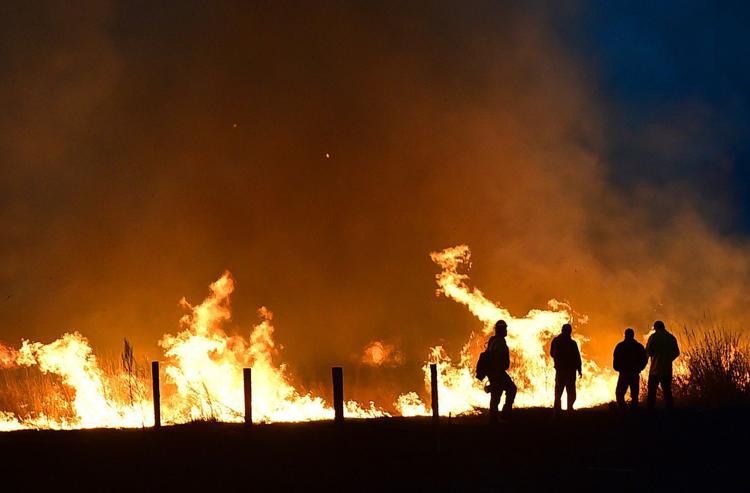 Wolf estimated the fire was 100 percent contained by about 9 p.m. Sunday night and said there was some rainfall overnight in the area. By mid-Monday morning the area of the fire had yet to see additional rainfall, he said. 
Three bulldozers and a road grader were used to cut line around the burn as part of the containment strategy. 
A Sunday night briefing involved the Northern Cheyenne Tribe, Department of Emergency Services, the BIA superintendent and the Rosebud County Commission and Rosebud County Sheriff's Office. 
Rainfall was reported overnight and early Monday morning in parts of Rosebud County, according to NWS Billings. 
HELENA — Flood, snow, avalanche and fire alerts popped up Monday from Idaho to Colorado, as parts of the U.S. interior that were paralyzed by …