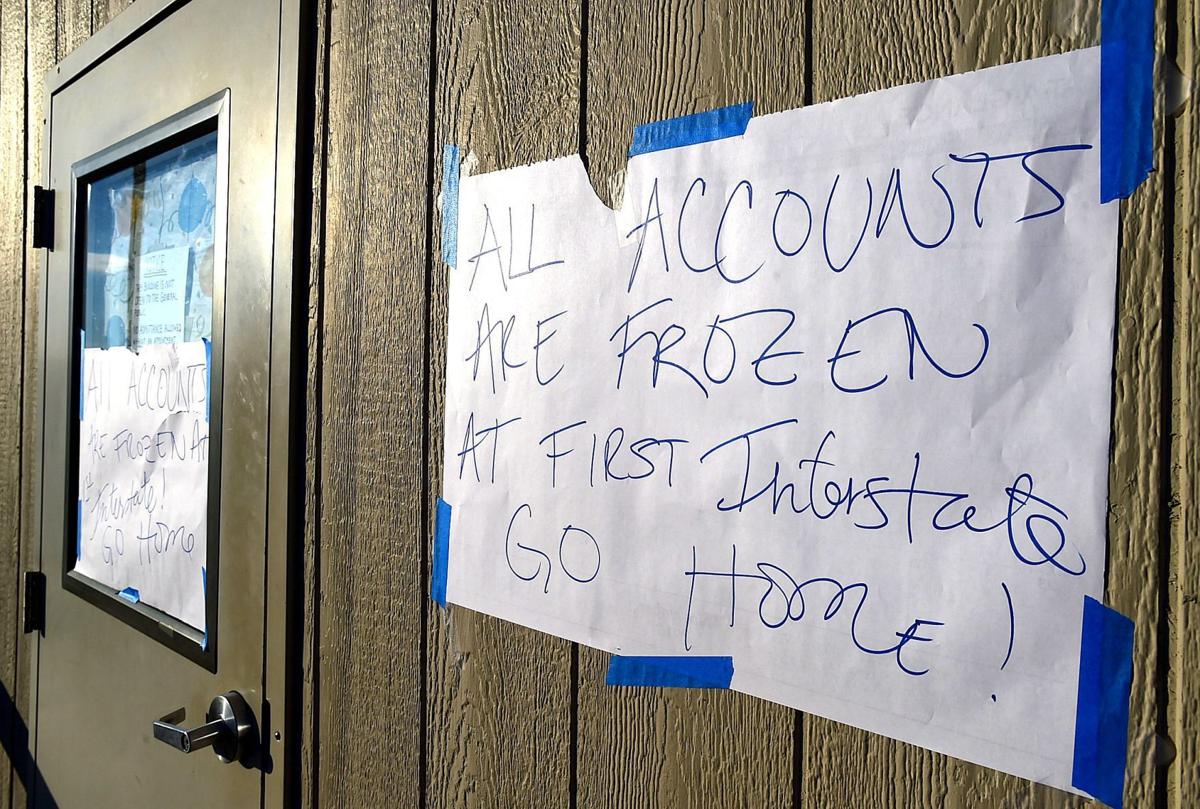 A federal judge Thursday dismissed First Interstate Bank's request for the court to take temporary custody of the Crow Tribe's government funds, referring the ongoing dispute over the tribe's chairmanship back to tribal court.
In her decision, Judge Susan Watters cited a Jan. 29 temporary restraining order in the Crow Tribal Civil Court that affirmed that Alvin "A.J." Not Afraid remains the tribe's chairman, and therefore retains his signature authority over the tribal government's checking accounts.
Crow Vice Chairman Carlson "Duke" Goes Ahead and Vice Secretary Shawn Backbone dispute Not Afraid's authority. They maintain, along with the Crow Tribe's Legislative Branch, that a special election held in mid-January successfully removed Not Afraid and Secretary R. Knute Old Crow, and elevated Goes Ahead and Backbone to their respective positions.
As the competing factions wrestled for control of the tribe's $2.4 million at First Interstate Bank, the Billings-based bank opted to suspend the accounts and file an "interpleader" petition with the U.S. District Court in Billings. An interpleader asks the court to take temporary custody of private property when it is subject to competing claims, until it can be determined who can rightfully assert ownership.
Siding with arguments provided by Not Afraid's attorney, Watters last week issued a temporary restraining order against First Interstate that allowed the chairman to regain access to the funds.
Her order Thursday states that the federal court lacks jurisdiction in the case because the bank "failed to establish that there are two or more adverse claimants who 'may claim' entitlement to tribal funds," as required by law.
"The Crow Tribal Civil Court has already determined that Not Afraid Jr., not Goes Ahead or (Backbone), is entitled to access funds belonging to the Crow Tribe currently held by First Interstate Bank," Watters wrote. "Accordingly, a temporary restraining order or injunction from this court stating the same is redundant and unnecessary."
Both Not Afraid and the competing faction claimed victory after Watters' order Thursday, calling her recognition of the tribal court case a win for the tribe's sovereignty.
You have free articles remaining.
"I really do appreciate and want to thank the federal system in recognizing the tribe's sovereignty, as in the tribe's court system," Not Afraid said.
Goes Ahead said in a separate statement, "Today the Crow people are winners. Shawn and I will do our best to uphold the trust of the Crow people as we fix the past wrongs and bring justice to those that have hurt our people so badly."
Attorneys representing Goes Ahead and the legislature, however, noted Thursday that the tribal court ruling on which Watters based her decision had already been struck down.
That ruling was an extension of an earlier temporary restraining order filed on the eve of the recall election. Associate Tribal Judge Elishah Reevis wrote in the most recent order that Goes Ahead and Backbone "will not assume or occupy the plaintiff's (Not Afraid's and Old Crow's) position, title or duty and or financial signature authority."
Reevis subsequently recused himself, however, citing his relationship by marriage to the parties in the case. During a hearing Tuesday, Special Judge Eldena Bear Don't Walk quashed both the original restraining order and the Jan. 29 extension.
But she also issued an order from the bench that Not Afraid characterized as a 10-day temporary restraining order keeping him in charge as the chairman.
"I can't speak beyond what I understood, and what I understood was I would remain chairman and Secretary Old Crow would remain secretary, and that the vices would have no signature authority," Not Afraid said.
Bear Don't Walk had not issued a written order as of Thursday morning, according to Darcy Medicine Horse, the deputy clerk of civil court. No one at the court was available for comment Thursday afternoon.
But Tom Towe, the attorney representing Goes Ahead and Backbone, said the meaning of the judge's order wasn't entirely clear.
"She said, from the bench, that she would issue a temporary restraining order just to keep everything as is," Towe said. "She said she didn't want to change anything; she just wanted the status quo to be maintained. What 'the status quo' means, I don't know."