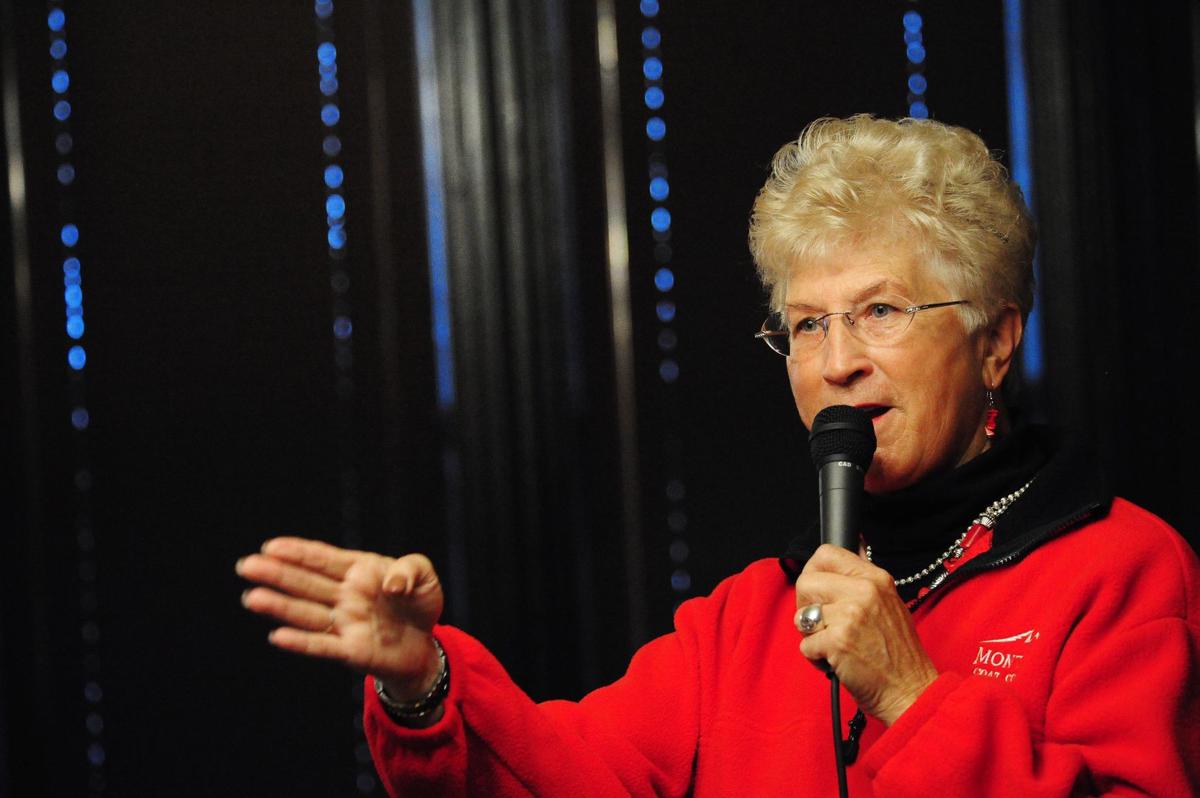 Judy Martz, an Olympic athlete, rodeo star and the only woman to serve as governor of Montana, died Monday after a lengthy battle with pancreatic cancer. She was 74.
Martz, the state's 22nd governor, was remembered Monday by those close to her as a smart, vibrant, deeply faithful woman with seemingly endless energy who genuinely cared for Montana and its people.
But her one term, from 2001 to 2005, was rocky — sometimes from forces beyond her control but also from self-inflicted wounds.
"She was an extraordinary human being and unique," said former Gov. Marc Racicot, who picked Martz to serve as his lieutenant governor. "Judy was a person of immense capacity. She did so many things well. She was a great athlete. She was bright and optimistic, tireless in her work for the people of Butte and with her family and for the state of Montana."
Racicot first came across Martz when she was working at the Chamber of Commerce in Butte, where she went to high school.
"She was a rarity for those days in Butte because she was a Republican," he said. The two shared a common heritage growing up in blue-collar mining towns; Racicot is from Libby.
Martz, he said, was a champion for Butte, working hard to bring economic development to her hometown. "I loved her spirit and positive outlook on life,'' Racicot said. "She believed if you worked hard enough and listened carefully, anything could be accomplished.''
Martz was born in Big Timber and went to Butte High. She later attended Eastern Montana College, now Montana State University-Billings, and worked as a field representative for former Sen. Conrad Burns.
She was an accomplished speed skater, competing in the 1964 Olympics. Martz also excelled in rodeo, winning the Miss Rodeo Montana title in 1962 and later joining the Montana Cowboy Hall of Fame.
Martz and her husband, Harry, have two children and several grandchildren.
State Rep. Jim Keane, a Democrat from Butte, was a high school classmate of Martz.
"She was fun. She always had a big smile on her face,'' he said. "She grew up working, that's for sure.''
Keane said Martz loved skating back in high school. Asked if he was surprised she got into government, Keane said: "It's taking advantage of the things you're in. She was always very competitive. That competitive spirit, I think, gets people to take risks'' and "try new things."
Carol Williams, a longtime state lawmaker, grew up speed skating and competing in rodeo with Martz.
Williams said Martz's athletic ability and competitive nature served her well in sports and politics.
"Just like she did on the skating rink, she always worked really hard to win,'' Williams said. "And we saw that in the campaign, too.
"She was very dogged in that campaign,'' Williams said. "And ended up being victorious. She broke that glass ceiling.''
Martz's spirituality struck Chuck Butler, who worked for her when she was governor and had stayed in close contact.
Butler first met Martz 30 years ago during one of the Governor's Cups sponsored by Blue Cross and Blue Shield of Montana, where he then worked. The event the night before the race honored all known Olympic athletes in Montana, and Butler and Martz hit it off immediately.
When Martz became governor, she stepped into a difficult time, Butler said. The state was facing a $230 million deficit and she inherited the fallout from utility deregulation that passed in 1997.
She was "really struggling" at the start of her four years in office, Butler said. That's when he retired from Blue Cross and started working for her.
"I got to know her deeply, personally, her inner faith and strength," Butler said.
He said she was terribly hurt by the criticism she received over cuts she had to make as governor, implementing a state law that allows the governor to cut up to 10 percent of agency budgets to balance the state's finances. Gov. Steve Bullock is facing the same situation now.
"I remember her critics were just vicious," Butler said. "It was terrible to see her really hurting for the cuts she had to recommend to balance the state's budget. It wasn't something she did just because she believed things could be cut. She did it because she was the chief executive and she had to do it.
"I told her, 'Governor, you will be remembered for the good job you did and people will respect you.'"
Keane said Martz's term would have been rough for any governor.
"I don't care what party you were in,'' he said. "It was a difficult time in state government because of tough finances. Her legacy will be she survived a tough time in Montana."
Secretary of State Corey Stapleton was first elected to the Montana Legislature the same year Martz was. He said he was one of her "lieutenants" through the rough period.
He said the scrutiny she got "seemed really unfair to me. There wasn't a mean bone in her body. The media was relentless with her (and she) never really got a lot of credit for what she was trying to do.
"She was impressive,'' Stapleton said. "With heels on she was probably 6 feet tall and with that white, powerful suit, she was very striking. She was good."
Charles Johnson, a former statehouse reporter who covered the Martz administration, remembered Martz as "a strong woman" whose first two years in office were more difficult than the last two.
In 2001, her top policy adviser, Shane Hedges, pleaded guilty to negligent homicide charges stemming from a drunken driving crash that killed House Majority Leader Paul Sliter. Martz washed Hedges's clothes after the wreck and moved Hedges from the hospital to the governor's mansion before police could question him, according to reports at the time.
She also faced soaring electricity prices after the Montana Power Co. was deregulated. "When she became governor the electricity prices were so high because of deregulation that some of the industries that relied heavily on electricity had shut down, so that was a big issue when she became governor," Johnson said.
And she faced an environmental disaster in Libby, where a vermiculite mine contaminated with asbestos had sickened and killed hundreds of people. In a move that surprised many, Martz used Montana's lone "silver bullet'' to fast- track Superfund status for Libby, speeding cleanup efforts there and laying the foundation for helping residents with medical costs.
Les Skramstad, who later died of mesothelioma from his work at the mine, didn't hold back when Martz went to Libby in December 2001 to announce her support for the Superfund listing, something he had been urging for nearly two years.
"As far as I'm concerned, Santa Claus has already arrived in Lincoln County this year," Skramstad told the Missoulian.
Johnson said Martz was a "forthright person who sometimes said things that got her in trouble."
"There wasn't a phony bone in her body," Johnson said. "She was very sincere, she tried a lot, worked hard. Some unfortunate circumstances caught up with her."
Johnson said some people trace the state's current revenue woes to substantial tax cuts enacted under Martz.
"Her supporters would say that was her biggest accomplishment and her detractors would say that's the worst thing she did," Johnson said.
Martz also came under scrutiny for a 1999 purchase of land owned by Atlantic Richfield Co. adjacent to her family ranch near Rocker. The land was sold to the Martz family at $300 an acre, less than the $875 an acre it was bought for by ARCO just two years earlier, prompting a complaint from the state Democratic Party. An appraisal done for Lee Newspapers later put the value at $471.25 an acre. The complaints were later dismissed.
Johnson recalled that Martz always wore a turtle pin, saying, "Behold the turtle. It only moves forward when it has its head out." She had pins made and given out to staff members and supporters.
Butler said he and his wife spent an hour and a half with Martz just four weeks ago.
"We were sitting there in her living room and she couldn't have been more cheerful and bubbly and vibrant and that was her," Butler said.
"This woman starts talking about dying and her funeral and I start crying. She said, 'I've already got all my crying done. I'm dying. I've had a great life.'
"We're literally sitting on her sofa and she's talking about dying and a funeral and she says, 'You know, I've lived a good life and I'm in God's hands now.'"
Butler said Martz's deep faith made her someone he could turn to when his own father was dying.
"I called her as someone who could help me talk about death and dying," he said. "We had a long conversation and I couldn't have felt better after that."
Martz kept prayer lists and prayed frequently for people, Butler said.
"Some people just thought she was a hardened lady and that was so untrue. She had a deep caring for people,'' he said. "She prayed a lot.''
Will Selph, a project manager in the Secretary of State's Office, met Martz during his childhood, then encountered her again in 2006 when putting up campaign signs in Butte. He said she cared just as much about people at the beginning of their lives.
"She had the motherly demeanor to her and in her approach to life,'' Selph said. "She treated people with such respect and defended people, especially young people.
"She supported the college Republicans. She would sign letters, vouch for us if we asked,'' he said. "She was so nice about it."
Racicot said Martz's personality shone through in her last years.
"They were very difficult years for her physically, emotionally,'' he said. "Through it all she set about the way she always did — to comfort those who were trying to comfort her.''
Martz will lie in state in the rotunda is the state Capitol in Helena on Friday from 9 a.m. to 4:30 p.m. A celebration of life will be held at the Butte Civic Center at 11 a.m. Saturday.
Lee News reporter Jayme Fraser contributed information for this story.
Lee News reporter Jayme Fraser contributed information for this story.