LODGE GRASS — LaVerne Williamson Big Hair said Monday her grandson had been drinking before he was shot dead Sunday night by an officer with the Bureau of Indian Affairs.
But she and others in the small Crow Reservation town are livid over what they believe was an avoidable, unnecessary use of lethal force after she called police.
Big Hair shared her small Lodge Grass home at the intersection of South George Street and Hesper Avenue with her grandson, Ruben Stewart, 36. She said Stewart had been drinking and was acting belligerent that night, so she called police hoping they would take him to jail where he could "sleep it off."
Instead, when police arrived Stewart stood in the doorway of the home holding a buck knife with a blade two or three inches long, Big Hair told The Billings Gazette.
The officer stood 10 to 20 feet away and ordered Stewart to drop the knife, and then opened fire, several witnesses said.
Monday afternoon, Big Hair wept on her porch as she pulled back a blanket and a plastic garbage bag, exposing the now-dried pool of her grandson's blood that partially covered the vinyl floor.
She said her grandson struggled with diabetes and had trouble walking, but that he did his best to take care of her.
"He would shovel snow for me. He would do things for me," she said. "Now, I don't know what I'm going to do."
She said she's puzzled and angry by the officer's deadly response.
"I just wanted (the police) to take him to jail. I didn't say to come over and kill him," Big Hair said.
Local BIA Police Chief Jose Figuerroa declined to comment.
An official with the BIA's regional office in Billings referred questions to the agency's spokeswoman in Washington, D.C., Nedra Darling. In response to phone calls and an emailed list of questions, Darling sent an email referring press inquiries to the FBI, which she said is handling the investigation.
Travis Burrows, the supervisor of the FBI's regional office in Billings, said Monday the agency had no comment.
Big Hair is not alone in the small Crow Reservation community in questioning whether lethal force was necessary.
Lodge Grass Mayor Quincy Dabney said Stewart did not appear to pose an immediate threat to the officer when the shots were fired.
From the front yard, the officer ordered the man several times to drop the knife. Shortly thereafter, the officer fired multiple rounds at the man, Dabney said.
"From the statements we got, (the officer) came on scene, his brother had already told him, 'Put the knife down, put the knife down,' and the cop said the same thing, but didn't even give him a chance," Dabney said.
The mayor said he knew Stewart well and had attended high school with him. He said he rushed to the scene Sunday night after getting a call from a resident. He spoke with family members and neighbors who witnessed the shooting, and said the officer did not appear to have tried to use a stun gun or any other non-lethal means before firing shots.
You have free articles remaining.
Two neighbors who witnessed the incident, Jayne Kennedy and Justin Dust, also questioned the officer's actions.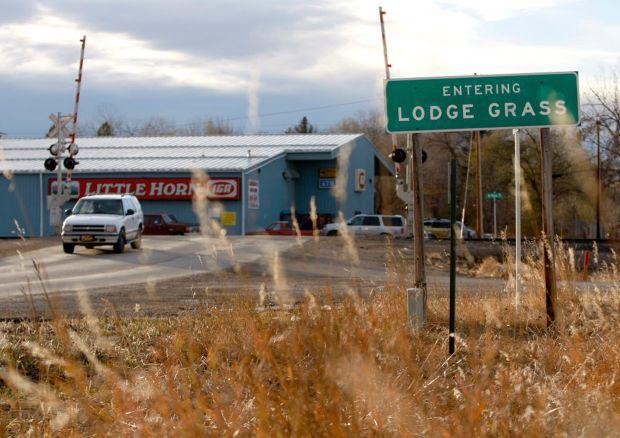 From the front yard of their house across Hesper Avenue, Dust said he watched the incident unfold and heard the officer tell the man to drop the knife multiple times before opening fire. But he said there was no indication the man was threatening the officer or was moving toward him with the weapon.
"He said it three times at least, and then started pulling the trigger," Dust said. "That came out of nowhere, man."
Dust and Kennedy both said they heard four or five shots. Angie Gunshows, who lives on the other side of the house and was inside when the shooting happened, said it sounded like five or six rounds were fired.
"It was loud," Gunshows said. "I never heard gunshots going off like that before."
When she went outside, she said, it looked like "the whole town of Lodge Grass" had arrived on the scene, watching from across the street and yelling at the officer.
Kennedy said Stewart had had the police called on him before, and acknowledged that Stewart drank frequently. But echoing descriptions by Dabney and others who knew him, Kennedy said Stewart was usually a good-natured neighbor who took care of his grandmother. He was not known to act violently, they said.
"He was always a happy, jolly person, joking around and making people laugh," Kennedy said.
Dabney questioned the use of deadly force, although he said he also knows the officer involved is "a good dude," with "a heart for the people."
"Adrenaline pumping, man, I understand all that," the mayor said. But, he added, "That didn't have to happen. ... He didn't charge. He was just in the doorway. That was it."
Stewart's family and neighbors said he was beset by health problems, including diabetes and arthritis, and usually stayed at the house with his grandmother.
"He gets drunk sometimes," his aunt, Darwina Schinderline acknowledged. But, she added, "He always made sure his family came first."
Both Schinderline and Dabney said Stewart's depression over his ailments, along with the recent death of one of his aunts, had prompted an increase in his drinking. Despite his struggles, however, Dabney said he has fond memories of growing up with him.
"He was always in the atmosphere of laughing. If you meet Ruben, you're going to just stand there and laugh the whole time," he said.
Big Horn County Coroner Terry Bullis concluded the autopsy Monday. The FBI and BIA will continue the investigation, he said.
This is the third officer-involved shooting in Eastern Montana in less than a week. On April 9, a Billings police officer shot a man in an apartment building hallway who was rushing at him with a knife. 
About 15 hours later, early April 10, a Billings police officer shot a man in a casino who was waiving a pistol and apparently threatening to take hostages. The pistol was a pellet gun.