The director of the North Dakota Department of Corrections and Rehabilitation, Leann Bertsch, said in an interview on Monday, March 4, "I would say that the (State) penitentiary is as safe as it's probably ever been in its history."
Internal documents, surveys and statements suggest otherwise, that the department's pursuit of reforms has resulted in a "danger" to staff and public safety and that unethical practices are being pushed to bolster the perceived efficacy of these reforms.
What is certain, though, is that in the name of increasing "contact" between corrections staff and inmates — referred to as "residents" in the new parlance of the DOCR — the department has ordered that staff be removed from two of the maximum security penitentiary's three guard towers.
No guards in the towers?
According to a June 1, 2018, confidential memorandum, perimeter staffing and post changes were instituted at the State Penitentiary in Bismarck. These changes took effect June 5, 2018.
The memo outlines changes to security measures in an effort to utilize "staffing resources of the east and south tower posts more effectively." According to the memo, staff were removed from two of the three perimeter security towers, with the third tower manned only from 6 a.m. to 6 p.m.
According to the memo, the department's belief that "the presence of the towers will act as a deterrent itself" were accompanied by strict orders to staff that "at no time will staff discuss the perimeter changes with...anyone outside of the DOCR."
A former prison employee, who claims he was placed on administrative leave and forced to resign after voicing safety concerns, said that the unmanned towers and perimeter of the penitentiary were gravely concerning for public safety.
"They're putting the community in danger," Sam Mitchum, a former corrections employee, said. "I think Leann Bertsch wants to do this so bad for her own personal and political reasoning, that she's willing to sacrifice staff and public safety to prove a point."
A California-based maximum-security prison in Atwater experienced the reality of Mitchum's fears when, in 2017, an inmate escaped the prison after each of its five perimeter guard towers were left unmanned.
When asked if the North Dakota State Penitentiary was compromised as a result of removing staff from the towers, Bertsch declined to comment, other than to say:
"I can't talk about our security operations because that's a security situation and we don't want that in the hands of our residents," she said, though she did say that watchtowers are more effective when actually staffed.
"Towers don't act as deterrents," Bertsch said. "People act as deterrents."
Employees feel that the directive to increase contact between staff and inmates violates their code of ethics.
"In the employee handbook's code of ethics section, 'we will avoid unnecessary social contact with offenders, inmates and juveniles, whether inside or outside of the department,'" Mitchum said. "The staff feel that they are being forced to disobey this by having game nights and pizza with inmates and being ordered to disobey their code of ethics by becoming personal with inmates."
Another internal North Dakota Department of Corrections memo documented one of these "incentive" programs. According to that document, staff working the 1-9 p.m. shift were obligated to attend a "Wii bowling and Yard Toss night" where pizza was served to inmates and prizes of candy and popcorn awarded to video game winners.
"Watching officers continue to get assaulted and nothing happening really hurts," Mitchum said. "I've had to have surgery on my knee from an assault at the hands of an inmate, and was told that it wasn't classified as a staff assault and no charges were being filed against the inmate. "You experience that and then see that same inmate doing all these things, being awarded with marshmallow roasts, video games and candy? It's hard to swallow."
Recently, the prison went on lockdown on Jan. 21 before 6 p.m., and then again on Jan. 23 before 6 p.m. after seven correctional officers required medical attention for injuries sustained during assaults. Charges have yet to be filed on this incident because, according to the DOCR, an investigation remains open and will be forwarded to the Burleigh County State's Attorney office upon completion.
'A prisoner at their own job'
Mitchum isn't the only one who has expressed concerns with the new DOCR reforms.
An internal survey of the North Dakota Department of Corrections features comments alleging that DOCR administration, specifically Bertsch, progressively developed a sense of commitment to a "failing" series of reforms that have fostered frustrations among staff and allegations of number fudging, staff assaults, sexual misconduct and wrongful terminations.
More than 100 pages of internal documents, including some classified memorandums, paint many broad and specific anonymous complaints by staff, as well as cover the DOCR's transition from an American penitentiary system to a Norwegian-themed system.
In 2015, Bertsch toured prisons in Norway on trips organized and paid for by a nonprofit public interest/lobbying firm based in Berkeley, Calif., the Prison Law Office. On that trip, which included a tour of a Norwegian maximum security facility, Bertsch apparently had an epiphany.
According to an interview with Mother Jones magazine in an August 2017 article, Bertsch said of the DOCR, "We're hurting people" and also expressed her belief that, "I had always thought that we run a good system. We're decent. We don't abuse people. We run safe facilities with good programs. It was just like, 'How did we think it was OK to put human beings in cagelike settings?'"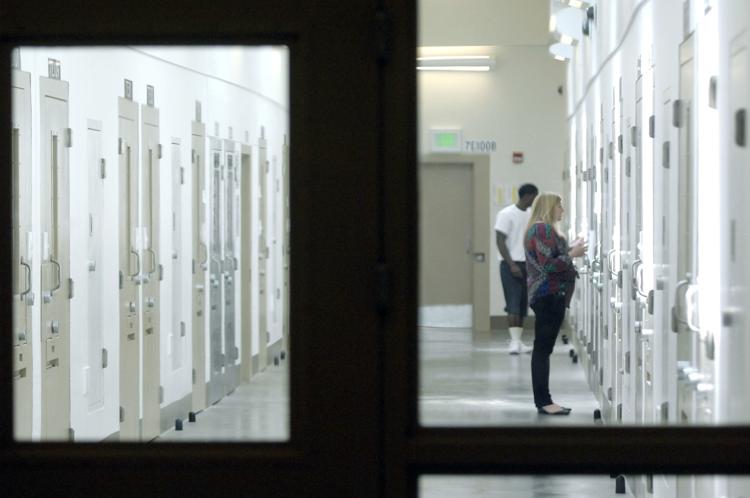 Since then, a series of reforms based on what Bertsch said was "best practices," the North Dakota Department of Corrections and Rehabilitation have begun to redefine what prison should be.
"We redesigned all of our treatment programs; we trained everyone in motivational interviewing. More recently, in the last three years, we've reduced our use of solitary confinement and we actually implemented a number of things that we call 'increasing humanity,'" she said. "So, we've really done a lot of things to enrich their lives while they're in here, expecting that they will be better citizens when they return. We can have the best treatment programs in the world, but unless you create an environment that's humane, respectful and not violent, none of those reforms and interventions will work as they should."
The Prison Law Office's website links to an August 2018 article on governing.com featuring Bertsch commenting on the challenge of getting her staff in line behind these reforms. She was quoted as saying: "There was a lot of resistance when we came back to try and implement some of these things … a lot of them (staff) went out the door themselves and some people had to kind of be helped out the door."
According to comments in an anonymous survey by eight current employees of the DOCR, the reforms aren't just unsafe for staff, they're not working and are requiring some help in the form of "fudged" numbers.
"What is a person supposed to do but become a prisoner at their own job and just go into robot mode to 'fudge the numbers' as directed by our own supervisors," one DOCR employee said.
"All statistics are forced, fabricated or fudged to make Supreme Leader Leann look flawless," another employee remarked. "We are encouraged to find a way to manipulate stats to make the revocation rate look lower -- talk about ethical."
"We were actually told in a meeting to 'manipulate the numbers' by our superior to make our revocation rates look better." one statement read.
The internal survey found many other allegations that alluded to dishonesty in reporting of departmental statistics, some including the reasoning given to do so. One said:
"Just remember an overdose death is a successful completion of probation."
In response to those allegations by her department's employees, Bertsch said "If we were going to fudge (numbers), it would look a lot better than they do."
She added that she's open to criticism from her staff.
"I have an open-door policy and anyone can come in and meet with me, they can email me, they can call me. The only thing I've seen has been in anonymous comments that I think are people that are not happy with the direction that we're going but don't want to actually say what they mean," she said. "If they actually had an example, it would be addressed."
Mitchum claims that the director's statements about an open-door policy are only for show, and in reality may have cost him his job.
According to documents, Mitchum forwarded multiple emails to the director with concerns with security changes and staff safety. Two emails, sent on July 14 and again on July 19, from his official work inbox to Bertsch went unanswered by the director -- as did requests to, "meet with you on some concerns I have in the institution."
Instead of a response from the director, Mitchum received a letter on July 27 stating that he was being placed on paid administrative leave of absence effective immediately.
"Rather than address the safety concerns of myself and other staff members, Director Bertsch had the Human Resources Department place me on administrative leave," he said. "They never gave me a reason, and when I asked, I was told that it was because I wasn't in line with the vision the department had concerning some of the reforms taking place."
'I'm Scandinavian, but I'm not stupid'
Concerns with employee allegations, and many of the reforms made by the Department of Corrections and Rehabilitation following the director's visit to Norway, has been a topic of much criticism and contention both publicly and behind closed doors.
Stark County State's Attorney Tom Henning said he believed the reforms wouldn't be successful in the United States and believed that the reforms are more of a monetary solution than a corrections-minded one.
"I'm Scandinavian, but I'm not stupid. We're talking about her using as a model, one of the smaller populations in the world which until relatively recently – maybe 30 years ago – was almost entirely homogeneous," Henning said. "I completely and vociferously disagree with her manner and method, which is being done effectively and essentially with the goal of saving money because our Legislature are refusing to expand, rebuild or renew a penitentiary because they don't want to spend the money."
Rep. Mike Schatz, R-New England, after hearing the allegations, said he has doubts about the reforms and now questions many of the department's statistics.
"The attitude that the director has about corrections is wrong, first of all. Second, it's dangerous. I don't think people know about it. Very few people in the state know what she's doing with this Norway Project," he said. "That may work in Norway because they're all the same, but that is not the way it is here. We are not Norwegians and have a far more diverse culture than that."
According to Mitchum, the Norway Project and other such reforms are failing faster than the department can fix.
"At the end of the day, we have to acknowledge that a program isn't working," he said. "You can put a Band-Aid on it, you can fudge numbers, you can keep classifying things and you can keep quietly 'helping people out the door,' but when the facts are that recidivism numbers are rising, staff are getting assaulted at record numbers, the marshmallow roasts and Wii game nights aren't working and the public are increasingly being put at risk, this is seriously putting officers at risk and seriously has to be put to rest before something bad happens to an officer or to a member of the public."
He added, "The more people dig into the failures of the program being covered up, the more what I, and others within the department, said will be looked at in hindsight as warning signs."