The main artery to Yellowstone National Park's North Entrance will begin to undergo surgery on Sept. 3. That's when the Montana Department of Transportation will start rehabilitation work on the Yellowstone River Bridge in Gardiner. This first phase of work is scheduled to be completed in November.
According to the National Park Service, at the height of tourist season in July, as many as 60,000 to 70,000 vehicles a month drive over the bridge in Gardiner to enter Yellowstone National Park through the iconic Roosevelt Arch. While serving as the northern gateway to one of America's most popular national parks, the bridge also has a critical local purpose facilitating the flow of vehicles and pedestrians for a town split in half by the Yellowstone River.
"While the bridge is safe to drive on, it's seeing a lot of wear and tear that needs attention," said Paul Cogley, MDT's project manager, in a press release. "Given the amount of traffic the bridge receives, particularly during the summer tourist season, it's important to undertake some rehabilitative measures in order to prevent further deterioration."
The following improvements are planned for the structure:
• Deck milling and concrete overlay on the main bridge surface.
• Deck replacement on the existing north and south approaches to the bridge.
• Deck milling and concrete overlay on the widened portion of the approaches.
• Expansion joint replacement.
• Sidewalk replacement: The project will maintain the existing sidewalks along both sides of the bridge. However, the northwest sidewalk approach will be removed and reset to allow for sidewalk replacement and retaining wall modification.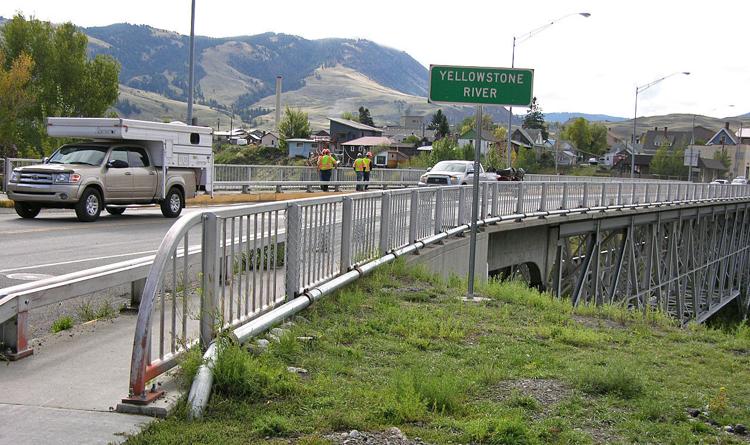 You have free articles remaining.
The cost of the project is pegged at $1.5 million — 87% of which will come from federal highway dollars and 13% from state highway dollars collected through the state gas tax fund.
"MDT decided to do this project in two phases that are scheduled to minimize impacts to motorists visiting the park as well as locals that rely on the commerce that tourist season brings," Cogley said. "Phase One is scheduled from early this September through mid-November, and Phase Two is scheduled from early April until early June 2020."
For both phases of construction there will be alternating single-lane traffic with temporary signals on the north and south ends of the bridge. Although traffic control will entail width restrictions, they will not impact RVs and fifth wheels.
For wide loads, a detour also will be available on Old Yellowstone Trail Road to cross the Yellowstone River at Corwin Springs seven miles north of Gardiner. Travelers are encouraged to allow additional travel time to accommodate delays of up to 15 minutes and are reminded to watch for work crews and equipment and to travel at posted speed limits.
Construction work will be conducted Mondays through Fridays from 7 a.m. to 5 p.m.
The bridge was originally constructed in 1930. In 1975 the structure was widened on the east side by 22 feet. The main span superstructure consists of a steel deck truss supporting a cast-in-place concrete deck. The approach span superstructures consist of cast-in-place T-beams.