Some reservoirs in Montana are almost full to the brim as one of the biggest boating and beach weekends of the summer draws near — the Fourth of July holiday.
Canyon Ferry, Bighorn and Fort Peck reservoirs are 100 percent full as mountain snowpack recedes. That's a good thing since the man-made impounds can't handle much more inflow.
"We've been storing, holding back water for the Missouri mainstem flood, so that pushed us higher at Tiber, Canyon Ferry and Bighorn," said Clayton Jordan of the Montana Area Office of the Bureau of Reclamation.
At Fort Peck the reservoir elevation was 2,246 feet, just 4 feet shy of the top of the exclusive flood pool. The U.S. Army Corps of Engineers, which oversees management of Fort Peck, is forecasting to hold the reservoir at that level through the first half of July before slowly dropping the lake's elevation.
"We've kind of peaked, barring any major rain events," said Darin McMurry, Fort Peck operations project manager for the Corps. 
He said the agency is looking to evacuate more water later in the month, possibly using the spillway, because its more than the dam's turbines can handle. 
Because the Missouri River feeds Fort Peck, the reservoir is important to the Corps for diminishing the impacts of flooding downstream, which has hammered parts of Nebraska, South Dakota and other Midwest states this spring, breaching levees and flooding towns and farms.
Full pools
High water is great for the Fort Peck fishery as it floods shoreline vegetation that creates habitat for young fish to hide in, as well as adds nutrients to the water to feed the young fish. On the down side, high water means fewer beaches for sun worshipers and picnickers.
That will be the situation at Canyon Ferry Reservoir, which is sitting at an elevation of 3,797 feet. That means the dam is holding back more than 1.9 million acre feet of water and is almost 20% into the flood control pool. Upstream on the Madison River, Hebgen Lake is 99% full.
Farther east, Tongue River Reservoir was near an elevation of 3,430 feet, just below the emergency spillway crest but 15 feet below the dam's crest. Bighorn Reservoir was at an elevation of 3,646 feet, about 31 percent into the flood control pool and with inflows still outpacing dam releases, which have been cut back from 11,000 to 8,550 cubic feet per second over the last week. Steadier flows on the Bighorn River should help anglers out on that stream as fluctuations tend to shut down the trout bite.
"For this year, based on the conditions, we're not looking to quickly evacuate that storage," said Jordan, of the Bureau of Reclamation.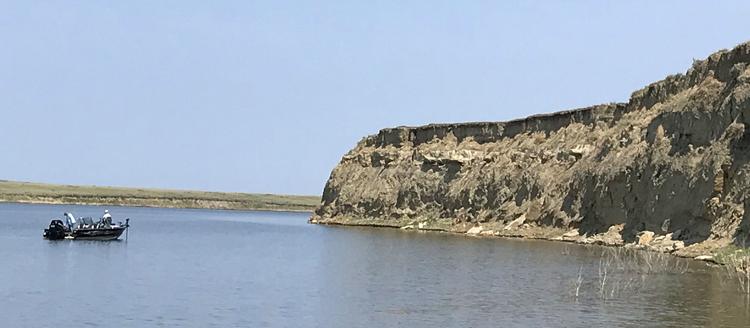 You have free articles remaining.
Keep reading for FREE!
Enjoy more articles by signing up or logging in. No credit card required.
High Yellowstone
Although snow pack is declining and rivers are dropping, the Yellowstone River drainage remains an exception. A cool spring even added some new snow to the Beartooth and Absaroka mountains that feed the region's streams.
At Livingston on Monday the Yellowstone was tracking at 12,200 cfs, which is above normal for this time of the year. The Stillwater River, a popular whitewater boating stream in the Billings area, was running at 5,020 cfs, whereas it's normally closer to 3,300 cfs by this time of the year.
Likewise the Clarks Fork of the Yellowstone was running higher than normal at 5,980 cfs, roughly 2,000 cfs more than usual.
The Yellowstone River feeds into Lake Sakakawea, just over the Montana border in North Dakota. That reservoir, also managed by the Corps of Engineers, was almost 2 feet into its exclusive flood control zone at an elevation of 1,852 feet. The top of the pool is at 1,854 feet.
Also seeing high inflows this spring were Buffalo Bill and Boysen reservoirs in Wyoming. Both of those systems feed into the Bighorn River and eventually the Yellowstone. Boysen saw a June inflow of 162 percent of normal and Buffalo Bill recorded 175 percent of normal.
Go west
In Western Montana, Flathead Lake was about a quarter-foot above full pool. Upstream at Hungry Horse Dam the lake elevation was 3,555 feet where normal full pool is 3,560 feet. Along the Clark Fork River in northwestern Montana, Noxon Reservoir was at an elevation of 2,330 feet.
For floaters and river anglers, the Blackfoot River east of Missoula was trending below normal for this time of the year at a flow of 1,580 cfs, which is good for anglers but not as exciting for whitewater boaters. The Bitterroot River is also trending lower than normal at 1,420 cfs near Victor. The Clark Fork's notorious whitewater section in the Alberton Gorge is also below normal for this time of the year at 5,950 cfs compared to the average of 9,590 cfs.
Near Glacier National Park the popular Middle Fork of the Flathead's whitewater section was running at below normal levels at 3,580 cfs, about 2,000 cfs below usual. The mellower North Fork of the Flathead River was 3,380 cfs, about 2,500 cfs lower than normal.
Lower flows on rivers should not be taken as a green light for boaters to relax their safety measures. Even at reduced levels boaters and anglers should wear lifejackets and be cautious. Spring can also mean new water hazards such as downed logs.
For more information on angling specifics, check out the weekly Montana fishing report online or in Thursday's Montana Untamed section.