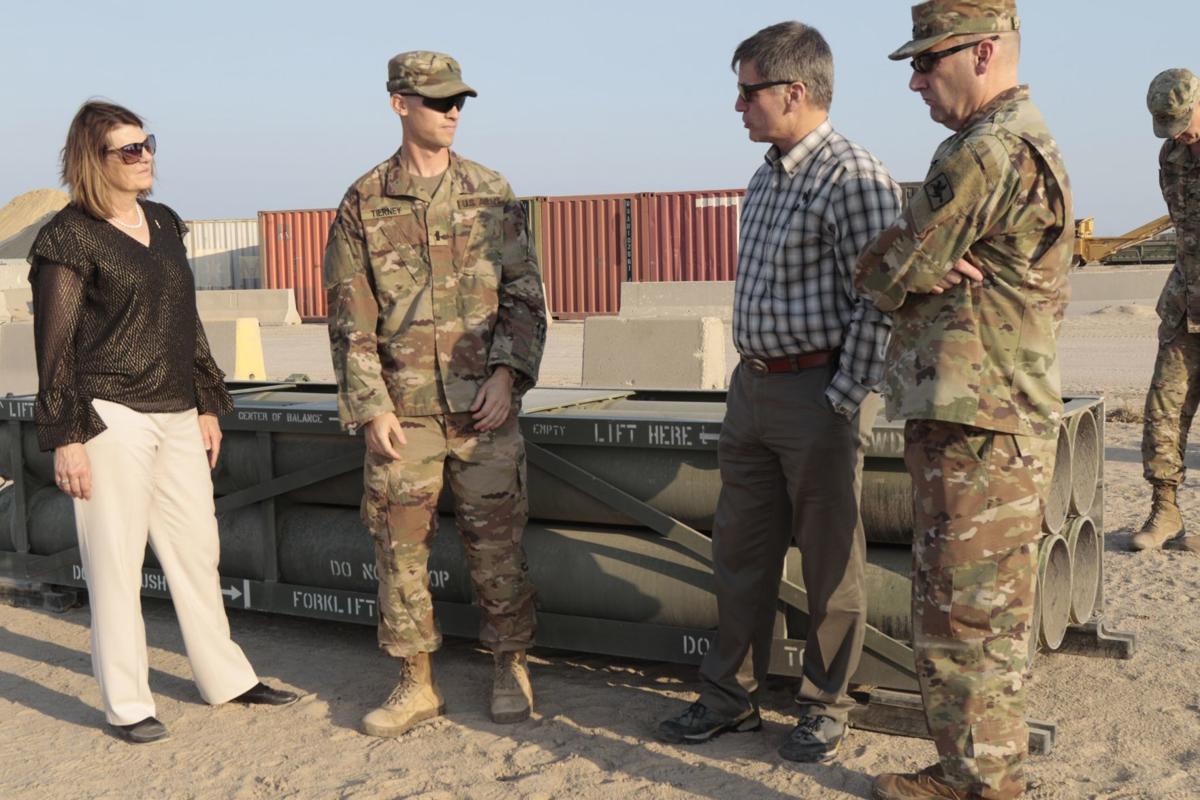 CASPER — Gov. Mark Gordon celebrated the Thanksgiving holiday with a large chunk of the more than 300 Wyoming National Guard soldiers currently deployed overseas – a trip he said was intended to thank the state's enlisted men and women for their service.
Joined by First Lady Jennie Gordon, Wyoming Maj. Gen. Gregory Porter and State Command Sgt. Maj. Harold Pafford, Gordon swept through the Middle East on a five-day tour of the region, which included stops to visit Wyoming Army National Guard soldiers stationed in Kosovo -- a nation located in southeastern Europe -- and Kuwait, according to a statement released by his office.
The governor also traveled to a third, undisclosed location on Thursday to celebrate the holiday with the soldiers of the 115th Field Artillery Brigade -- who are stationed in various locations throughout the Middle East -- over a Thanksgiving meal. That visit – first seen in a Facebook post by the unit the following day – was not made public until Friday.
Information on the visit was kept quiet until Gordon's office released word of the trip on Monday, due to security concerns.
Gordon's visit – which coincided with a quick Thanksgiving Day trip to Afghanistan by U.S. Sen. John Barrasso – was Gordon's first out of the country as governor, and just the second time in five years a Wyoming governor has traveled to the Middle East. (Former Gov. Matt Mead made a pair of treks to the Middle East as governor, including a research trip in 2013 and a troop visit of his own in 2016.)
"I understand that this can be a challenging time of year for our soldiers to be separated from their families," Gordon said in a written statement. "Jennie and I wanted to let them know that the sacrifices they and their families are enduring are not going unrecognized."
In addition to the 115th Field Artillery Brigade, visits were made to members of the C Company, 1st Battalion, 297th Infantry Regiment stationed in Kosovo (many of whom deployed in May) and to the 2nd Battalion, 300th Field Artillery unit in Kuwait, where the governor took part in a promotion ceremony for several soldiers, according to a news release.
That unit deployed to the Middle East in September, according to a news release from the Wyoming Military Department.
According to a spokesperson for the governor, the Gordons self-funded their travel to and from Europe. The other legs of the trip, the spokesman said in an email, were paid for out of the Governor's office budget. 
Be the first to know
Get local news delivered to your inbox!