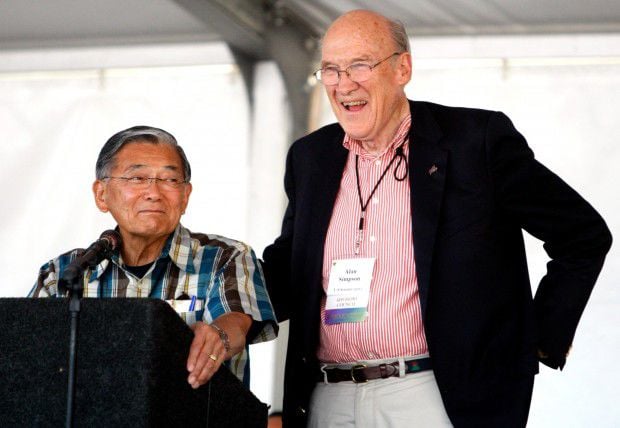 When two future congressman met on a Boy Scout trip in the 1940s, the biggest difference between them wasn't their future political parties. 
Norman Mineta, the U.S.-born son of Japanese immigrants, was a prisoner. Alan Simpson, a Cody native, was not. 
Simpson would go on to serve as a Republican U.S. senator representing Wyoming for almost 20 years. Mineta would represent California as a Democrat U.S. representative for 21 years and served as a cabinet secretary for another six years. 
They met at the Heart Mountain Internment Camp just outside Cody, where more than 14,000 Japanese-Americans were imprisoned during World War II as part of a U.S. government policy that's often viewed as one of the more shameful periods of American history.
On Friday, the duo spoke following the screening of a documentary about Mineta that kicked off the Heart Mountain Foundation's annual pilgrimage, where former incarcerees and their families return to the dusty landscape.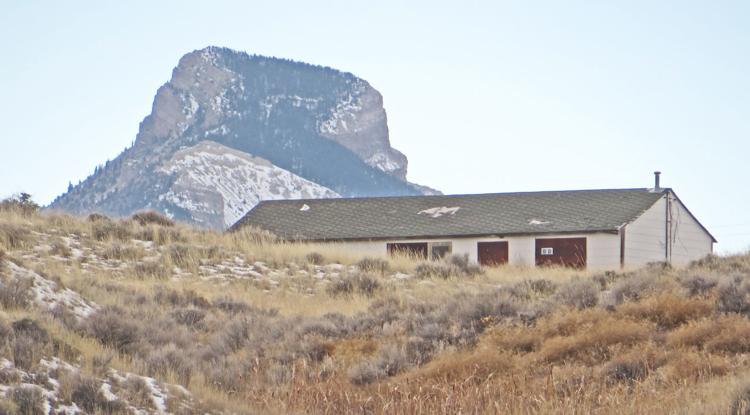 Moat mischief
Simpson was part of a Boy Scout troop that planned to visit another troop that had been organized in the camp. He recalled not knowing much about what was, at the time, the third-largest town in Wyoming by population. 
"My first impression was fear," he said, "because all this stuff was aimed inside ... guns and guard towers and search lights."
It was aimed at Japanese-Americans fueled by fear and racism in the wake of Japan's attack on Pearl Harbor. More than 100,000 men, women and children of Japanese descent were forcibly sent to so-called relocation centers built in isolated areas — like Heart Mountain. 
Mineta, at age 10, arrived in 1942 with his family. They were swept from their lives in San Jose, where Mineta's father had built an insurance business. 
They lived in cramped, cold barracks, filling cracks in walls to keep out the winter winds. But the prisoners built their own society inside the wires, with institutions like Boy Scout troops, which were viewed as a particularly effective way of expressing patriotism.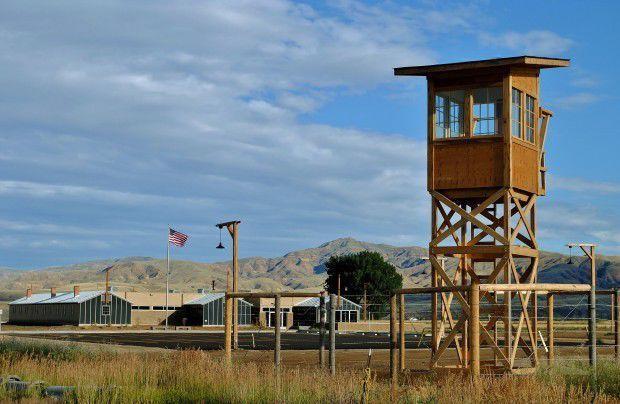 Simpson's troop was the only one to take up an offer to visit the camp. He and Mineta were paired to spend the night in a tent, but they didn't meet until after other activities. 
Simpson recalled talking to an old Japanese-American woman, someone's grandmother, who asked him about his own life, and his own grandmother. Simpson didn't understand why these people were behind barbed wire and under gunpoint. 
"I thought, this is nuts, I don't get it," he said. 
Once Simpson and Mineta did hunker down for the night, they quickly realized they were kindred spirits. 
Mineta recalled Simpson laying out a plot; there was a scout from Simpson's troop camping in a tent below them that Simpson regarded as a bully. Mineta readily agreed to Simpson's scheme to build a moat around their tent and divert any water toward the bully's tent. 
Sure enough, it rained, and the bully's tent came down. 
"He was laughing the whole time," Mineta said of Simpson. 
Compromise
Heart Mountain was closed in 1945. Mineta's family was able to rebuild their lives in San Jose, and Mineta went on to become the city's mayor before his election to Congress, where he and Simpson reconnected. 
On opposite sides of the isle, they often disagreed on issues. But they maintained a strong friendship that sometimes was politically fruitful. 
Mineta pushed for years for a formal U.S. government apology for Japanese-American internment and for financial reparations. When a bill finally gained momentum in 1988, Simpson stepped forward to help it through the Senate.
The duo lamented that those relationships may be a thing of the past in U.S. politics. 
"The word compromise is a bad word," Mineta said. He also argued that Congress' schedule doesn't allow members to build relationships with each other — to learn to fight in legislative chambers, then go get dinner together. 
"I'm not sure how we're going to put Humpty Dumpty back together again," he said. 
Simpson lamented the role of money in politics. 
"You can't be sitting there dialing for money all day long," he said. 
He advocated for rules reigning in undisclosed, unlimited political donations; "but that'll never happen, because that's mother's milk."
Pilgrimage
The Heart Mountain, Wyoming, Foundation opened the interpretative center, a museum documenting the experiences of internees, in 2011. The first Pilgrimage occurred that same year.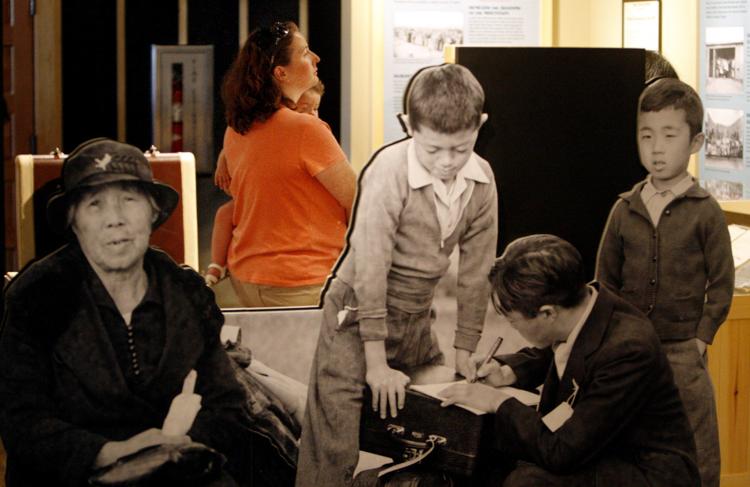 Simpson and Mineta weren't the only political dignitaries in attendance this year. Friday's event was attended by Japan's Ambassador to the U.S., Shinsuke Sugiyama.
It was his first visit to any internment camp, he said. 
"Many Japanese are not really aware, unfortunately, of the experiences of Japanese-Americans," he said. 
Sugiyama lauded the "great courage and tolerance" that the U.S. displayed in "redressing the wrong" of internment with the Civil Rights bill.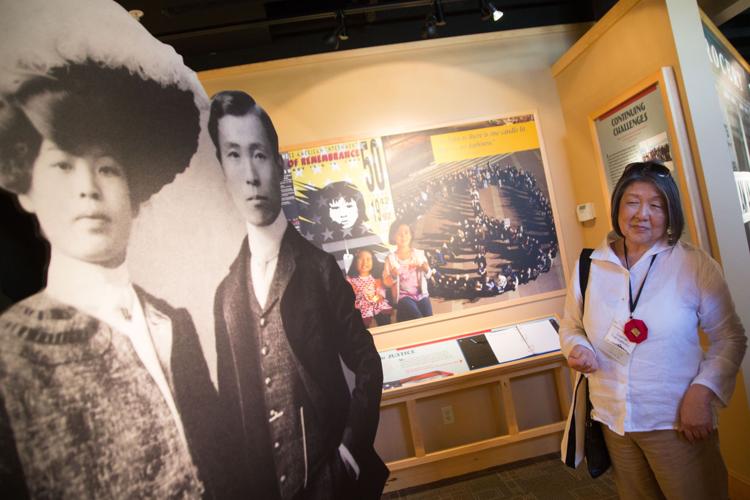 Simpson and Mineta are regulars at the pilgrimage. Both spoke of the importance of keeping the stories of internment alive. 
"You see a grandson, a great-grandson. ... He's at the (interpretive) center, he's looking around and says, nobody told me about that," Simpson said. 
Dakota Russell, the center's executive director, told attendees that the historical education has a contemporary goal. 
"We know it is a dark, tragic chapter in our history," he said. "But we are proud to do our small part in remembering it, and making sure that it never happens to anyone again."
Get Government & Politics updates in your inbox!
Stay up-to-date on the latest in local and national government and political topics with our newsletter.