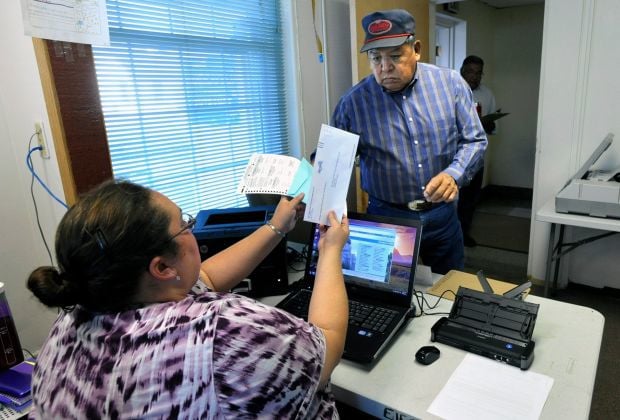 Activists working to break down barriers to voting on Montana's Indian reservations say satellite elections offices are a good start, but need to be expanded.
The temporary offices are the result of a voting discrimination lawsuit settled in 2014. They typically operate one or two days a week in certain reservation towns during the month leading up to both primary and general elections.
Set up as alternatives to each county's permanent elections office, they provide services that are otherwise offered only at the county courthouse, such as late registration and in-person absentee voting.
Proponents of the offices say they are well-suited to the unique needs of voters living on reservations.
For instance, when people who live on reservations vote, they're much more likely to do so in person, rather than by mail, said Marci McLean-Pollock, executive director of Western Native Voice.
Having a satellite office in the nearest town lifts a burden on anyone facing an otherwise lengthy drive to the county courthouse. For a voter in Lodge Pole on the Fort Belknap Reservation, that means roughly an hour to get to the Blaine County seat of Chinook.
But McLean-Pollock also underscored the limited nature of the satellite offices.
In the lead-up to the general election last week, Blaine County elections staff held satellite office hours on just two days in Lodge Pole, and on just one day in nearby Hays, according to data provided by elections clerks to the State-Tribal Relations Interim Committee.
The committee, which met in Billings Monday, is taking stock of voting access for Montanans living on reservations under an interim study bill brought by Rep. Alan Doane, R-Bloomfield.
But while voting rights advocates would like to see the satellite services expand, one elections administrator told lawmakers her office is already stretched thin.
Dulcie Bear Don't Walk, elections administrator in Big Horn County, is the only elections employee for the county. County officials are working to hire a part-time deputy.
Bear Don't Walk is working with the Northern Cheyenne government to establish the satellite schedule for the 2020 primary and general elections, and they've asked for satellite hours five days a week.
"I physically cannot provide five days a week," she said. "Unlike all of the other (counties) that have satellite offices, my county is unique in the fact that I have two reservations within the boundaries. So that means I have to provide two satellite offices. Everyone else only has to do one."
Bear Don't Walk said she, too, would like to see her office equipped to expand the satellite office hours and improve access for voters.
"It's a staffing and cost issue," she said.
The satellite offices are the result of a settlement in a voting rights discrimination lawsuit from 2012.
Voters and tribal members from three Montana reservations sued their county elections administrators, alleging violations of the Voting Rights Act.
Through a settlement in 2014, the parties agreed to a system of satellite elections offices. And in 2015, then-Secretary of State Linda McCulloch directed all Montana counties with voting-eligible reservation-based residents to set up satellite elections offices.