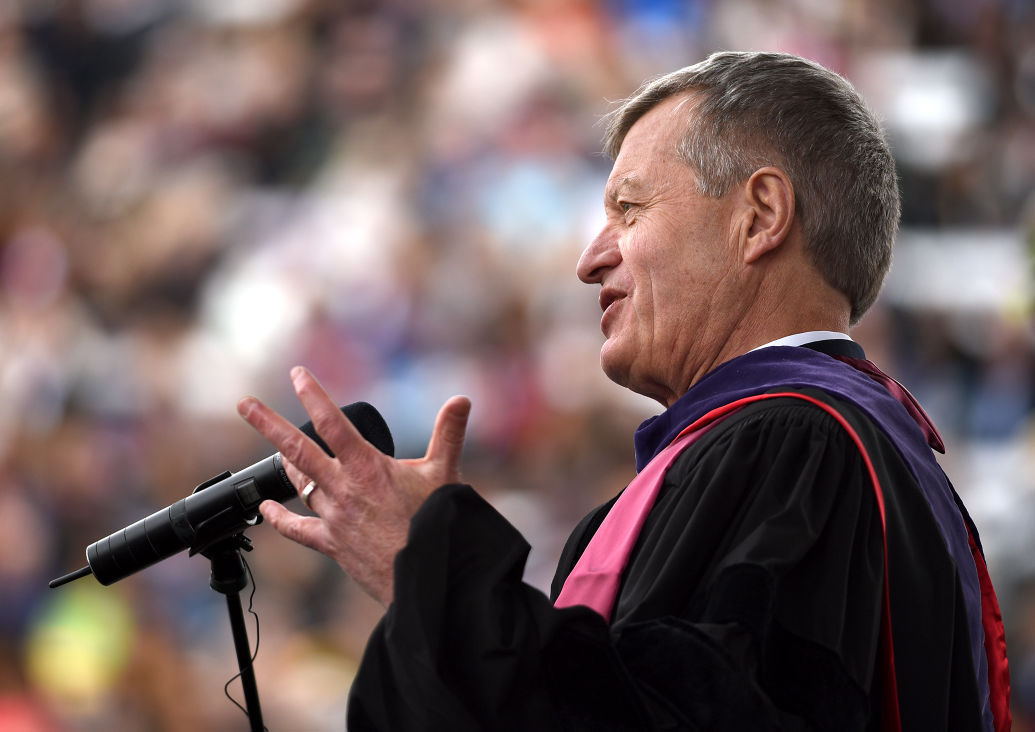 MISSOULA — President Donald Trump's proposed 2018 budget sends some troubling messages to both rural American and the wider world, according to Montana's former senator and U.S. ambassador to China Max Baucus.
"It's very sad to see a budget proposal like this," Baucus said. "It's red meat on a surface level to Trump's supporters, but it will hurt rural America."
The 62-page budget released on Thursday calls for a 21 percent cut to the Department of Agriculture and a 12 percent reduction at the Department of Interior, which together manage Montana's national forests, parks and public lands. Baucus called it a disturbing indication of Trump's instinct to fight with people rather than work with them.
Budget disparity
"It comes down to a realization I had in Congress 34 years ago," Baucus said in a telephone interview from his home in Bozeman. "We in rural states have to fight hard or we're going to be taken advantage of when Washington starts doling out dollars. I don't want to take advantage of other parts of the country, but I don't want them to take advantage of us.
"I see this budget especially giving a big boost to defense states – mainly southern and coastal states. We have all this federal land. Eastern and coastal states don't have as much federal land, so they have a tax base that supports higher standards of living and greater commerce. We need programs like PILT and SRS to balance things out."
Trump's budget proposes unspecified cuts to the Payment in Lieu of Taxes (PILT) program Baucus helped create to support communities dominated by federal land management. The related Secure Rural Schools (SRS) forms a major part of many county budgets and recently expired.
On Thursday, Congress heard testimony about how Beaverhead County recently lost $330,000 in SRS funds needed to match almost $2.4 million for a 17-mile county road infrastructure project. The county commissioners had to nearly zero out its budget reserves to sustain the project.
You have free articles remaining.
Leadership in Asia
Baucus spent the past three years as President Barack Obama's ambassador to China after serving six terms in the Senate and two in the House. Trump has not named a new ambassador.
"That's kind of pertinent, with Secretary (of State Rex) Tillerson visiting as we speak," Baucus said. "There's a big power vacuum in in the State Department. The Chinese will notice. We still don't have a full American ambassador to China, and we don't have one in Japan, either. I noticed he (Tillerson) didn't stop at the American embassy in Japan when he was there. That's a big morale-booster when the secretary stops by. Instead, they're looking at a 30 percent cut in the Department of State budget."
Baucus pointed to the recent example of North Korea's belligerent missile launches and nuclear testing. On Friday, Trump tweeted: "North Korea is behaving very badly. They have been 'playing' the United States for years. China has done little to help!" And Tillerson told South Korean officials that Obama's policy of "strategic patience" with North Korea could be replaced by a more military approach.
"Kim Jong Un is giving us fits, and it's getting existential," Baucus said. "That's something where only the United States can lead. South Korea can't solve the Kim Jong Un problem. China doesn't want to. It's up to us."
On the other hand, Baucus said Trump's rejection of the Trans-Pacific Partnership trade agreement would hurt American business opportunities.
"If we send signals that we're maybe not as engaged, we lose influence," Baucus said. "Countries around the world want America to lead. We are the economic powerhouse – the country of free enterprise and rule of law and independent judiciary. They're saying, 'Please, please stay involved. We get a lot of pressure from the Chinese, and we need the United States to be here as a counter-balance.' With the U.S. leaving, that gives the Chinese a lot more influence. It leaves a big void."
However, the Chinese and American citizens probably will see very different spending proposals as Congress puts its priorities on the budget process, Baucus said.
"I think (Democratic Sen.) Jon Tester is doing a great job, and (Republican Sen.) Steve Daines is doing a great job," Baucus said of Montana's current congressional delegation. "They've been around. We'll just have to fight. I think Jon and Steve will be fierce in their opposition."