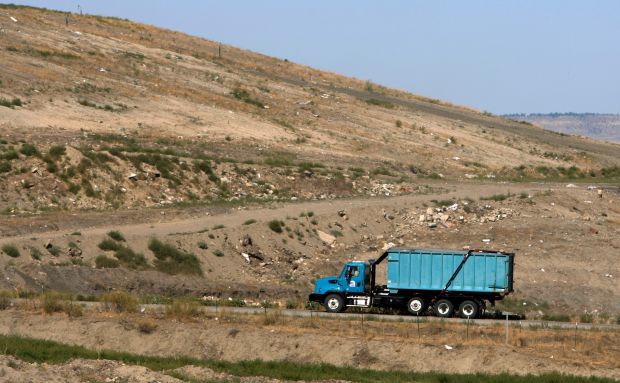 Offering Billings residents a safe and convenient way to dispose of their household hazardous waste at the Billings landfill has become so popular that the city is entering into a three-year contract for a company to receive, sort and haul the material — a deal that includes a chemist sent out once or twice each week to make sure the job's done right.
On Monday the Billings City Council unanimously approved a three-year contract of up to $100,000 per year for Clean Harbors Environmental Services of Denver to consolidate, pack and haul hazardous waste materials from the landfill, at 5240 Jellison Road.
Accepting household hazardous waste has become increasingly popular over the past few years, Public Works Director Dave Mumford told the council.
"We got more than a gallon of mercury not long ago," Mumford said. "How you end up with a gallon of mercury in your house, I don't know."
Mayor Bill Cole said the sheds at the landfill where household hazardous waste is stored aren't well marked. Mumford said the new transfer facility being constructed at the landfill will include space for accepting household hazardous material, thus making "hazardous waste drop-off more convenient."
Councilwoman Denise Joy said it might help residents appreciate the service even more if they know what it costs to dispose of household hazardous waste. Mumford included figures for those costs in the council's packet.
Disposing paint-related material in a loosely-packed cubic yard box costs $467.25. A 55-gallon drum of pesticides carries a $309.75 price tag. The company's chemist is paid $57.50 per hour, while a technician receives $47 for each hour worked.
Friendship House
The city's Board of Appeals — not the council — is the correct body to hear the ministry's appeal of a requirement to pave the approaches into a parking lot Friendship House of Christian Service plans to construct at 802 S. 31st St.
Tongue firmly in cheek, Cole suggested passing the hat to help Friendship House with that approximately $4,000 expense. Adam Liberty, Friendship House's community engagement coordinator, said he appreciated the mayor's offer, but plans to take the appeal to the proper body in the coming weeks.
"We want to invest in kids rather than asphalt," he told the council.
Central Avenue project
The council unanimously approved a special improvement lighting maintenance district to help pay for street lights along Central Avenue between 32nd Street West and Shiloh Road.
It also gave unanimous consent to a resolution ordering street improvements along the same corridor, including curb and gutter, sidewalk and trail. The approximately $4.8 million project is funded through arterial fees, gas tax and direct property assessments.
Get Election 2020 & Politics updates in your inbox!
Keep up on the latest in national and local politics as Election 2020 comes into focus.