Bill Cole will become Billings' next mayor, easily turning back challenger Jeff Essmann by more than 7,000 votes.
Cole succeeds Tom Hanel, a two-term mayor who was term limited.
Cole defeated Essmann by about 63-36 percent. According to final, unofficial results posted by the Yellowstone County Elections Office, about 52 percent of Yellowstone County voters participated in the all-mail election.
"Over 50 percent for an off-year election — that's good," said Bret Rutherford, Yellowstone County elections administrator.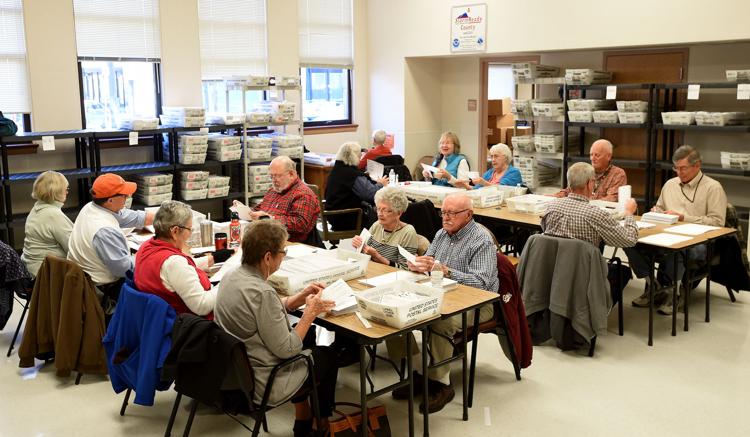 Incumbent winners Tuesday were councilmen Mike Yakawich and Shaun Brown, who represent Ward 1 and Ward 5, respectively.
Tuesday's other winners are Frank Ewalt in Ward 2, Denise Joy in Ward 3 and Penny Ronning in Ward 4.
Yakawich defeated Charlie Smillie by about 900 votes. Shaun Brown's margin over Dennis Ulvestad was about 500 votes.
Ewalt defeated Roger Gravgaard by about 400 votes, and Joy's margin over Nadja Brown was more than 800 votes.
Ronning beat George Blackard by almost 500 votes. With more than 7,700 votes cast, Ward 4 enjoyed the highest voter participation of any of Billings' five wards.
Cole, an attorney, called Tuesday "a culmination of seven months of hard work by a lot of people." He said he appreciated the more than 17,000 voters "who placed their trust in me and my message," including "building a Billings that will retain and attract young people."
Cole said he didn't want to make any campaign promises he couldn't keep, "and so I made only one promise — to have an honest conversation about our future."
While speaking of the need to compete with other cities and grow Billings by attracting young, talented workers, "I tried to lay out the challenge we face competing with other cities," he said. "I was surprised. I thought the voters might be scared off by what I laid out, and I'm glad to see they were not."
"I can't think of a worse nightmare," he added, "than being elected and having a vision, but not have anyone who wants to follow. It's like that proverbial infantry sergeant who orders a bayonet charge and only hears one click — his own. My message resonated with voters, that this is the direction we want to go as a city."
He also expressed "a shout-out to Jeff Essmann and his supporters."
"We focused on the issues, and I think the voters were well-served by that. Jeff asked the tough questions and helped provide a choice. Without Jeff," Cole said, "we wouldn't have the clarity we have tonight."
You have free articles remaining.
Keep reading for FREE!
Enjoy more articles by signing up or logging in. No credit card required.
Yakawich issued a statement expressing gratitude for Ward 1 voters granting him four more years in office.
"It has been an honor to run with many other candidates who worked very hard in this race," he said. "I am especially thankful for all those who supported me in this campaign."
Ewalt, a retired firefighter, said he was celebrating his victory "by getting ready to go to bed. I do a lot of thinking when I'm sleeping. I solve more problems in bed than I do during the day, sometimes."
He said he plans to spend the weeks until he takes his oath of office in January "sitting back and listening to learn the ropes and find out where things are going."
He said he looks forward to his four-year term.
"I spent a lot of time on the street, knocking on a lot of doors and talking to a lot of people," he said. "That's a good way to find out what's on their mind."
He said he plans to attend a few council meetings in the interim, "to find out what's on the agenda and get warmed up on what's going on."
Joy, an educator, said she's "very excited for the possibilities of what the council can do, especially now that the number of women on council has increased."
"I'm happy," she said, "that my message of investment, concern and care for our neighborhood resonated" with Ward 3 voters.
As she visited with voters during the campaign, "what I found was that the people of Billings are very open, very concerned about their neighborhood. People want to put down roots and raise their family safely."
"Our ward has many wonderful differences," she said. "Finding out what people value was the fun experience of campaigning."
Ronning, a photographer, said she's convinced after her Ward 4 campaign that "voters in Billings really do care about kids, and that's what my message was about — the safety of our youngest members. I think that resonated well in the city."
"I'm still kind of in a state of shock right now," she said minutes after the results were posted. "I am so grateful to all the people who supported my campaign — and all the other campaigns."
Brown, president of Morrison Maierle Systems, attributed his victory to his track record.
"I'm not really one-sided on anything, and I think that resonates with a lot of folks," he said. "I ask a lot of questions."
He said he looks forward to a decision on the proposed One Big Sky Center and to a parks board proposal to help finance parks development.
"The other important thing is getting a new city administrator in there and working with that person to be as open and transparent as possible," he said. "They really have to get out there and engage with the public. We do a lot of great things in Billings. They're out there, but they're not pushed, and they're not front and center in people's minds."