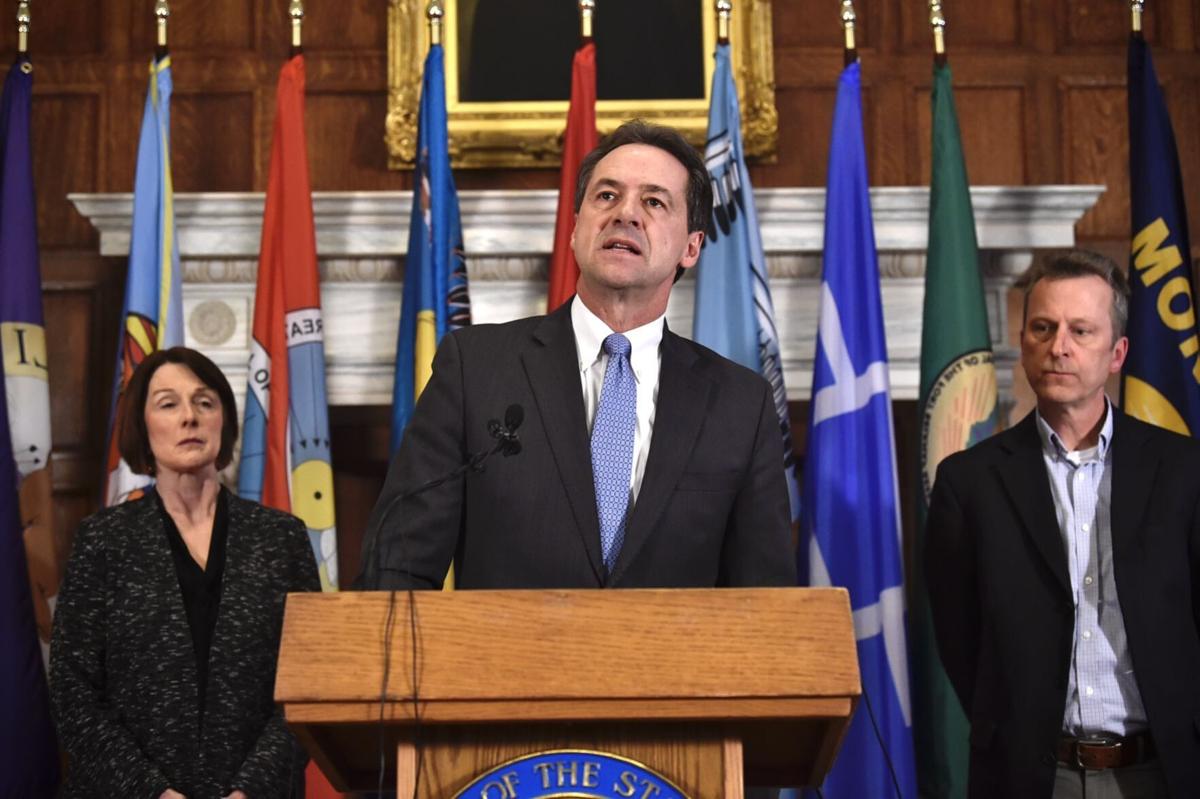 The directives are now set to expire April 24. The previous expiration date for both was Friday. The extension also applies to orders such as a post-travel quarantine for most people and pauses on evictions.
"These steps may seem extreme. In a state like Montana, they may seem too cautious. After all, we're a state with a small population and at times sparse. But we must not forget here in Montana, we face some unique challenges," Bullock said. "Every action that we take now will help us overcome these challenges, or even better, make sure that we never have to confront them. We don't have to become like New York, Louisiana or Idaho. And I'll do everything I possibly can to try to make sure that that doesn't happen on my watch. We can and we must keep efforts up to flattening the curve."
Bullock also encouraged people to wear cloth masks in places where it's difficult to maintain social distancing, such as grocery stores and pharmacies. He did not order their use, however. The governor said to use cloth coverings and not medical-grade masks needed by health care workers. He also emphasized cloth masks are not a reason to ignore social distancing rules and that people should not have a false sense of security when wearing one and be lax on measures like washing hands frequently or staying a minimum of 6 feet away from other people.
Montana reached 320 known cases of COVID-19 on Tuesday. Six people have died, at least 28 have been hospitalized and at least 58 have recovered. For the first time the state provided information on the racial breakdown of cases so far: 95% are white, 3.5% are Native, 0.4% black, 0.4% Asian-American and 0.4% are other races. State medical director Greg Holzman said there are no cases associated with tribal reservations so far; however, the state did not have numbers on how many people living in tribal communities had been tested. Just shy of 7,000 have been tested statewide.
Bullock said Tuesday it's too early to say what he'd need to see to start lifting any of the orders that have so dramatically changed day-to-day life in Montana and paralyzed the economy at a state, national and global level.
The state has seen more than 105,100 payment requests for unemployment benefits since the first four COVID-19 cases were reported here March 13. The Department of Labor and Industry said Tuesday it had issued 49,292 payments by Tuesday totaling $15.78 million. The number of new requests for payments jumped by just over 41,000 on Sunday and Monday combined.
Acknowledging the financial pain many in the state are suffering, Bullock said a healthy economy and population go hand in hand.
"Managing this public health crisis now will prevent longer-term consequences that could upend our economy for a longer duration, and with a worse outcome," Bullock said.
Like every other state in the nation, Bullock said Montana has challenges getting sufficient medical supplies. Two-thirds of hospitals the state has surveyed reported supply orders canceled. Through a compact with North Dakota, the state received five times the number of N-95 masks it has from the federal government.
"In a state like Montana, each hospital can't rely just on their medical supplies sources, especially in the competitive and expansive market we see during COVID-19," Bullock said.
The state is waiting on the arrival of 1 million N-95 masks, among other supplies, and expects to get some by the end of the week. The order is to two private suppliers for 500,000 each.
"But I'm not going to count on it until I actually see that delivery receipt," Bullock said. " … I don't want a day to go by where a nurse or ER doctor doesn't have sufficient PPE (personal protective equipment)."
Bullock also on Tuesday issued a directive clarifying law enforcement, emergency care providers and others should be notified when they're responding to a person diagnosed with COVID-19. If that's not possible, public health officials should prioritize notifying first responders when doing contact tracing.
An additional directive waives a requirement that local governments enact a 2-mill emergency levy to access funding from the federal CARES Act, from which Montana will get $1.8 billion. And the governor's office also announced Tuesday it sold $33 million in infrastructure bonds that had previously been delayed over an audit dispute.
"We're ensuring that when it is safe to do so that we can immediately boost our economy by putting shovels in the dirt to both address infrastructure needs our communities have and create good paying jobs," Bullock said.
Bullock pointed to rural parts of the state, including central and eastern Montana counties, that have not reported cases yet. He said that seems like a bright spot, but the small critical-access hospitals there could easily be overrun in an outbreak. On Tuesday one of those counties, Richland, added its first case.
In Toole County, with 4,800 people, there's an outbreak associated with an assisted living facility. There are 20 cases associated with that event, Bullock said Tuesday, including 17 in Toole County and three from neighboring counties. Seven residents of the facility have tested positive, as have five employees. So have seven employees of the attached county hospital, in addition to one case from family contact.
All residents in the long-term care facility are in quarantine or isolation, Bullock said, and Glacier, Toole and Pondera counties have set up an incident command center. The hospital was deep-cleaned Monday and the assisted living facility was scheduled for cleaning Tuesday or Wednesday.