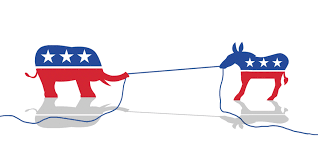 In nearly five hours of public testimony and a full day of Friday discussion by the commission tasked with creating a second Montana congressional district, the debate kept pivoting to drawing a Western district that wasn't a lead pipe cinch for GOP candidates.
"Every time you talk to people about what do you think these districts are going to be like, you know, what would be good for Montana? Most people say, 'Well, yeah, if we could have at least one district where Montanans are truly given a chance to pick the candidate of their choice, that we ought to be encouraging folks to do that," said Commissioner Joe Lamson, one of two commissioners appointed to the state Districting and Apportionment Commission by Democratic legislators.
It's been 30 years since Western Montana had its own member of Congress, one who represented the interests of the blue-collar union laborers and liberal ideals of the state's university communities. The state lost its second U.S. House seat to the 1990 Census. A western Montana Democrat held the at-large seat the following two terms, but Republicans have won the district 13 elections in a row.
The return of a second congressional district for a state demoted to at-large status is a political anomaly. No state designated at-large, for lacking the population growth to keep two seats, has ever recovered a second seat as Montana now has.
But Montana increased its population just enough to receive a new district. Its 2020 Census population is 1,084,225. That's 297,535 more people than in 1981, which is the last time the state Districting Commission had to draw a congressional dividing line. The new district is partly due to Montana's population growth, but also because of population declines in other states, which lost seats in the 435-member U.S. House.
Lamson's "at least one district" reference was a nod to Montana's conservative east, where running for office as a Democrat is a lot like a deer applying for membership in a gun club. Outside of the urban districts of communities like Billings and Great Falls, wins by Democrats are rare and becoming even more difficult.
When it came time to debate whether drawing competitive Congressional districts would be a goal, the two Republicans on the districting commission objected.
"I'm surprised the proposal didn't say when considered on a statewide basis a plan must have one Republican district and one Democrat district," said Jeff Essmann, a Republican commissioner, former legislator and former state GOP chairman. "Basically, that's what the impact of this proposal is. Basically, it's a license to gerrymander to achieve a political outcome and I understand that instinct. It's our job to try to avoid that and follow clear rules."
Making the districts competitive isn't the same thing as assuring a Democratic win, said Commissioner Kendra Miller.
"Certainly the incentive structure is different and it pushes people to the extremes, to the outer ends of the spectrum, and that's both parties, when they know they don't have a general election race," Miller said. "That, I think, is something that we were hearing from people, that competitive districts are more likely to lead to better constituent services and people who want to reach across the aisle."
In the end, the five-member commission agreed that they "may consider competitiveness when drawing plans," a pivot away from setting a goal of making districts competitive. The vote was unanimous.
Commissioners did decide that no plan could be drawn to unduly favor a political party. They agreed to keep to a minimum the dividing of cities, counties, and tribal reservations between the congressional districts. They agreed to keep intact communities of interest, like trade areas, or tribal interests.
Additionally, the commission set mandatory criteria Friday for drawing congressional districts. The districts must be as equal in population as practicable, a requirement of the U.S. Constitution.
The voting rights of minorities must be protected. "No district, plan, or proposal for a plan is acceptable if it affords members of a racial or language minority group 'less opportunity than other members of the electorate to participate in the political process and to elect representatives of their choice.'"
Each district shall be compact and contiguous.
The next time the Commission meets, it will have Census data to begin drawing up Congressional districts. It will have 90 days to produce a final map. 
Already, there are candidates lining up to run in the west. Two Republicans, former Interior Secretary Ryan Zinke and state legislator Al Olszewski have declared, as have two Democrats, Monica Tranel and Laurie Bishop. In the East, there is Republican Rep. Matt Rosendale, but no challengers.