U.S. Sen. Steve Daines pushed back Thursday on the suggestion that his weeks of comments about the legitimacy of the 2020 general election stoked the "stop-the-steal" sentiment of pro-Trump rioters who assaulted the House and Senate disrupting the certification of President-elect Joe Biden's presidency.
The Montana Republican abandoned plans to reject the outcome of the Arizona election Wednesday after being swept from the Senate and evacuated through tunnels as rioters supporting President Donald Trump took over the chamber.
In the two months leading up to Wednesday's deadly riot, Daines had been slow to acknowledge Biden's win, suggesting the election remained unsettled even though the Democrat had decisive wins in both the popular vote and the electoral college.
Daines suggested something wasn't right with the vote in Arizona and still expresses skepticism about the outcome in Georgia. And then there's this: days after the election, a fundraising solicitation texted to voters, which read "Dems are stealing the election. Trump needs our support. Give $5 & help us fight back now – Steve Daines."
"To be straight up, I don't even see a fundraising text. There's another group that takes care of our fundraising texts. I know we've all become probably a little too cavalier in believing it's easy to distinguish between campaign fundraising hyperbole, versus the work of governing," Daines said, adding that he never recalled actually saying Democrats were stealing the election. He spent the afternoon Thursday doing interviews with journalists who were asking about his comments.
"I have not gone to the rhetoric where some of my colleague have gone, believe me, because I haven't had the hard evidence. I've seen certain casual evidence and I'm digging into some things, like in Georgia right now that actually look somewhat compelling, potentially, but it wouldn't overturn the election. It might overturn one state."
Similarly, U.S. Rep. Matt Rosendale, Montana's only House lawmaker, said throughout the process that there was credible evidence of widespread election fraud. He sided with a majority of House Republicans who after the riot returned to the House chamber and opposed, often without necessary Senate support, recognition of the outcomes in several swing states that Trump lost.
Rosendale has made himself available to few media outlets over the last three days. He spoke with Breitbart News on Jan. 4 and the Billings-based morning talk radio program "Montana Talks" before the joint session of Congress. "We've got numerous extensive, credible allegations of fraud that have taken place in many states and for those states to certify those elections without addressing those allegations properly, I do not feel comfortable in certifying the electors coming from those states," Rosendale said on "Montana Talks."
In the end, Rosendale objected to outcomes not from numerous states but only two. He didn't respond to phone calls and emails from Lee Montana Newspapers before presstime. There have been dozens of lawsuits filed by Trump's attorneys or his supporters alleging election misconduct. Nearly all have been rejected by the courts, some by judges appointed by Trump. The U.S. Supreme Court also refused to take up the claims of Trump and his allies for lack of merit.
A 'lapdog for Trump'
Words do matter, said Bob Brown, a former Montana secretary of state, and 2004 Republican candidate for governor. An elder statesman in Montana conservative politics, Brown said he expected better from Daines, who he's known for years, and Rosendale, with whom Brown is less familiar.
"Steve Daines has been a lapdog for Trump since Trump has been in office and he's been a tremendous disappointment to me. I have always thought Steve was fundamentally a good man," Brown said. "I'd still like to think that, but he has gone along with all the awful things Trump has done, or tried to do, including being a detractor of the outcome of the recent election, when it's been as plain as the nose on an anteater that Biden was elected president of the United States in a free and fair election.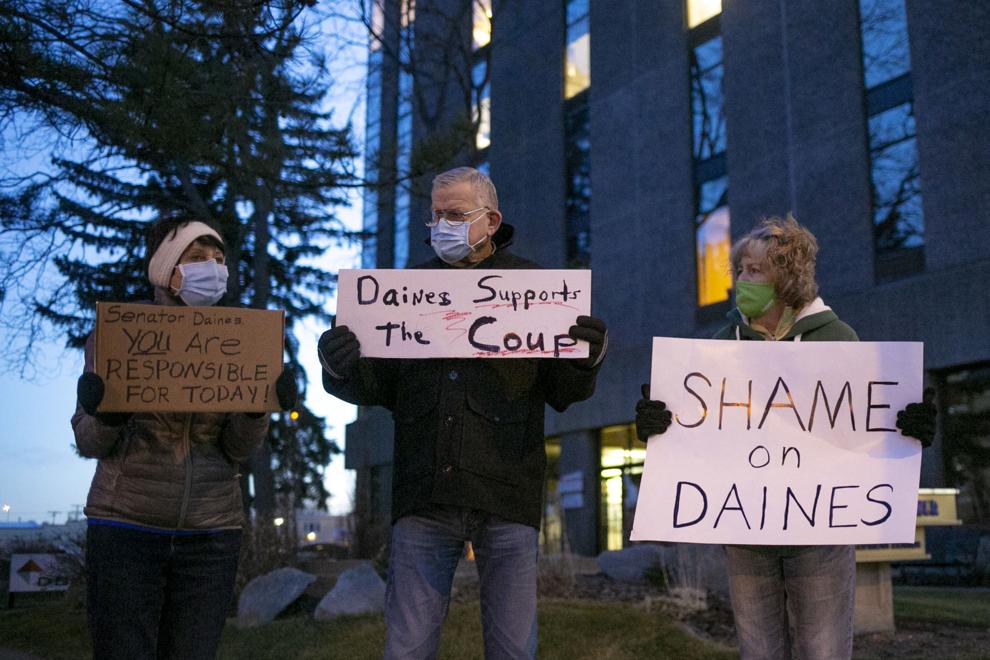 "I'm extremely disappointed in him and I think he owes Montana an apology for his blind support of a dangerous demagogue," Brown said.
Tester calls for consequences
Thursday, reflecting on the insurrection of the day before, U.S. Sen. Jon Tester said there had to be consequences for lawmakers who stoked the belief that the election was fraudulent. Tester never named Daines and Rosendale specifically, but confirmed they were among the lawmakers who by word and action, fomented rioters' who the senator said staged a coup attempt supported by Trump.
"Somebody last night during one of the challenges said 'the sad part here is everybody in this Senate knows that this election wasn't stolen. They were out supporting the president, spreading these lies because they were trying to raise money, or it was because of political expediency and not wanting to tell their constituencies the truth,'" Tester said.
"I agree with that. The problem is because of that, there's a direct connection, a direct line between what the president has been doing and what happened yesterday (Wednesday). This wasn't just planned yesterday with a rally in the ellipse. This has been planned for months. People have been adding fuel to this fire for months. People who know better. . . and quite frankly, there needs to be consequences for this unbelievably inappropriate behavior. "
Tester said there should be a debate about what is the appropriate action for the senators involved, either censure or expulsion. He includes Daines in that mix. Without consequences, it won't be long before another coup is attempted, he said.
Tester has not supported removing Trump from office. Spokesman Roy Loewenstein said the Democratic senator doesn't see a realistic path to removing the president from office before the inauguration, now less than two weeks away.
Assault on Capitol a crime
Daines emphasized that he considers the assault on Congress to be criminal and that those responsible should be prosecuted. He also said those involved weren't part of the Trump movement, that they came to the Capitol to commit a crime, something not all Trump supporters at the planned gathering, at which Trump spoke, participated in.
"I condemn all of it, on either side. It doesn't reflect who we are as Americans. Extremism from either side has got to be rejected," Daines said. "Keep in mind, the vast majority of Trump supporters and Montanans, they don't support this. When you go to a Trump rally they talk about back the blue, stand with law enforcement, very vocal on that. I don't care which side a person's on, a rally, or an anti-Trump rally, we've got the take the temperature down a bit here."
Leading up the certification of the election and afterward, Daines kept returning to his intention to not overturn the election, but rather force a look at election security and fairness through a 10-day election audit.
"What we wanted to do was to highlight the need to ensure that we helped to restore confidence in our elections across our country because we got millions of Americans, we've got thousands of Montanans, the polling data shows, there's Republicans and Independents and 20% of Democrats who believe these elections are 'rigged' and we need to ensure transparency and get to the bottom of the facts . . ." Daines said.
The play for the study started with rejecting the Arizona outcome, by arguing it was uncertifiable. The nuance was lost on the mob.