Kathleen Williams on Friday launched her 2020 campaign for Montana's lone U.S. House seat, just five months after falling short of defeating incumbent Republican Rep. Greg Gianforte.
In 2018, Williams attracted more funding and votes, 46.2%, than any Democrat running for the seat in the past 20 years. She intends to build on that support in a new run. Several people have speculated Gianforte will run for governor, opening up the 2020 race.
"I ran because I felt Congress was broken and I thought it needed people like me with experience, who were committed to cutting through divisiveness and bringing people together," Williams told The Billings Gazette. "And it's still broken. The divisiveness is still there, their inability to get anything done. They've gotten a few things done.
"But just the inability to function as an institution as intended — those issues are still there," she continued. "Health care is still there, public lands issues are still there. Fostering opportunity is still a challenge for some."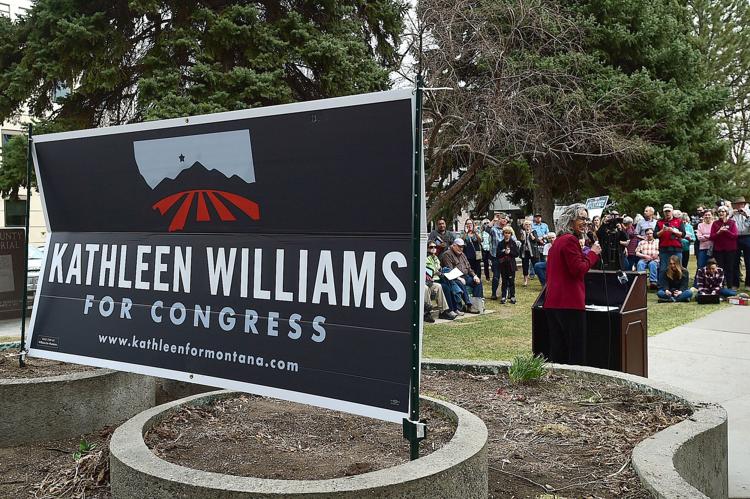 A former state legislator, Williams was the overachiever of the 2018 election cycle. She got into the Democratic primary in late 2017 more than a month after better-funded male candidates. She punched above her financial weight in that primary election, using the $73,000 war chest to defeat two presumed male front runners who were better staffed and had at least $250,000 each.
She traveled the state by truck and camper when she couldn't afford to reach people with TV advertising. But after the primary, support ramped up. She raised $4.1 million in campaign donations and seemed to be gaining momentum. Democrats liked her go-anywhere, speak-with-anyone persona.
"It just felt a bit rushed, like she was playing catch-up throughout the campaign," said Rob Saldin, University of Montana political science professor and analyst for Montana Public Radio's "Campaign Beat."
Saldin said it was interesting the Williams was making her announcement in Billings. Gallatin County delivered the second most Democratic votes of any Montana community in 2018, and Bozeman's the county seat. But Yellowstone County is the state's most populous and has one-seventh to one-eighth of the Montana vote, depending on turnout.
"Democrats, if they're going to win, they need to do well in Yellowstone (County), and Kathleen, it seems like from the opening bill, has her sights on Yellowstone, which is something she has to do," he said.
You have free articles remaining.
Keep reading for FREE!
Enjoy more articles by signing up or logging in. No credit card required.
Her announcement on the Yellowstone County Courthouse lawn drew about 100 people. Williams opened with a promise to work again on health care, protecting public lands and making sure Montanans had an opportunity to succeed. She specifically pointed to improving international trade opportunities for Montana farmers.
Earlier in that afternoon, Williams told the Gazette that improving access to health care remained central to her campaign. The candidate was 11 when her mother, Maria, was diagnosed with Alzheimer's. Williams' husband, conservationist Thomas Pick, died unexpectedly in the Beartooth Wilderness backcountry in early 2016.
People need to be able to get through a medical crisis, she said.
"I think people, they just want the security of knowing that a fall or an accident isn't going to bankrupt them, because it can," Williams said. "When I was looking into the classes of people who fall into poverty, the age group that is falling into poverty the fastest now is 65 and older. And the reason is some kind of health care issue."
In 2018, Williams advocated giving adults 55 and older the option to buy into Medicare. She still supports the plan, explaining that not only would it assure that older, often less job secure workers had health coverage, but it might free some people to start a business and feel tied to a job just for health insurance.
Williams is the first Democrat in 24 years to run for U.S. House more than once. The last Democrat to do so is former Rep. Pat Williams, no relation. She's only the second Democrat in the past 24 years to lose the House race and run for any office again — the other being Monica Lindeen, former state auditor and current executive director of the Montana Democratic Party.