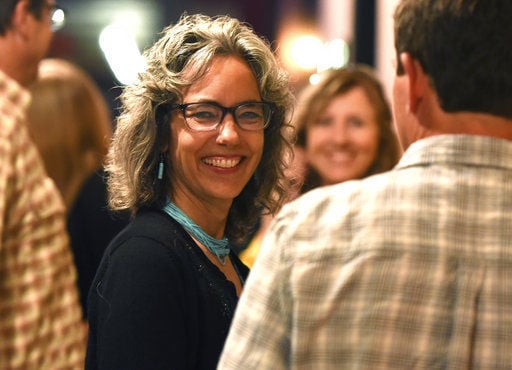 It was during one of Kathleen Williams' marathon trips across Montana's frozen back roads when Andrew Markoff realized retail politics in the Big Empty was a lot like "Ice Road Truckers."
On a bad-weather road during one of the worst winters on record, Team Williams' wheels were literally starting to spin outside Baker. Before Williams' New York-native campaign manager could explain his inexperience at chaining up tires, the Democratic U.S. House candidate was laying on her side next to her front tire getting the job done.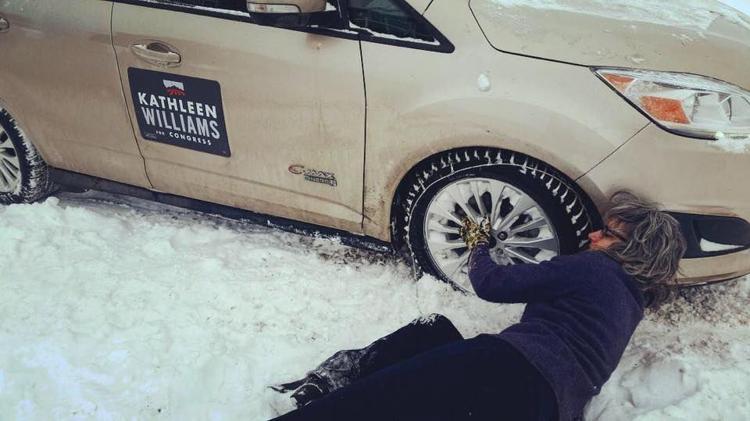 "I will say, I have never put chains on tires before, but Kathleen has, and it's impressive to watch her expertise navigating in a lot of these dicey weather situations," Markoff said Wednesday. "I can't tell you how many times her and I were driving back to Bozeman late at night. She's telling me 'watch for the deer over there, the snow drift is coming in from the left.' Eventually she just takes the wheel, like, 'here, I don't trust you anymore. I can do this better.'"
Those trips paid off big for Williams on primary Election Night as returns from Montana's rural counties began trickling in. The candidate who Markoff said works harder than anyone he's ever known pulled away from a six-candidate pack of would-be challengers to incumbent Republican Rep. Greg Gianforte. From 10:30 p.m. to midnight, Williams' lead grew from 83 votes to 1,010. By 3 a.m. the former state legislator was up 1,992. The race was won.
Wednesday, people were still trying to figure out exactly how Williams, 57, pulled off the win. There had been no public polling in the race to suggest Williams' victory was truly an upset, but campaign observers throughout the primary season considered her a long shot. There were three candidates announced for the race before Williams launched her campaign late last October. A little more than two months later, her campaign war chest was just $73,000. John Heenan and Grant Kier, the presumed frontrunners, each had $250,000 at that point. Williams didn't have that kind of coin until May.
But what Williams lacked in money she made up in time. With her slide-in camper fitted to the bed of her pickup, Williams zigzagged 1,100 miles of Montana back roads in a week. Wherever she was invited to speak, she went. Wherever she wasn't invited, Markoff called to book a room.
"I kid you not," Markoff said, "When we were scheduling a meet and greet in Ekalaka, the first person I asked to help me set up the event laughed at me. He said, 'Are you serious? You're actually going to send your candidate to Ekalaka?' I had to assure him I wasn't faking it or losing my mind. There are parts of the state that don't see candidates frequently, and showing up makes a big difference."
There are 6.8 Montanans for the each of the state's 147,040 square miles. In some places, the concentration is much more. In Carter County, where Ekalaka is the county seat, the density is far less. Tucked away in southeast Montana, the county's emptiness is used for flight training by B1-Bombers from nearby Ellsworth Air Force Base in South Dakota. Williams' trip there earned her a commanding 57 percent of the Carter County vote. That's 16 votes of Williams' statewide total of 37,146. There were a lot of county victories like that in Williams' win column.
"In much of my career, I've worked with farmers and ranchers, have been in rural areas. I love rural areas," Williams said. "I love the surprises you find around the corner when you stop somewhere."
Her work with farmers and ranchers comes from her years as an associate director for Western Landowners Alliance, a group that works with private landowners on issues like water conservation and range management.
"We were in Scobey on a Sunday morning and the Main Street, just everything was closed. We sat out on a bench with a reporter with the Daniels County Leader and talked with him for a while and he said, 'Tell you what, I'll buy you breakfast.' So he took us to the bowling alley, and, no one was on Main Street because everyone was at the bowling alley having breakfast. I just love stuff like that," Williams said. "You get these incredible stories, when you encounter people, about what they care about."
What sticks out in Williams' results, said Robert Saldin, University of Montana political science professor, isn't the number of counties in which the candidate finished first. It's the number of counties in which Williams finishes in the top two. While her opponents' performances county-to-county were erratic, Williams was steady.
"I think the big thing I see is that Williams ran really well everywhere. She didn't win everywhere, but if she wasn't winning, she came in second," said Saldin, who also provides political analysis for Montana Public Radio's "Campaign Beat."
In Carter County, Kier received no votes. Heenan received three.
Saldin was one of the observers who framed the Montana Democratic primary for U.S. House as a battle between Kier and Heenan, with Williams a distant third. Kier was considered the moderate in the race with a platform that didn't take risks. Heenan was a populist cut in the mold of Bernie Sanders. But as the race went along, Williams gained momentum.
No stranger to guns and shooting sports, Williams advocated for universal background checks and restrictions of assault-style weapons and bump stocks after February's mass shooting at Marjory Stoneman Douglas High School in Parkland, Florida. It was a response Montana's school children and adults, marching for an end to gun violence, were demanding to hear.
She was one of 417 women nationally running for Congress this year, an effort hardwired to women marching for change after the inauguration of President Donald Trump, a politician exposed in 2016 for bragging on video about sexual assault.
"Kier's moderation was a little out of step with Missoula's reputation of being the most progressive place in the state. It was kind of a liability," Saldin said. At the same time, Kier's affiliation with liberal Missoula gave him the appearance of a left-leaning environmentalist — though wrongfully so. Kier had made a name for himself as the conservationist working with Missoula's Five Valleys Land Trust, which supports things like selective timber cutting.
Williams' victory wasn't just a rural story. Gallatin County, Williams' home of nearly three decades, turned out big for the Democratic primary election, with a record 12,707 votes. Williams claimed 54 percent of those. That home stand kept her competitive with Heenan, who won 56 percent of the vote in his home county, Yellowstone.
In Missoula County, Williams pulled almost even with hometown candidate Kier, each with about a third of the vote. Williams didn't advertise everywhere; she couldn't afford to. But she did advertise in Missoula, Markoff said. The results appear not only in Missoula County but in its five surrounding counties, four of which Williams won.
There was another good omen for Williams in the election results. Rep. Greg Gianforte, who didn't have an opponent, received 16,886 fewer votes than were cast in the Republican primary for U.S. Senate. Republican voters didn't go down the ballot one race to support Gianforte, Saldin said. Conversely, Democratic U.S. Sen. Jon Tester, who is also unopposed, received 3,000 more votes than the total votes cast in the Democratic House primary.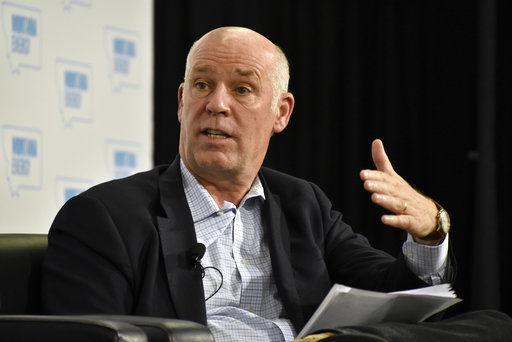 Still, defeating Gianforte is going to be challenging, Saldin said. The incumbent has about $1.1 million on hand for the general election. Williams had $90,000 as the primary election entered its final 10 days.
It isn't going to be easy to raise money or garner attention with Tester's U.S. Senate seat on the ballot. That's something Democrat Monica Lindeen knows firsthand. The last time the U.S. Senate seat was at the top of the ballot was 2006, Tester was in a high-stakes race to unseat then-Republican incumbent Sen. Conrad Burns. Lindeen was the Democrat challenging incumbent Republican Rep. Denny Rehberg. The Senate race sucked up most of the campaign funding and media attention that year. Lindeen, a former Montana state auditor, couldn't get any traction in the House race.
"That was rough because not only did you have a general election that was a high-profile Senate race, but the primary was also high profile, as well, because you had John Morrison and Tester in the Senate primary," Lindeen said. "And you're trying to raise some money and people are like, 'after the primary, after the primary.' By then you find you haven't garnered some national support, and the national dollars aren't coming your way because people are already committed to other races."
Between the U.S Senate candidates and third-party groups spending on that race, there's already been about $8 million put down since 2017. The entire Democratic House primary field has spent much less than $2 million.
Lindeen thinks Williams is in a good position to gather support from Montana donors and from national groups because Gianforte's identity among Democrats nationally is of a politician who assaulted a journalist during the 2017 special election and then lied about it, blaming the altercation on Guardian reporter Ben Jacobs.
"He's got some liabilities, and I think Kathleen actually has an advantage there," Lindeen said. "That will attract some national Democratic support. I think being a woman, this year in particular people are looking to women candidates, and you're seeing it nationally. So now the question is, 'can she take the energy and continue to garner some attention, despite this massive U.S. Senate race occurring alongside her?' I think it can be done, but it's going to take people willing to share the limelight with her."
Williams said her next campaign step will be the same as her last: turn down no invitation to meet with Montanans, wherever they may be.
Get Election 2020 & Politics updates in your inbox!
Keep up on the latest in national and local politics as Election 2020 comes into focus.