Elinor Swanson has a dream in which her rival candidates for U.S. House come to see things her way. It's exactly what a candidate focused on changing the public discussion would want.
"I had a dream where both of my opponents were convinced of my Libertarian ways, and I got to quit. It was great," Swanson said, spoken like a candidate fighting just to be heard.
It's been hard for the Billings attorney and mother of four to get her message out. Swanson was excluded from one public debate this election cycle, which featured only incumbent Republican Rep. Greg Gianforte and Democrat Kathleen Williams. Swanson, 36, was included in a second debate.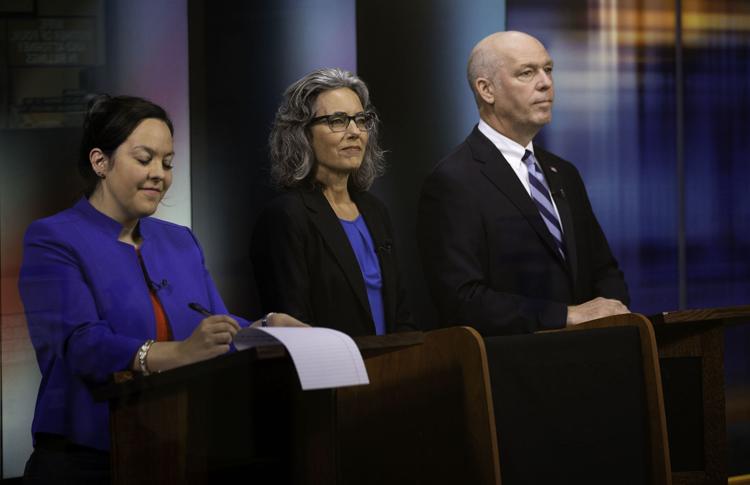 Libertarian U.S. Senate candidate Rick Breckenridge did not respond to The Gazette's invitations to comment. On the state level, there are 17 Libertarian candidates running for the Montana Legislature and one candidate for clerk of the Supreme Court, according to the party's website. 
Swanson is an Anchorage, Alaska, native who moved to Billings so her husband could take a nephrology job with Billings Clinic. She has been on the outside looking in as big-league Republican surrogates have stopped in Montana to campaign for Rep. Greg Gianforte and Senate challenger Matt Rosendale.
When President Donald Trump visited Billings, she lined the motorcade route with blue Swanson for House signs, the ones featuring the Statue of Liberty with sleeves rolled up, her right bicep flexed. Event officials at MetraPark sent her packing, across the street, where she had to share the corner with protesters. It was Trump-only politics at the fairgrounds, Swanson was told.
Swanson's message is unfettered liberty and non-violence. She said it might have been the birth of her youngest child, just four months before she filed for office, that got her thinking about taking that message all the way to November.
"We need someone who isn't planning to rule other people's lives." Swanson said. "I'm not planning on moving people around, controlling other people's lives. That's not my goal. The reason politics is becoming so hostile is because the government has intruded into our lives in ways large and small. It has intervened internationally in ways that are unrelated to our national interests. So we have a very high-risk, high-reward situation. Whoever gains control of the government does in a meaningful way get to rule."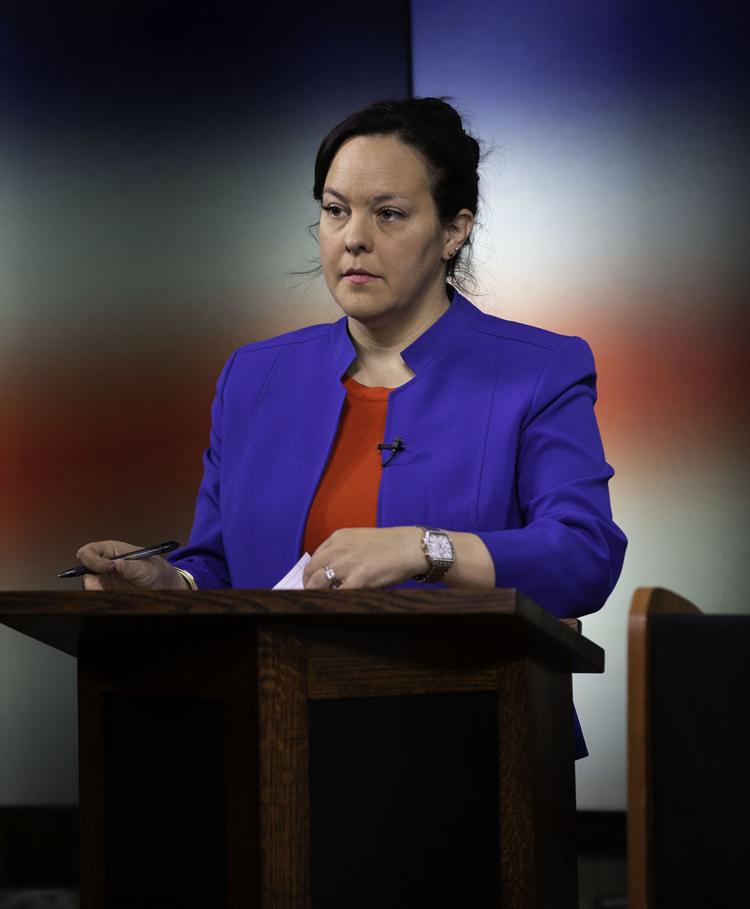 There's liberty, and then there's Libertarianism, which supports the legalization of recreational drugs, prostitution, the unregulated ability to carry a concealed gun anywhere, and a pretty hands-off approach to world affairs. She's for lowering taxes, but not while also increasing spending, which she criticized congressional Republicans, including Gianforte, for doing.
Libertarianism is a "my-rights-stop-where-yours-start" philosophy that supports anyone doing mostly what they want, as long as it doesn't harm someone else. It's a platform that abhors violence against another human and right now, America could use less violence, Swanson said. Our politics have become toxic and people are being assaulted, she said. Gianforte's misdemeanor assault of a journalist 17 months ago comes to mind, as does Trump's praise of the assault and his pro-wrestling-style re-enactment during a Missoula campaign stop earlier this month.
Swanson won't give her thoughts on Trump's praise of the assault. She won't say anything because she doesn't have anything nice to say, she explains. She does see violence in politics as a bipartisan disgrace.
"I never endorse violence, no matter who commits it, and there's an increasing trend on both sides of this political battle to endorse violence and to be OK with it," Swanson said. "This what-about-ism and this glorification of kicking people out of restaurants, or dumping drinks on them, it's ugly; it's terribly ugly. We need civility and decency and decorum, and we've lost so much of that."
She pushes back against the notion that Libertarians in Montana elections have played the role of spoiler for Republican candidates. In tight races, Republicans have suggested they might have won had there not been a Libertarian in race. But Republicans have also won with Libertarians in the ballot. Gianforte defeated Democrat Rob Quist in the 2017 special election despite Libertarian Mark Wicks capturing as much as 12 percent of the vote in some key precincts.
There are voters who want to vote for a Libertarian candidate. They might not vote at all if there weren't a Libertarian on the ballot, Swanson said, which isn't to say that she doesn't have a pitch to Democratic voters.
"I'd ask them to really think about what their priorities are. Democrats have had control of our federal government in the past. They did not reduce our international intervention. They did not enact criminal justice reform. They can't be trusted to follow through," Swanson said. "I used to be a Democrat. I was very far to the left, and then I really looked at the practical, evidence-based reality of what reduced poverty. It's economic freedom — it's risen whole populations out of poverty."
Thousands of undocumented migrants from Central America are en-route to the U.S. southern border. It raises a question for Swanson about how to balance a hands-off foreign policy with the Libertarian view that liberty is a right all humans deserve.
"In a broader sense I am pleased that we still have a country that is great enough and free enough and wealthy enough that people are trying to get here, rather than escape," Swanson said. "As far as the border, I want it completely safe, secure. I wouldn't mind having a wall, or at least immense resources making sure there is zero illegal immigration. But I will be a lot more friendly and welcoming to legal immigrants and refugees and people seeking asylum here."