BOZEMAN — Republican incumbent Greg Gianforte appeared to have won re-election over Democrat Kathleen Williams Tuesday night in Montana's U.S. House race.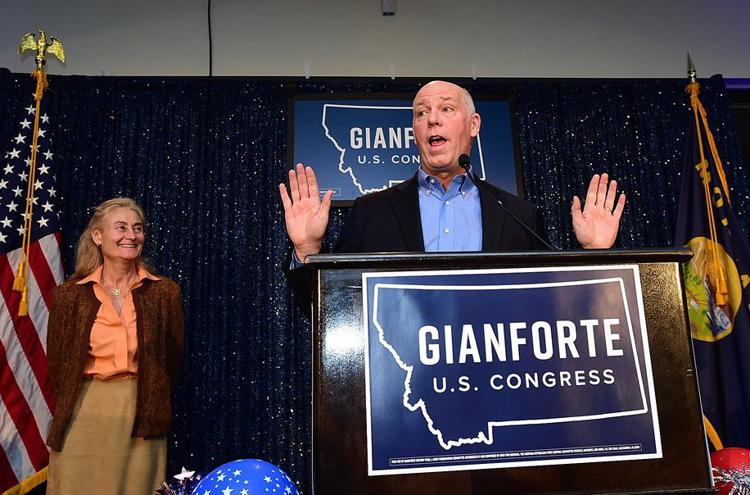 With 313 precincts partially reporting and 331 fully reporting of 669, Gianforte held 53 percent of the vote to Williams' 44 percent, or 206,862 votes to 169,882 as of 3:10 a.m. 
NBC called the race for Gianforte a little before midnight Tuesday, and Gianforte announced around that time that he was confident he would win, but was going to bed.
"I'm confident we have the votes to win this race. We need to let the officials have a little more time to count the ballots. So we'll find out in the morning," Gianforte said.
However, large Democratic leaning counties like Gallatin and Cascade were slow to report Tuesday.
Gallatin County returns were coming in shortly before midnight, when Bozeman Chronicle reporters posted raw copy showing Williams with 56 percent of the vote to Gianforte's 42 percent.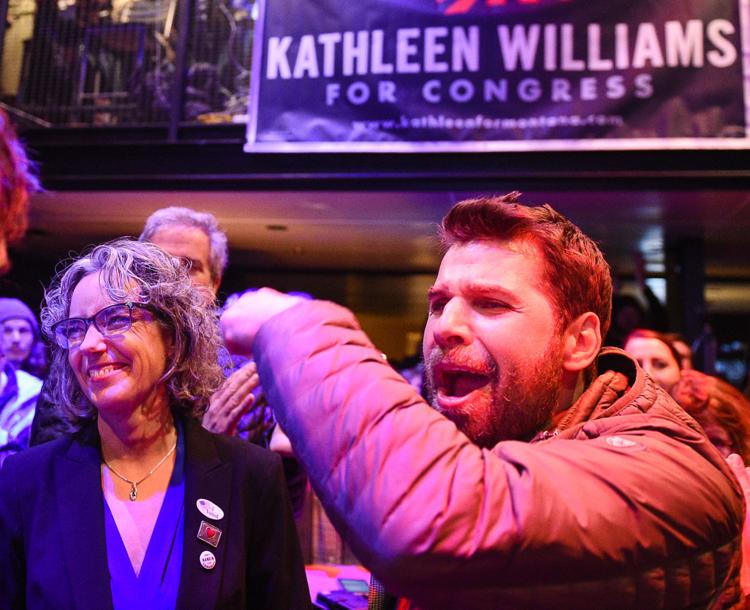 Before midnight, a defiant Williams remained confident that she will wrest Montana's sole seat in the House of Representatives from the Gianforte, even as she slipped behind him as ballots were counted.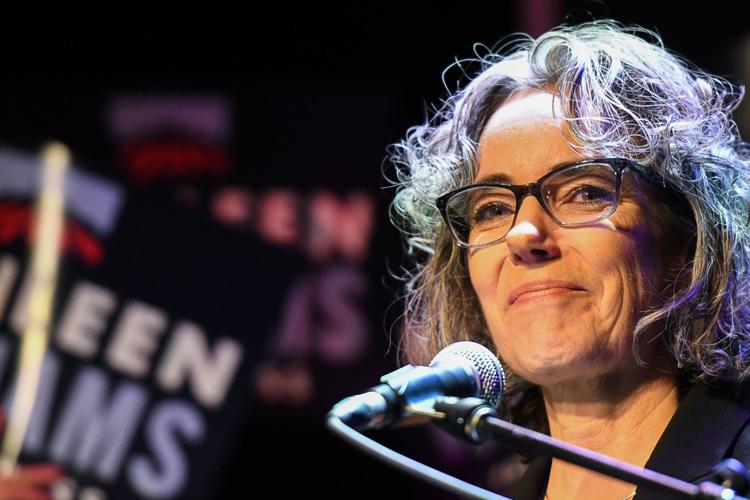 Williams remained energized as her rally broke up at the Rialto theater in Bozeman, saying that she's confident she'll take this race. Chances are, Williams will use that energy to stay awake for most of the night, watching as the votes are tallied. During the primary, Williams stayed up until 4 a.m. until she was certain that she had won.
She said she had no regrets on the campaign she ran, noting that there weren't any particular highlights either.
"It's all been incredible," Williams said. "All the people I talked to, who shared their stories; people came up to me were so engaged and inspired and hopeful."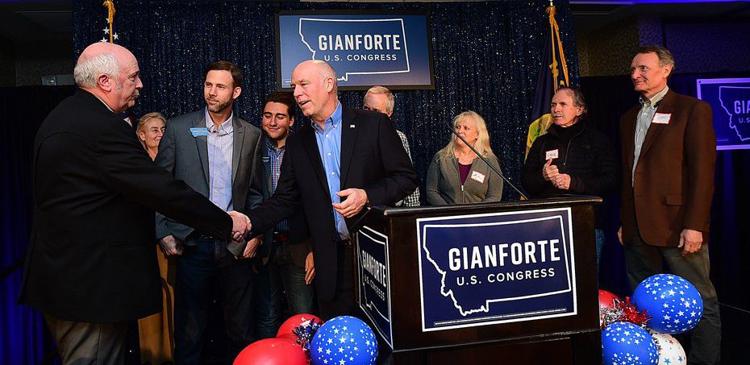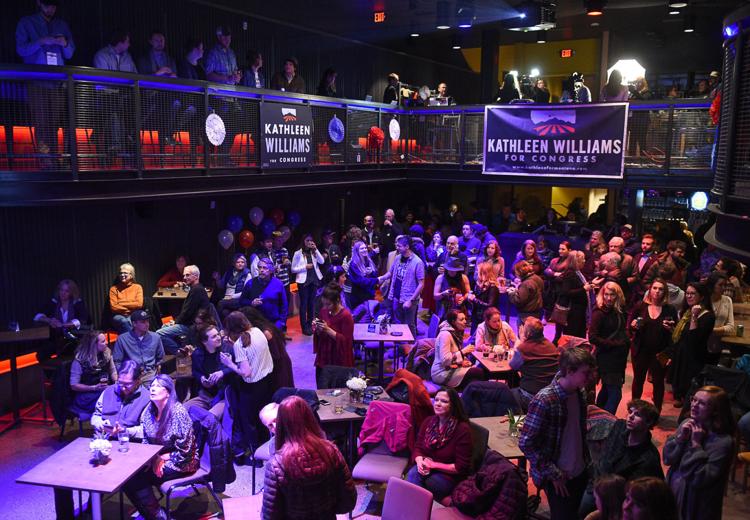 Both main party candidates live in Bozeman, where they relocated in the 1990s after moving to Montana from out of state. 
The campaign messages of Gianforte and Williams were starkly different. Gianforte campaigned on supporting the agenda of President Donald Trump, who aggressively worked to nationalize Montana's congressional races. The candidate's Montana-specific message about "keeping public lands in public hands," energy development and limiting government regulations, were eclipsed by Trump's agenda. Trump visited Montana four times to campaign for GOP Senate candidate Matt Rosendale and Gianforte.
"The question Montana faces is do we want someone who is going to stand with President Trump and continue to deliver results for Montana?" Gianforte told voters in October. "Or do we want someone who honestly is going to join the resistance and stand with Nancy Pelosi?"
But standing close to Trump also presented challenges. Trump, making a campaign stop in Missoula, resurrected Gianforte's misdemeanor assault of a reporter the night before the 2017 special election. Trump went as far as making a body slam gesture, which brought the crowd to applause.
"Any guy that can do a body slam — he's my kind of guy," Trump told the crowd. "He's a great guy, tough cookie."
You have free articles remaining.
Williams was campaigning on the assault, too, calling for a return to civility in American politics, an issue that received loud applause at Wiliams' campaign stops, which were often in rural Montana counties where Trump won easily. Her pledge was to meet with Montanans anywhere. In many of those counties Trump won in 2016, Republican voters didn't go down ballot and support Gianforte for governor. Williams strategized that those voters could be persuaded to support her.
Williams campaigned on fixing the health care system and lowering prescription drug prices; protecting the public path to college education and retirement; and protecting Montana's environment and outdoor heritage. It was more than an index card's worth of talking points, but Democratic voters responded, particularly to Williams' health care message.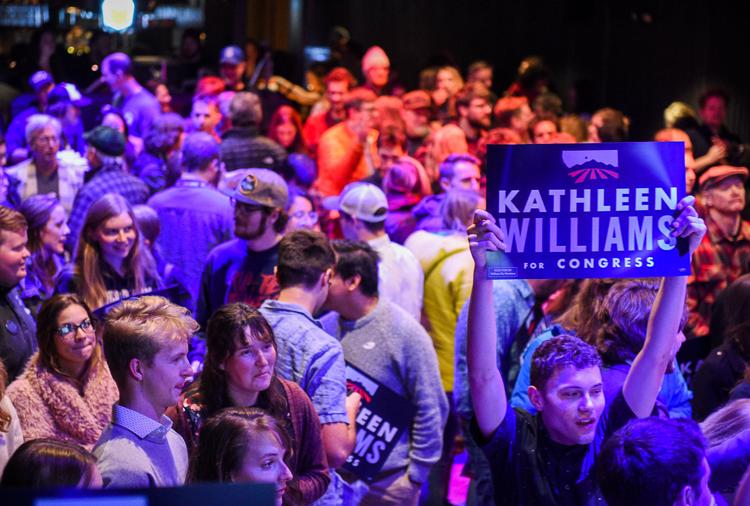 Williams tapped into two movements of the Trump era, the first being the national drive to elect women to Congress.
Williams proposed giving people 55 and older the option of paying a government-set rate for Medicare coverage until they fully qualify at age 65. And she vowed to protect the health care rights of people with pre-existing conditions. She personalized the health care message by sharing her mother, Maria's, battle with early onset Alzheimer's, which started at age 49.
The wild card in the Democrat's campaign was gun control. She was quick to call for action on school shootings after the February massacre at Marjory Stoneman Douglas High School in Parkland, Florida. Other Democrats in the primary didn't say as much. She said it was time to address mass shootings, even if it meant limiting public access to rapid-fire weapons.
A hunter, Williams said she would let her gun lifestyle speak for itself. If the NRA gave her an F grade, she would let the F stand for fearless. The NRA obliged, hammering Williams on gun control into the fall.
From the beginning, Williams has been an odds defier. She defeated a male-dominated field of primary election opponents, two of whom had more than a three to one advantage in campaign donations. She stopped in Montana backwaters other candidates didn't.
In June, a Gravis Marketing poll gave Williams a seven-point lead over Gianforte. Her campaign fundraising kicked into high gear. By October, Williams had raised $3.3 million, the most raised by a Montana Democratic House candidate in a general election. That money kept Williams's ads on television this fall. The Democratic Congressional Campaign Committee in mid-September added Williams to its short "Red to Blue" list of top-tier candidates. 
Of Williams' $3.3 million, $3.1 million came from individuals, and $140,700 from political action and political party committees, according to the most recent Federal Election Commission reports. As of Oct. 17, she had spent about $2.9 million.
Williams' financial success had Gianforte donating $1 million to his own campaign to keep up, though the loan was small compared Gianforte's previous elections. The wealthiest man in the House has earned a reputation for funding his own campaigns. 
The most recent FEC reports that Gianforte raised $3.3 million during this election cycle, with $3 million coming from individuals and $372,356 from political action and political party committees. With the $1 million loan to himself, that brought him to a total operating receipt of $4.5 million. As of Oct. 25, he had disbursed $4.2 million.
It was the outside spending, however, that really took off in the House race. As of Oct. 17, outside groups had raised $9.2 million in support of Gianforte, and spent $8.6 million. During that same time frame, outside groups $3.2 million to support Williams, and spent $2.8 million.
The 2018 midterm was Gianforte's third statewide election in 24 months. His first was a losing contest for governor against incumbent Democrat Steve Bullock. Then in May 2017, Gianforte defeated Democrat Rob Quist in a special election to replace Ryan Zinke as Montana's U.S. representative. Zinke was appointed secretary of Interior by President Trump.
He was a tireless defender of the 2017 Tax Cuts and Jobs Act.
"There's accusations that somehow this Tax Cuts and Jobs Act is just for the wealthy, but I'll tell you, as I travel the state, paychecks are bigger. Unemployment is at a 49-year low in this country now. For the first time there are more jobs available than there are people looking for work," Gianforte told campaign crowds. "The American dream is back."
Gianforte is a tech millionaire who made a fortune by creating and then selling the Bozeman software company, RightNow Technologies, to Oracle. Creating Montana jobs has always been a part of his campaign platforms and 2018 was no different.
So far, Williams is leading in Lewis and Clark, Missoula, Deer Lodge and Butte/Silver Bow counties, but Gianforte has the lead in Yellowstone County.