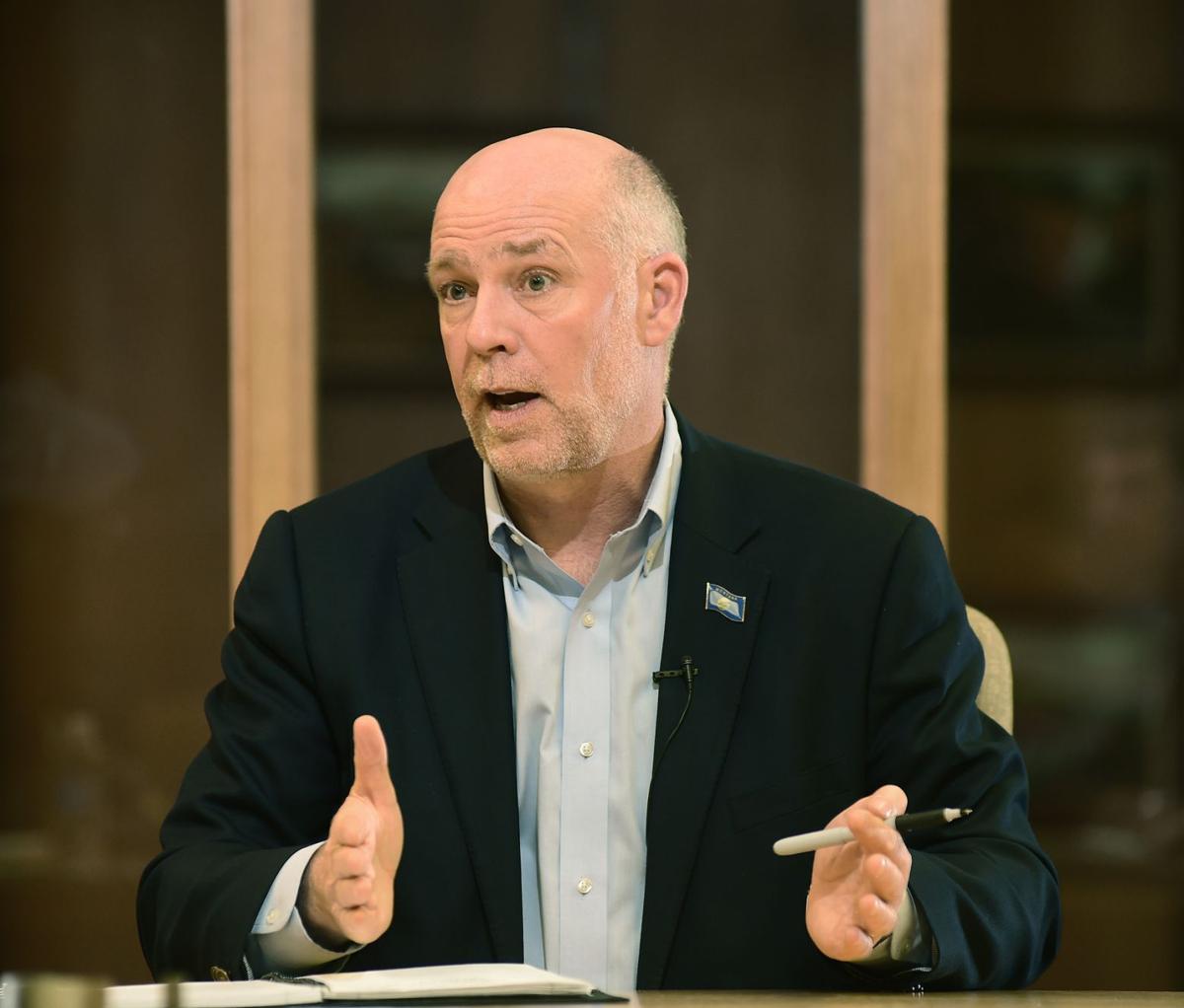 Clarifying his position on rights for lesbian, gay, bisexual and transgender people, Republican candidate for governor Greg Gianforte endorsed nondiscrimination for workers Friday, but not for customers.
Gianforte, who spent more than an hour with The Billings Gazette editorial board discussing his campaign, said it was a step too far for government to prevent businesses from deciding who they refuse to do business with.
The candidate's stance on nondiscrimination ordinances, or NDOs, for LGBT people, has become a point of attack for Democrats, who point out that Gianforte opposed an ordinance passed in 2014 by Bozeman, home to one of Montana's modern business success stories RightNow Technologies, which Gianforte created.
Gianforte told Bozeman leaders the ordinance would be bad for business, advice Democrats are drumming into campaign messaging. Last week, Democratic Gov. Steve Bullock went to a Bozeman coffee shop to extend non-discrimination rights based on gender identity or gender expression.
Bullock specifically identified the discrimination reported by 40 percent of lesbian, gay and bisexual people as well as the 90 percent of transgender people reporting harassment, mistreatment or job discrimination. The announcement came days before Gianforte officially launched his campaign for governor.
Gianforte said he supported the spirit of Bullock's executive order.
"Discrimination is wrong and should not be tolerated. In our business, RightNow Technologies, we hired strictly based on people's ability. They got promoted based on their contribution," Gianforte said. "There's a big difference between what was done in the executive order and the NDO that was ultimately proposed and passed in Bozeman, because the one in Bozeman went a lot further, particularly in the impact it had on businesses.
"I believe we have too many regulations in this state. These NDOs have passed in a number of these communities in the state. They have never been used, but they add the threat of increased cost for businesses."
Billings was one of the few cities in Montana where the City Council voted against an NDO.
Several businesses came forward saying they wanted the right to refuse service to LGBT people, based on their religious beliefs, or out of concern for offending preferred customers.
Turning away LGBT customers has already proven a losing proposition for businesses around the country. In Colorado, a District Judge in 2014 ruled against a Lakewood bakeshop that refused to sell a wedding cake to a gay couple. In Portland, Ore., a court fined a bakery $144,000 for discriminating against a lesbian couple who wanted a wedding cake.
Marriage has been legal for same-sex couples since a June 2015 ruling by the U.S. Supreme Court.
Gianforte said he would side with a baker in a similar situation.
In May 2014, when the Bozeman City Commission was considering its NDO, Gianforte suggested a religious exemption for businesses that objected to providing wedding services based on religious beliefs to gays and lesbians.  
That idea was not adopted.
"This is a very sticky issue, because our First Amendment guarantees freedom of conscience through the freedom of religion," Gianforte said. "The challenge of the NDO is that it goes beyond regulation burdens, it also puts in law not so much elimination of discrimination, but forces participation. This country was founded on a freedom of religion basis and we have to respect individuals' rights to believe as they choose."
Gianforte recalled an instance when RightNow Technologies decided against doing business with the "topless news" Canada's Naked News, a subscription news service featuring nude newscasters. RightNow decided the affiliation would be bad for its brand.
Gianforte founded the software company RightNow Technologies in Bozeman roughly 20 years ago. RightNow software enables governments and companies to answer frequently asked questions online. The company's workforce ballooned to 1,200 before it was sold to Oracle for $1.8 billion in 2012.