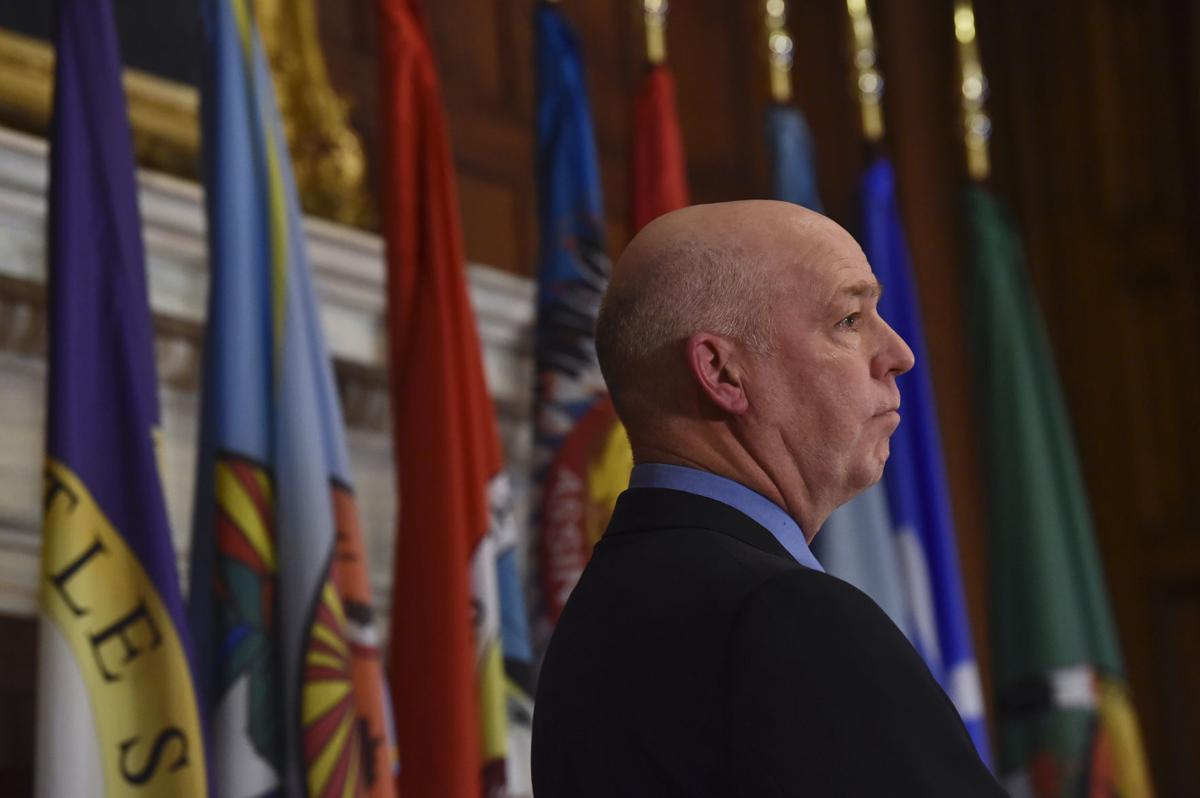 State agency directors nominated by Republican Gov. Greg Gianforte will receive more pay than their predecessors who worked under Democratic Gov. Steve Bullock.
Gianforte's office announced Monday that all state agency heads will receive higher pay, ranging from 5% to 46%. The governor cited low pay compared to other states as the reason for the increases.
"Montana's pay for agency directors has been among the worst in our region and country," Gianforte said in a statement. "We're looking for folks who can make our state agencies more responsive to the people they serve and more responsible stewards of taxpayer dollars.
"We adjusted salaries to make Montana more competitive, because we want change agents with the best qualifications and experience needed to change the way Helena does business and lead Montana's comeback. I have been clear that they will work for and earn every penny."
Under Bullock, most department directors earned less than $113,000 per year, the exception being the Department of Military Affairs head at roughly $124,000 per year. Gianforte's pay plan calls for salaries of $120,000 to $165,000 across the state's 12 agencies.
Last week, Gianforte made his final cabinet pick when he nominated Hank Worsech as director of Montana Fish, Wildlife & Parks. According to Monday's announcement, Worsech will receive a $130,000 annual salary, compared to his predecessor's salary of $112,944. That would rank 27th nationally for wildlife agency heads, compared to 36th under Bullock.
The directors of the Departments of Labor and Industry, Natural Resources and Conservation, Revenue, Transportation and Environmental Quality will each receive about $17,000 more than their predecessors, an increase of 15%. 
The lowest director salary is $120,000 for Mike Foster at the Department of Agriculture – a roughly 5% increase.
The highest director salary is $165,000 for Adam Meier at the Department of Health and Human Services – a 46% increase. The raise will bring the salary from 42nd to 27th nationally for comparable positions.
Department of Commerce Director Scott Osterman will be paid $160,000 per year – a roughly 41% increase.
Department of Administration Director Misty Ann Giles will be paid $145,000 – a 28% increase.
Department of Corrections Director Brian Gootkin will be paid $144,000 – a 27% increase.
Maj. Gen. John "Pete" Hronek will earn $130,000 as head of the Department of Military Affairs – a 5% increase.
Gianforte's office said directors will be responsible for identifying "efficiencies" within their agencies to fund the higher salaries.
Among the provisions of Gianforte's budget are a 4% cut to agency staffing at a savings of about $24 million compared to a budget proposed by the outgoing Bullock. The budget office did not have a figure for how many positions those figures would equate to.
The governor has indicated support for raises for Montana's 11,000 state employees in the 2023 fiscal year. Base salaries would remain at current levels through fiscal year 2022, which starts in July, and then see a 55-center-per hour raise in fiscal year 2023. Employees with 25 years of service would also see a 0.5% raise under the plan, the Montana Free Press reported. 
The budget is a 1.66% increase over the next two years — a 2.32% decrease in the upcoming fiscal year and 3.98% increase in the second.
Tom Kuglin is the deputy editor for the Lee Newspapers State Bureau. His coverage focuses on outdoors, recreation and natural resources.