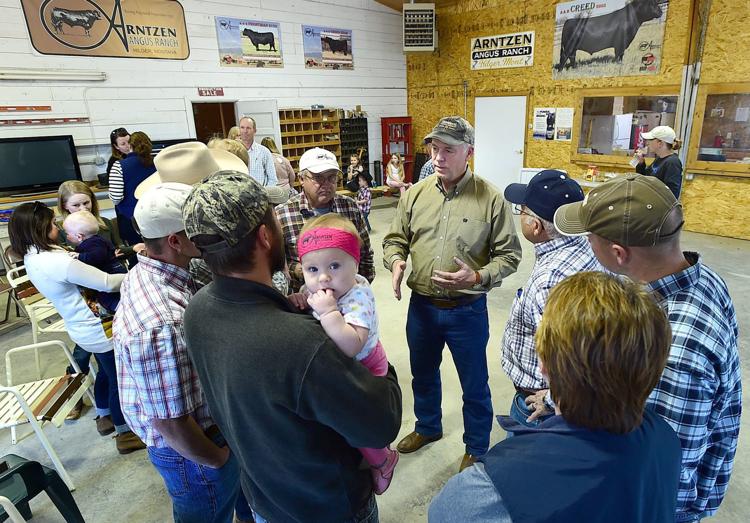 WINIFRED — In Trump's Republican Party, where you either ride for the brand or get bucked off, Montana's Rep. Greg Gianforte is holding on with both hands.
"Unfortunately this race is closer than you would imagine it would be," the first-term incumbent tells a town hall assembly of about 60 people. "The question Montana faces is do we want someone who is going to stand with President Trump and continue to deliver results for Montana, or do we want someone who honestly is going to join the resistance and stand with Nancy Pelosi?"
That last bit about the House minority leader from California sails through the room like a spring-loaded snake from a can, one used by former Rep. Denny Rehberg before being passed down to Steve Daines and then Ryan Zinke. This is MAGA country: The Pelosi trope is ageless.
"You know I've had to vote twice now on the House floor to not impeach president Trump because every time Nancy Pelosi gets a silver bullet, that's the bill she puts on the floor," Gianforte said. "And she's been really clear. If she got the gavel in the House she'd impeach the president, she'd raise taxes. She'd open the borders. I think our Second Amendment is at risk."
Pelosi has repeatedly opposed calls for impeachment. But the interest to impeach among Democratic voters has added straw to the Pelosi scarecrow.
President Trump won 82 percent of the vote in this central Montana community. Gianforte took 86 percent of the vote here in the May 2017 special election to replace Zinke as the state's only representative.
There hasn't been much public polling in the race, but what little there has been suggests the election for Montana's lone House seat, which Democrats haven't won in 24 years, is competitive. A June Gravis poll had Democratic challenger Kathleen Williams polling 6 percentage points better than Gianforte. A September Gravis poll, taken during the heated Senate confirmation hearings for Brett Kavanaugh, had Gianforte up 9 percentage points, putting his lead beyond the margin of error. An AARP poll in late September had Williams within one point of Gianforte among voters older than 55.
Trump's popularity with Montanans polls better than 50 percent in the Gravis polls.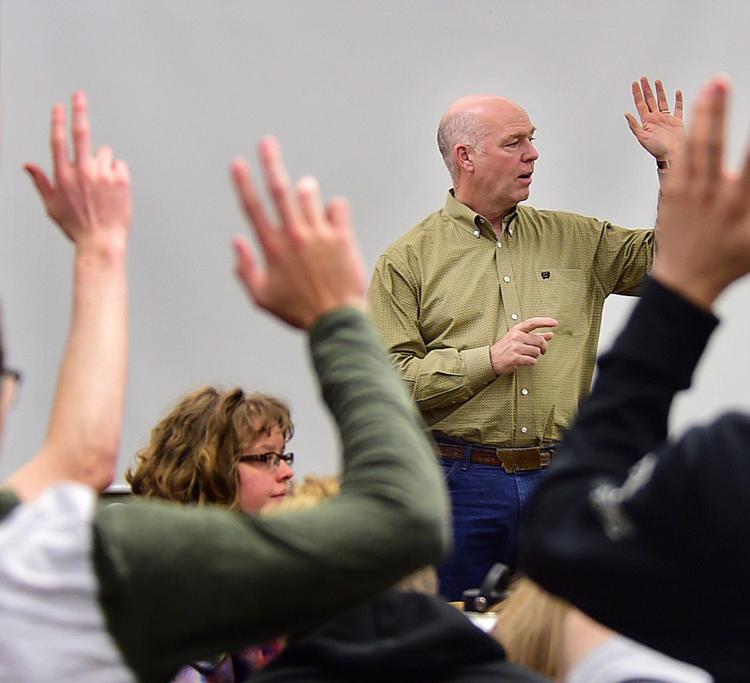 Gianforte telling voters the race is closer than expected is probably drawing from his own recent private polling, which campaign finance reports indicate he's paid for.
War chests for the incumbent and challenger were within a couple hundred thousand dollars of each other according to campaign finance reports filed this week. But Gianforte, 57, and a tech magnate, has donated millions to his past campaigns and could again. The father of four created Bozeman's RightNow Technologies and profited handsomely when it sold to Oracle in 2012 for $1 billion. His financial wealth of about $600 million makes Gianforte the richest representative in the House.
However, Gianforte told Lee Montana that it's important that people literally buy into a campaign by donating. His receipts totaled $3.2 million at the end of September to Williams' $2.8 million.
His campaign message focuses mostly on Trump's policies: the tax cuts that have cut federal revenue $1.9 trillion, according to the Congressional Budget Office; Trump's southern border wall; and his appointments of conservative judges to federal courts. That last one will be Trump's legacy, Gianforte said.
The tax cuts haven't held up well in the polls nationally. In September, Bloomberg reported the results of a poll commissioned by the Republican National Committee, which found that Republicans had lost the messaging battle on the Tax Cuts and Jobs Act. More than 60 percent of people polled for the RNC said the tax cuts helped the wealthy and corporations more than the middle class.
The nonpartisan Tax Foundation had Montanans earning more than $200,000 a year benefiting most with a 5.1 percent income tax cut. People earning $100,000 or less experienced an income tax cut of about 2.5 percent. Nearly every income bracket did benefit to some degree.
Gianforte defends the tax cuts adamantly as benefiting average Montanans.
"There's accusations that somehow this Tax Cuts and Jobs Act is just for the wealthy, but I'll tell you, as I travel the state paychecks are bigger. Unemployment is at a 49-year low in this country now. For the first time there are more jobs available than there are people looking for work," Gianforte tells his Winifred audience. "The American dream is back."
There's also the matter of the federal deficit. The imbalance between what the federal government collects in taxes and what it spends has worsened as government spending increases despite reduced revenue.
Gianforte said backtracking on the tax cuts is not the answer to the deficit. Rather, revenue growth must come from increased economic growth. It's basically the principle of dynamic scoring, meaning that tax cuts eventually pay for themselves as the economy improves as a result of the cuts. The better the economy, the more taxes paid, even at lower tax rates.
That equilibrium hasn't happened yet. The budget deficit jumped from $666 billion to $779 billion in the federal fiscal year, which ended in September. The Treasury Department reported the deficit numbers Oct. 15. Gianforte and other Republicans argue that the revenue growth will erase the deficit over time if spending growth is limited.
In fact, that revenue growth, increasing the U.S. gross domestic product, is crucial to protecting Social Security, the Republican said.
"The best way to make sure we secure Social Security for the long run is have a strong economy. This is the problem, every percentage point of GDP growth is about $3-$3.5 trillion in federal tax revenue over a 10-year period," Gianforte said. "This is why the proposal of the other side to go to single-payer Medicare for all, if we want the bankrupt the system that would be the fast way to do it."
You have free articles remaining.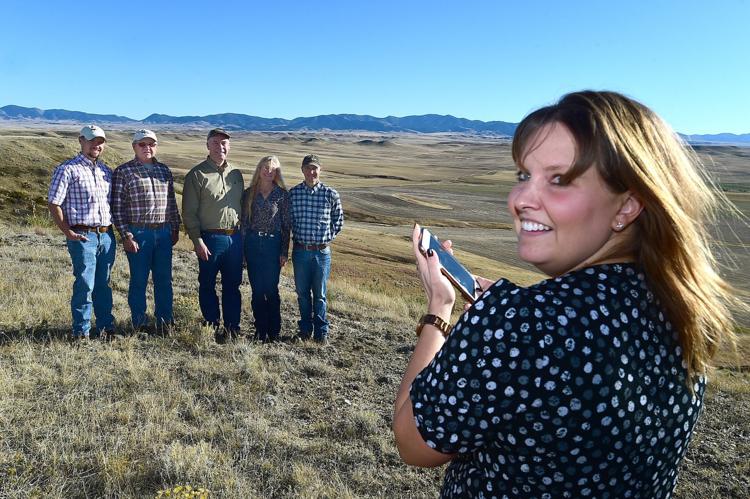 Gianforte tells constituents that keeping health care affordable means not expanding Medicaid and ditching the Affordable Care Act, something Republicans failed to accomplish in 2017. But Republicans did end the penalty for not having health insurance and repealed a health care-funding tax on medical devices. What Gianforte and other Republicans support is replacing ACA with a mix of things including Association Health Plans, in which similar businesses team up to buy health insurance, and allowing people to have larger health savings accounts for paying for medical costs out-of-pocket.
"We also have to get the underlying cost down, that's why in the House we passed medical malpractice reform. We also have been working on prescription drug prices," Gianforte said. "There's no one solution; there's a whole series of things."
Rancher Doug Arntzen said he supports Gianforte because, as a businessman, he likes the way Gianforte thinks. The Republican plan appears to be the best way to keep Arntzen's children working on the family ranch near Christina.
"Working with your three boys every day is pretty special," Arntzen said. "It doesn't get any better than that."
However, the rancher is mindful of Trump's Republican-supported trade war with China. Arntzen is willing to let the trade war play out for a while. In the long run, he expects agriculture will benefit, as does Gianforte.
On air
The Winifred visit is just one of many that day; Gianforte also appeared on three different talk radio programs. Conservative talk radio is a staple of Gianforte's weekly routine. He takes questions from callers on the statewide program Montana Talks With Aaron Flint almost every Friday morning.
He's not shy about telling voters no — on abortion, on funding planned parenthood, on not boosting federal college aid to counter rising student debt.
"I'm true to my position, and sometimes it's convictions I have. Most of the time it's what I've heard from Montanans," Gianforte later explained. "But if I'm clear in the campaign process and then I get elected, it's very easy for me to maintain my convictions."
On the radio, callers want to know what's being done to build a wall on the U.S.-Mexico border, specifically why Trump's wall isn't further along given that Republicans control Congress and the presidency.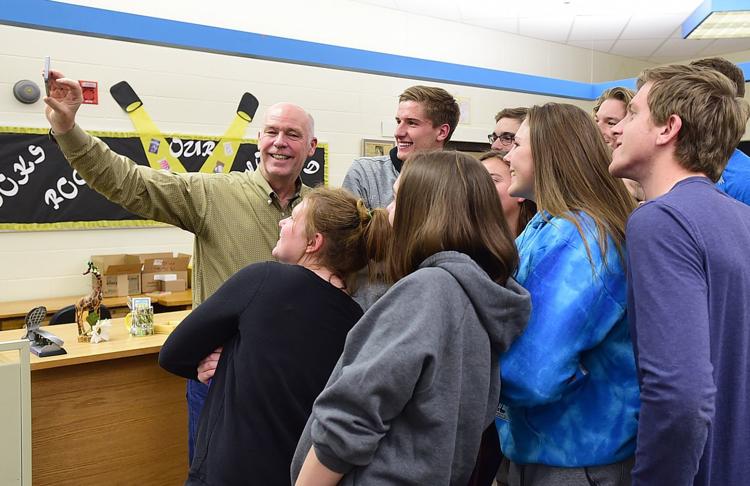 There is work being done, Gianforte assures the caller. It's an assurance he makes at least two more times during stops in Billings, Lewistown, Christina and Winifred.
"We've been working to make our communities safer. That started with securing our southern border, because the meth that we have in our communities comes from Mexico. It doesn't come from Montana," Gianforte said. "We've put a down payment on the wall, and we're going to continue to build it, because we're going to stop illegal immigration. We've got to have the rule of law. We've also started to build our military and we've given our men and women in uniform the largest raise they've seen in nine years."
Gianforte's support for military pay raises is a little conditional. He supported the pay raises in the spring, but voted against the final $854 billion spending bill in which the raises were included last August. That bill, the cost of which grew in a compromise with the Senate, was financially irresponsible, he said at the time.
Trump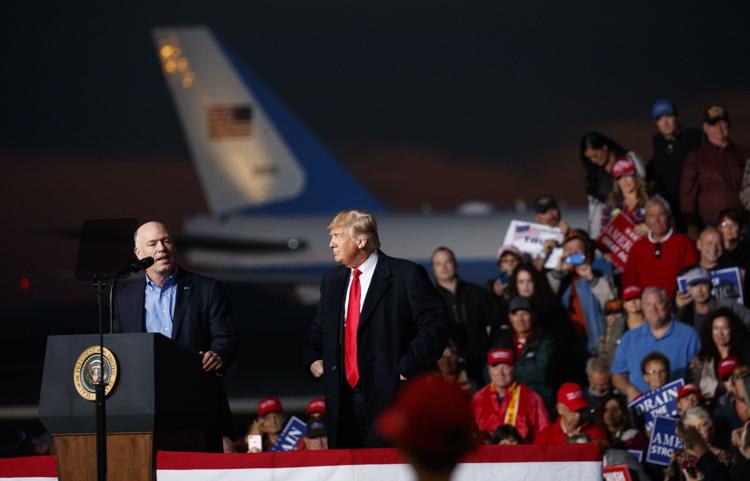 Sticking with Trump as Gianforte has isn't without consequence. The congressman has spent the past 17 months trying to distance himself from an election eve assault on a reporter for The Guardian Newspaper. Reporter Ben Jacobs was trying ask Gianforte questions about health care as the candidate prepared for an interview with Fox News. That's when Gianforte choke-slammed Jacobs, breaking the reporter's glasses and injuring his elbow.
"Any guy that can do a body slam — he's my kind of guy," Trump told the crowd. "He's a great guy, tough cookie."
Gianforte hasn't been able to escape the incident, not only because of Trump. His Democratic opponent Kathleen Williams released an ad before the Trump rally, which included audio of the assault. She then tells voters, "This is not who we are."
"I personally regret what happened. I've taken full responsibility. I'm not perfect. I'll be the first one to say that. It's been covered extensively and I've moved on, and honestly, Ben Jacobs said he wanted to move on, too," Gianforte said.