Crow tribal chairman Alvin "A.J." Not Afraid gave a full-throated endorsement to Rep. Greg Gianforte on Friday, telling Absalooke Nation to abandon partisan labels and vote yes for coal.
In an hour-long ceremony performed mostly in the Crow language, tribal leaders implored residents of the southeast Montana reservation to think about the tribe's three struggling coal mines, a major Crow employer and tribal government funding source.
"It has to be known to the Crow people, to the Absaalooke, that the Absaalooke go with who pushes the Absaalooke agenda," Not Afraid said. "Congressman Gianforte, also candidate Gianforte, is in the running to push the Crow agenda. You need to get out of your mind that you have to be Republican, (or) you have to be Democrat. You have to vote for the right person."
Gianforte, a Republican incumbent, is being challenged by Democrat Kathleen Williams. Both live in Bozeman. Williams visited the reservation last week.
About four years ago, Republican candidates coined the slogan "a war on coal is a war on Indian families." The message stuck with Crow Indians concerned about mineral royalties and mining jobs, which are some of the tribe's best. In 2017, Vice President Mike Pence declared "the war on coal is over," while touring a Crow coal mine. Republicans have promised to turn coal's fortunes around, though as President Trump closes out his second year in office, the coal economy still struggles.
Not Afraid endorsed Republican Matt Rosendale for Senate earlier in the week. After making each endorsement, the chairman draped bison robes over Gainforte and Rosendale then posed with them for photos. Both were personal endorsements, not representing the whole tribe, other Crow leaders were quick to point out.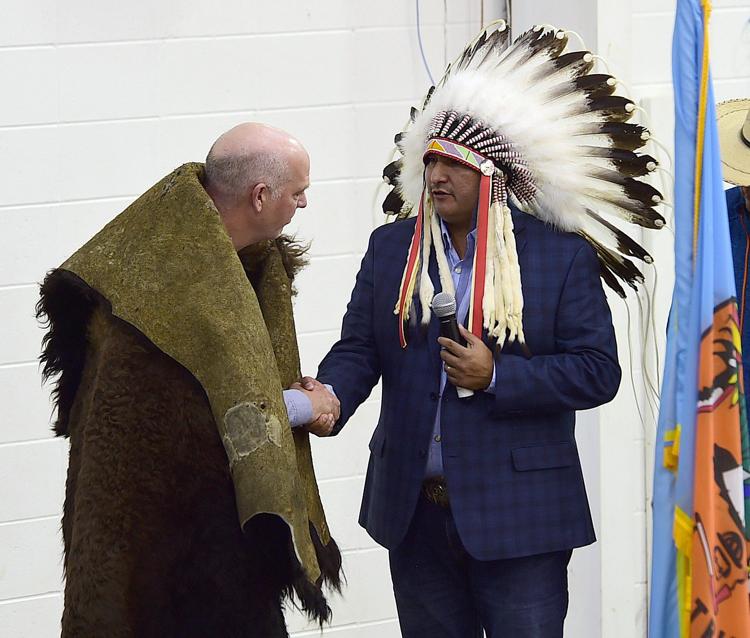 Crow coal is in trouble. Mining company Westmoreland Coal, which operates Absaloka Mine, filed for bankruptcy last month. Its royalty payments to the Crow Tribe have fallen dramatically in recent years as the U.S. coal economy soured. Two years ago, Westmoreland threatened to shutter the tribe's mine unless Crow leaders agreed to a cut in coal proceeds. The tribe agreed to cut its tribal severance tax by 85 cents a ton through the end of 2016 and then by $1.10 a ton from January 2017 to December 2018. A 40-cent-per-ton cut to tribal gross proceeds was also granted to keep the mine afloat. The loss in Crow tribal government revenue was seven figures.
Cloud Peak Energy's Spring Creek mine had to cease coal exports in 2015, because exported coal was priced too low to cover shipping coal from Crow country to Westshore terminal in British Columbia. There's been modest improvement, though last week the company canceled its health care plan for retired miners.
Not Afraid cited Obama-era coal policies for making Crow coal development more difficult. The tribe had partnered with Cloud Peak on a new coal port in Puget Sound, which the Army Corps of Engineers scuttled over treaty concerns of another tribe. Similarly, Lighthouse Resources, which mines in nearby Decker, has been unsuccessful in developing a coal port near Longview, Washington, which Crow coal advocates also support.
You have free articles remaining.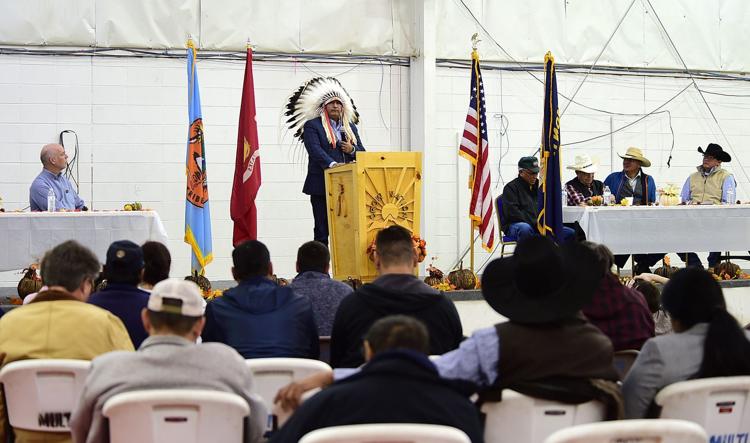 Regulations aren't the biggest challenge Crow coal faces. Natural gas has undercut coal on affordability and become the nation's top energy source. A considerable number of coal-fired power plants have shut down or plan to, including the Sherburne County Generating Station, or SHERCO plant, in Becker, Minnesota, which burns Crow coal from Absaloka Mine.
SHERCO plans to retire one of its three coal-fired units in six years and a second by 2026. In 2016, the Sherburne power plant received 3.8 million tons of Montana coal, about 70 percent of the coal mined at Absaloka that year, according to Montana Legislative Services. Sherburne is the nation's 16th largest generator of coal power.
There were 50 coal-fired power plants burning Montana coal in 2012. The number has dropped to 31 this year and is expected to fall to 14 by 2030.
Gianforte told an assembly of about 60 people Friday that the federal government needed to let the Crow tribe make its own decisions about coal development, which he said was the pathway for self-sufficiency.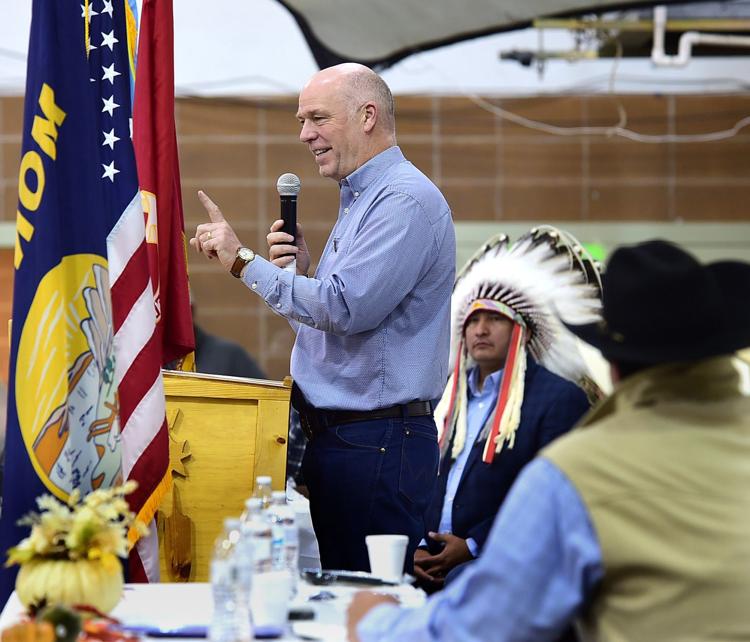 "I firmly believe the decisions about your resources on the reservation are your decisions, not the government's," Gianforte said. "You should be able to make those for yourself, and the government should not get in the way."
Earlier in the year, Not Afraid traveled to Washington, D.C., at Gianforte's invitation to testify about what needed to be done to make it easier for tribes to develop natural resources.
The remainder of Friday's ceremony was spoken in Crow, all but the English words for which there is no Crow equivalent — Democrats, regulations, EPA, Republicans, tribal sovereignty and economic development. Those were the only non-Crow words spoken as Donald Spotted Tail's booming voice filled the Crow Multipurpose Center for about 15 minutes. The message was still decipherable.
Afterward, Styrofoam clam-shell containers of Indian fry bread, hot mashed potatoes and vegetables were distributed to the attendees. Sticky note stuck to the lids of each container read "vote for Greg" in felt marker scrawl.