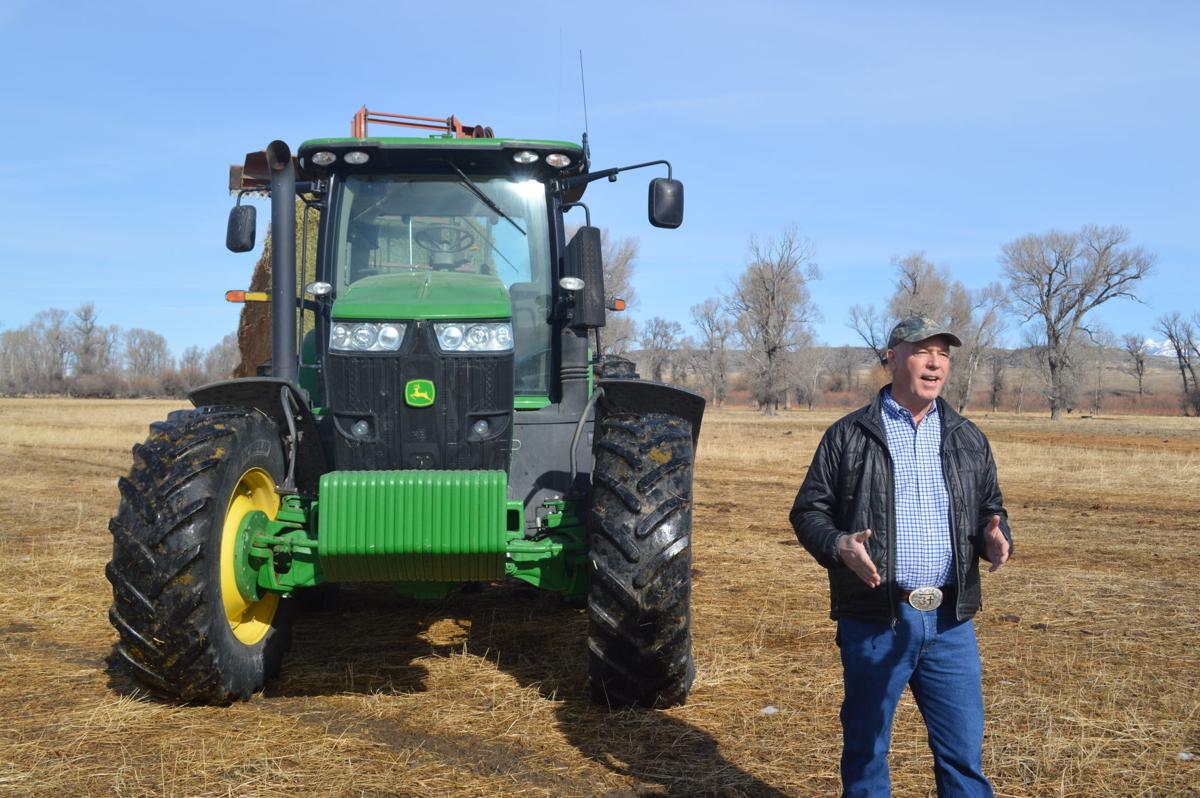 LIVINGSTON — Cattle wandered through a field dotted with cottonwood trees on the Hayhook Ranch as Republican Gov. Greg Gianforte toured the property in the Shields Valley on Thursday to discuss one of his signature economic policies.
The Business Investment Grows Jobs Act, or House Bill 303, would raise the exemption for the state's business equipment tax from $100,000 to $200,000. With the change, about half of the 8,000 businesses that now pay the tax would no longer have to do so.
"Small business is the backbone of Montana's economy, and this BIG Jobs Act is really targeted at small businesses," Gianforte said.
Sky Anderson, who owns and operates the Hayhook Ranch, said the tax cut would enable him to invest more in his ranching operation by purchasing new tools and expanding his cattle operation instead of paying taxes on some of the equipment he owns.
"We'll be able to plow money back into the business," he said, standing with Gianforte in an old airplane hangar filled with farm equipment.
The tax cut would save businesses $3.9 million annually. That tax revenue, which is now allocated to state and local governments, will be replaced with revenue from the general fund.
State lawmakers under Republican and Democratic governors have reduced the business equipment tax in recent decades. The tax rate was as high as 12% in the 1980s. In its current form, the first $100,000 of equipment owned by a business isn't taxed, the next $6 million is taxed at a 1.5% rate and additional equipment is taxed at a 3% rate.
The tax has long been a focus of business groups, including the Montana Chamber of Commerce, which has argued it limits business investment and impedes job growth. Industry groups, including the Montana Farm Bureau Federation, have also said the tax is a burden on their members.
House Bill 303 passed the House in February on a party-line vote. The Senate Taxation Committee then considered the bill last week. One Democrat joined the Republicans on the committee in voting to send the bill to the floor.
Sen. Walt Sales, R-Manhattan, who voted for the bill in the taxation committee, said the legislation is crucial for keeping agricultural operations financially viable, which, in turn, makes it easier for older farmers and ranchers to transfer their businesses to their children.
"If you get too far behind, it's hard to transition operations to the next generation," he said. "Some people say this is a small bill, but it is a huge bill for Montana because it is helping small businesses remain profitable."
Opponents to House Bill 303, which is carried by Rep. Josh Kassmier, R-Fort Benton, have said the bill won't necessarily help small businesses because the first $100,000 worth of equipment is already exempt and could eventually force the state to reduce spending on essential services.
House Bill 303 is one of several tax measures before the state Legislature that Gianforte has advertised as part of his "Montana Comeback Plan."
"These dollars that we're letting our small businesses keep, they're going to spend it downtown, and that's going to create more economic gain," Gianforte said.