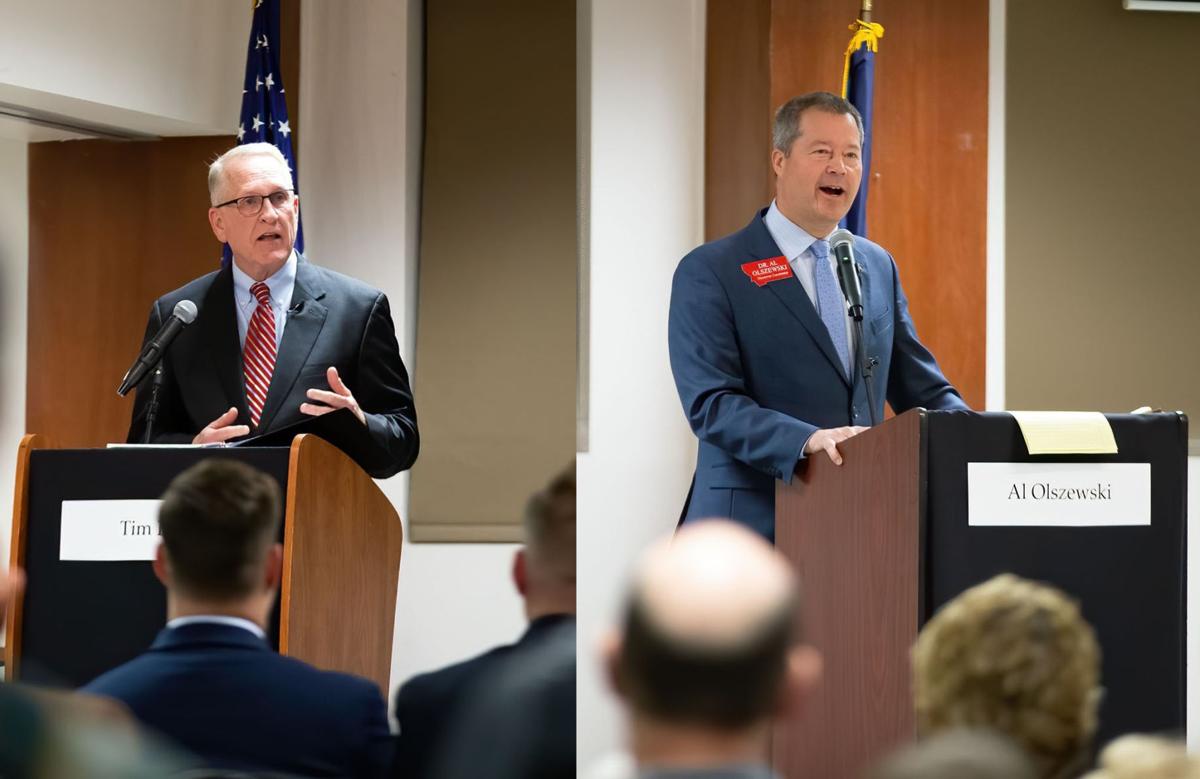 The governor's office is open in 2020 as Democratic Gov. Steve Bullock is termed out from running and has launched a long-shot bid for president. The Republican side of the primary has already seen attacks between candidates, a battle that continued to play out Tuesday as Fox was quick to point the absence of U.S. Rep. Greg Gianforte, who is also running for governor.
"We worked very hard to find a date that would work before the end of the year and unfortunately, I'm disappointed like you are, that Greg Gianforte decided not to cooperate in those negotiations," Fox said. "He's not here today, but all is not lost."
Gianforte's campaign issued a statement in advance of the forum, accusing Fox of pushing ahead in holding the forum without the congressman and that Gianforte made it clear when the original debate was scheduled he "couldn't participate so he could honor a long-standing family commitment."
For just under an hour Tuesday night, the candidates fielded questions on job creation and the economy. Questions came from students at the college. Candidates were provided with some details about the questions they would be asked prior to the debate beyond just the general topic, but were not given questions verbatim.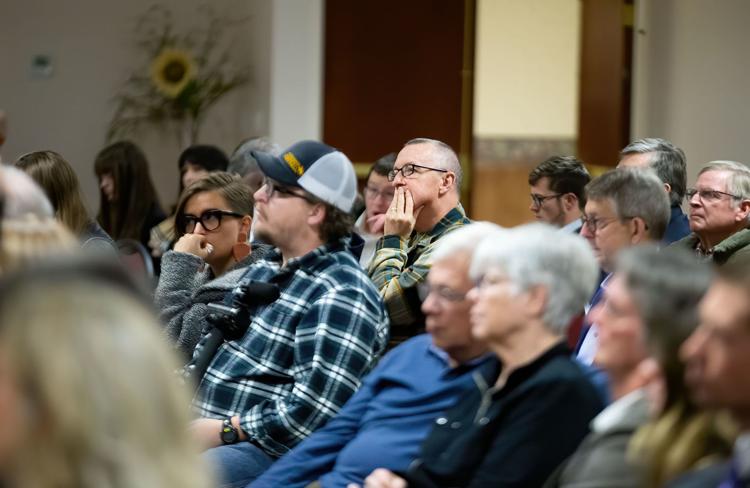 Perhaps the biggest ideological difference between the candidates was found in where they stand on the role of state government.
While calling for lean operations, Fox said government has a role in keeping communities strong through a well-funded public education system and stable local hospitals. He also used an example of wanting to make an estate tax exemption permanent so families can "protect and preserve family-owned farms and ranches" by handing them off to the next generation. 
Olszewski answers trended toward his belief the major role of a governor is to be Montana's No. 1 salesperson.
"We don't regulate success of rural and frontier Montana, we promote it," Olszewski said. " ...The governor is not just someone who executes the laws and runs the agencies. The governor promotes our state, is the best pitchman, the best salesman or woman."
The exchanges between Fox and Olszewski were very friendly through the night, with at one point Olszewski quipping "You do the melody, I'll do the harmony" when he started answering a question during Fox's allotted time.
Olszewski said the fault doesn't lie with Trump, saying instead the challenge is global overproduction and market manipulation. "We're going to find a way that we create an even playing field for our producers so that they are not gamed, especially against the processors," Olszewski said.
Olszewski also said he would be "the best salesman for our agriculture."
"We have markets that we are not fully exploiting or using to the best of our ability for our producers," he said. "Why are Montanans eating beef from New Zealand, right? It doesn't make sense. We need a Beef Montana just like we have a Wheat Montana (the Three Forks-based flour and grain producer and bakery)."
Fox said farmers and ranchers faced low commodity prices before Trump took office. Though he said the president stopped other countries who "were abusing this free trade idea and taking advantage of America," he acknowledged producers in Montana have been hurt.
"Our nation's governors have unique access to Congress and to the president, and I will use that access to advocate and encourage resolution of the trade war as quickly as possible," Fox said. To address immediate issues, he said he'd build a coalition of farmers, ranchers, trade associations and more to find answers.
If the economic path the country has been on takes a turn for the worse, Fox said Montana's balanced budget provision is a strength for the state's economy. Fox added building up a robust rainy day fund would be an important part of his approach to safeguard the state. In recent sessions Montana has formalized how much money it puts away through various legislation, but the governor has discretion through the budget he proposes and the veto pen.
Fox added he believes the first defense against a national economic downturn is a robust and diverse state economy, something he said he would work with legislators to achieve by creating competitive tax policy, reducing the size of state government and eliminating regulations he said hamper industry.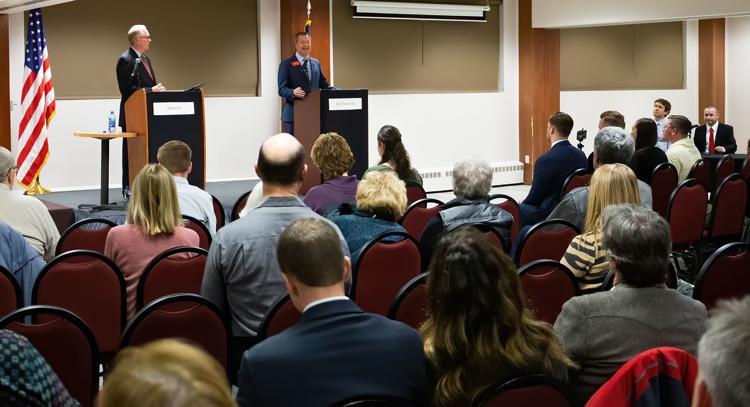 Olszewski said the state can make it through hard times by living within its means. He cited the $76 million in budget reductions he voted for in a 2017 special session of the state Legislature.
"What we did was instead was we created efficiencies, we tightened up the belt for our bureaucracies and we shook the tree. In every little slush fund and every little agency, we found $70 million, and we didn't have to raise taxes and we saved Montana. As your next governor I will just do it again," Olszewski said.
As Montana facing an aging population and concerns rise about the possibility of retirements outpacing new entrances to the workforce, Olszewski said he wants to maximize who's available to fill jobs, pointing to those 65 and over.
"People here love to work. It's part of who they are. It gives them extra money to enjoy the rugged splendor of Montana," Olszewski said, saying he'd also lessen taxes on those who draw income from Social Security while working. " ... I want 100,000 seniors back in the workforce, working with us and making Montana successful."
Olszewski also called for tapping into the population of people with disabilities by making workplaces more accessible.
Fox said he would bring together stakeholders to solve the problem.
"Rather than each community, school, industry or profession work within a silo to solve their own problems, as governor I would convene all the stakeholders and we'll empower them to work together to solve these problems in a comprehensive way," Fox said.
When Tuesday night's debate was first proposed, it was under the sponsorship of the Lewis and Clark County Republican Central Committee. The chair said it was aware Gianforte could not attend when it invited candidates. Later that same day the committee voted to delay hosting the event until all candidates could come. Fox and Olszewski's campaigns said they would go forward on the same date on their own. Gianforte will participate in a debate in Yellowstone County in January, one all candidates have agreed to. 
Fox did not miss an opportunity in his opening statement to point that out.
"Just this week you could have paid $1,000 for a special time with Greg here in Helena, but here you have two Montana homegrown candidates to visit with you tonight," Fox said.
In the money race, Gianforte is leading in fundraising, pulling in more than $1 million since announcing more than four months ago, according to campaign finance reports filed in October. He's loaned his campaign $50,000. Fox is next in the money race, pulling in about $460,000. Olszewski trailed at almost $180,000, though $100,000 is his own money.