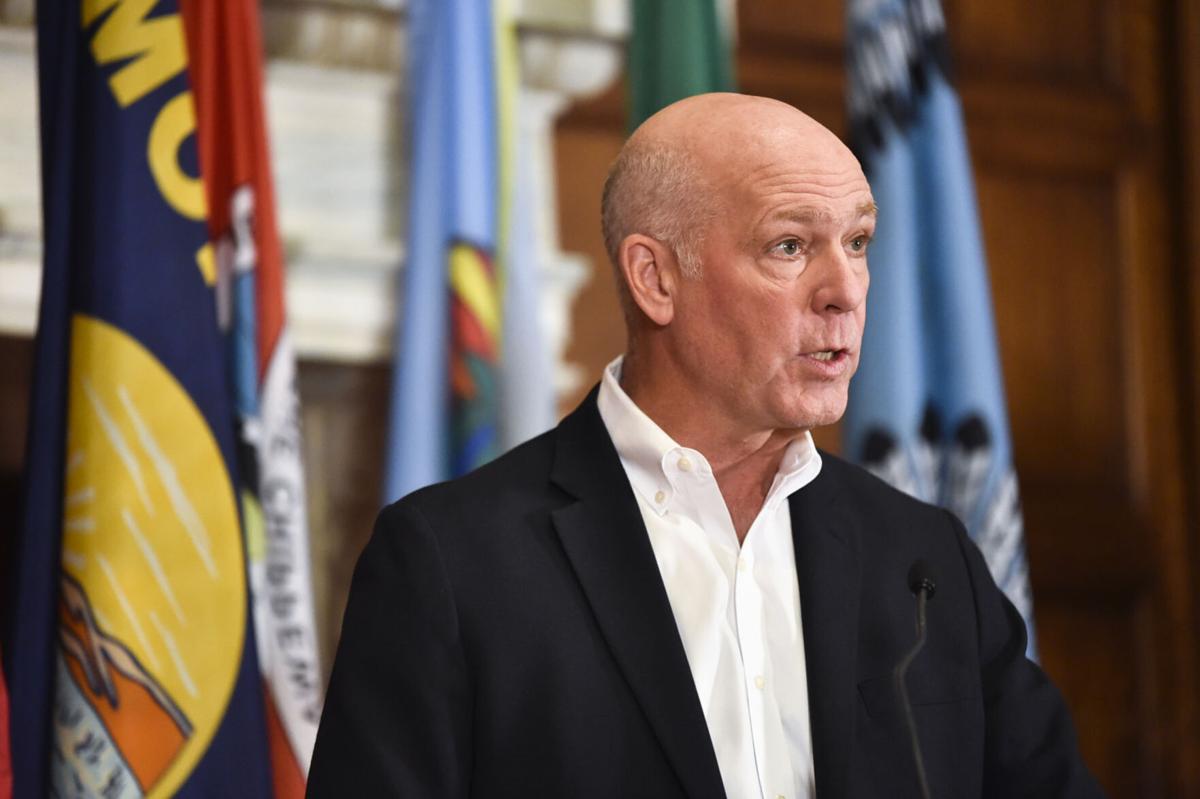 As the rest of the U.S. begins to refer to the second "summer surge" of the coronavirus pandemic in the past tense, Montana has for weeks stood out as one of the nation's hotspots, with no sign of a slowdown as statewide COVID-19 hospitalizations set a new record this week.
In a brief phone interview Thursday, Gov. Greg Gianforte defended his administration's policies toward the pandemic, which have included signing into law the nation's only prohibition on private businesses requiring vaccines in the workplace, and several measures that limited the power of local health departments to implement measures to curb the virus' spread.
"The government's role is to educate, to communicate — it's not to mandate," Gianforte said. "We've seen increases in infections in states with mandates, in states without mandates, and ... the best way for Montanans to protect themselves and their families is to get vaccinated. These vaccines are safe and effective, I've continually told that story and I'm encouraged that we've seen an increased number of people decide to get vaccinated."
States with lower vaccination rates have fared significantly worse than their more-immune counterparts elsewhere in the country, and Montana is no exception. As of Friday, 49% of the state's population was fully vaccinated, versus 57% nationwide. Meanwhile, the state's daily COVID-19 cases per capita remain the second-highest in the nation, with Alaska saddled with the country's most severe outbreak.
And while some states with higher vaccination rates have also seen cases rise as the highly contagious Delta variant took hold during the summer and early fall, as of Friday all but one of the 10 states with the highest per-capita caseloads also have vaccinations rates below the national average.
Dr. Neil Ku, an epidemiologist at Billings Clinic, noted in an interview Friday that while no single strategy to curb the spread of the virus is a "magic bullet," vaccination rates correlate strongly with how states and communities have fared during the second surge of the coronavirus.
"Ultimately, the goal is, if we can get to a certain level of immunity in the community, then yes, that would provide enough protection for the community themselves," Ku said. But, he added, in the absence of immunity being prevalent enough to stave off community spread, people still need to take precautions that have been proven to be effective in curbing the virus' reach.
"Public health measures, like physical distancing and masking, the use of masks, don't seem to be as prioritized by much of the public," Ku said. "And that's partially because the general consensus of the public, compared to a year ago, is it doesn't appear to them as bad as what was made out to them."
The rate of survival for those who get sick has improved slightly, Ku noted, but overwhelmed hospitals across the state show the current surge is as grave last year's, before vaccines were available. Billings Clinic's intensive care unit was at 164% of capacity as of Friday morning, according to a hospital spokesperson — similar to other medical facilities in the state. The hospital set a new record for ICU patients earlier in the week, with 52, and had 18 COVID-positive patients on ventilators by Friday afternoon. Four COVID patients there had died in the past 48 hours.
In recent weeks, Gianforte has dispatched 163 National Guard members to assist medical staff at 13 health care facilities across the state, according to information provided by his office Friday.
But the governor also drew internal criticism last month from 18 epidemiologists within the state Department of Public Health and Human Services, who criticized the administration for an August rule that discourages local school boards from implementing mask mandates.
The rule, which urges schools to consider parents' opinions when adopting rules on mask use, leaned on a 13-page "research report" citing several studies, news stories and tweets saying there is "no science behind mask mandates for children" and warning of negative effects for some children wearing face coverings. But the state's epidemiologists argued in a letter to the DPPHS director that the administration's move "contributes to the spread of misinformation and adds confusion to those who are trying to make informed decisions to keep their kids and communities safe."
Asked repeatedly, the governor declined to say whether he thinks his administration's policies bear any responsibility for Montana's increasingly unique failure to curb the spread of the coronavirus.
"We faced real serious challenges throughout this entire pandemic," Gianforte said. "We've seen this virus spread through states with mandates and states without mandates, I just, I am looking forward to getting on the other side of this."
It isn't the first time Montana remains in a state of crisis while COVID-19 cases ebb elsewhere in the nation.
"Historically in the past year, Montana has lagged behind the rest of the country in the number of cases (during the previous surge), so these numbers and what we're experiencing now are very similar to what the southeastern part of the U.S. was experiencing three or four months ago," Ku said.
In November 2020, Montana at one point topped the nation in its rate of positive COVID-19 tests, according to a memo issued at the time by the White House.
Yet statewide hospitalizations this week exceeded that previous high-water mark, and medical professionals around the state continue to plead with local residents to get vaccinated, despite shots having been widely available in Montana for the past six months.
"Multiple factors make Montana particularly susceptible to deaths from COVID-19, including an aging population and a history of poorer health outcomes for rural residents," Missoula County health officials wrote in a press release Friday. "This is only being compounded by the staggeringly low vaccination rates of rural areas."
The county reported five new deaths on Friday alone. According to the governor's office, 70 more people died from COVID-related complications in the first week of October. With the state's death toll at 1,024 since the beginning of the year, Montana is on pace for 2021 to soon eclipse the number of COVID-19 deaths it suffered in 2020, despite the vaccine having been widely available since early April.
As for whether his administration could be doing more to address the crisis, Gianforte responded, "We need to continue to encourage people to consider getting vaccinated."
As he's said previously, Gianforte noted that he opted to receive the vaccine after consulting with his doctor, and pointed out that nearly 9 out of 10 COVID patients hospitalized in Montana in recent weeks have been unvaccinated people. It's a message his office said he has repeated in three recent media interviews, according to spokeswoman Brooke Stroyke, as well as on talk radio and "speaking engagements with associations, stakeholder groups and other organizations."
The governor also said he's directed DPHHS to use public service announcements to get the word out on the safety of vaccines, although Democrats in the Legislature have criticized those efforts as insufficient.
"We have resources in hand to help our communities address these crises, but the Gianforte administration is dragging their feet instead of getting those resources out the door," Senate Minority Leader Jill Cohenour and House Minority Leader Kim Abbott said in a joint statement Thursday. "The time for excuses is over, the time to act is now."
In an email, DPHHS spokesman Jon Ebelt said the department has allocated $1.5 million for "education and outreach," to be fully spent by December. The state has also distributed $2.5 million out of $13 million in federal money for local health offices for "outreach and vaccine promotion, among other recommended vaccine-related uses," he said.
Yet despite modest gains in the state's vaccination rate over the past two months, it remains stubbornly behind the national average — and well shy of rates that have appeared to tame the spread of COVID-19 elsewhere in the country.
The longer Montana's COVID surge drags on, the more potential there is for seasonal factors to exacerbate it. The virus that causes COVID-19 could spread more effectively as people move indoors, and Ku noted that in typical years past, hospitals have seen a wintertime spike in admissions from patients suffering from severe flu cases, pneumonia and other respiratory infections.