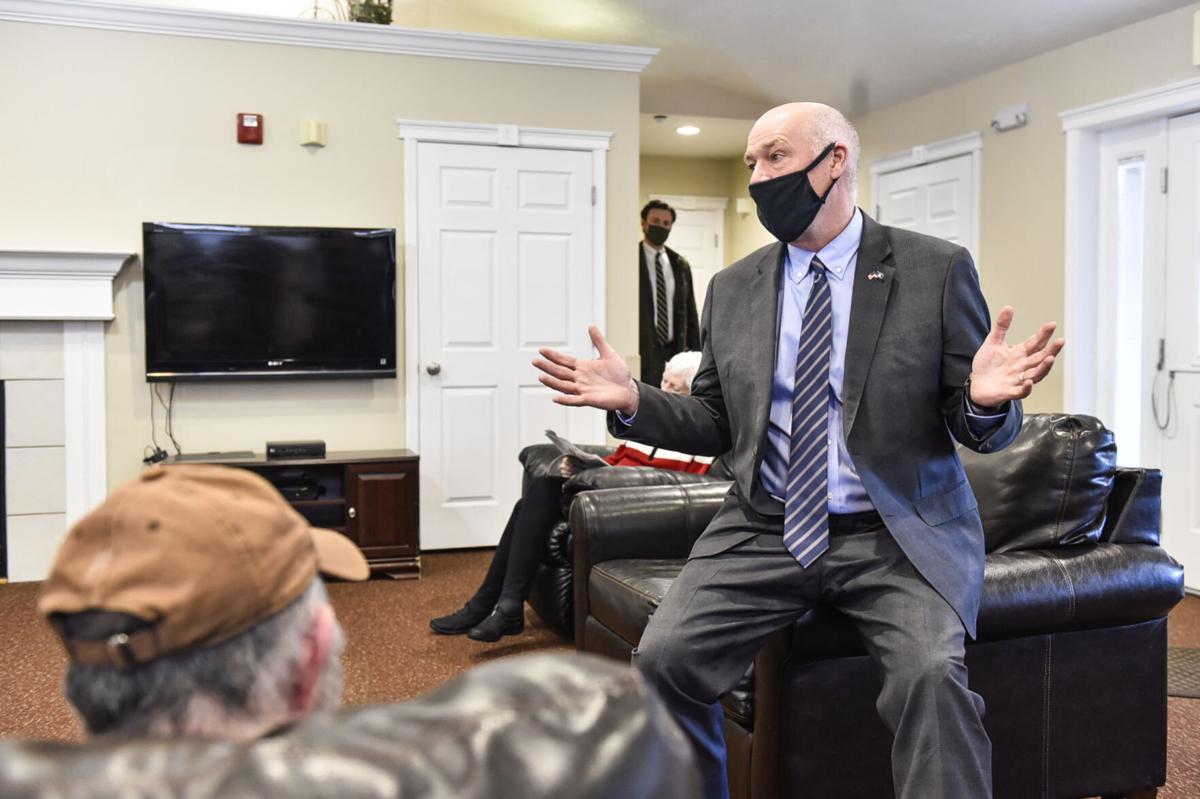 Montana will make the COVID-19 vaccine available to all residents age 16 and older by April 1, Gov. Greg Gianforte announced Tuesday.
The news comes as Gianforte said on his weekly call with the White House, he was told vaccine manufacturing is ramping up. Supplies are expected to remain steady for the next two weeks and Montana should see an increase in doses in the first week of April, Gianforte said.
The state is also expanding the use of pharmacies to give vaccinations as supplies increase.
"We're going to put more and more emphasis on that distribution channel of getting shots into arms," Gianforte said.
Big Sky Lede is a dive into the stories about how government and politics drive the direction of Montana. This podcast is from the reporters o…
Montana created and moved to Phase 1B+ in early March. That group included people ages 60 and older, as well as expanded qualifying health conditions. The move announced Tuesday by Gianforte eliminates the next phase Montana was expected to enter, Phase 1C, which would have focused on frontline workers.
By Tuesday, about 142,490 Montanans were fully vaccinated and 367,211 doses had been administered.
"For the first time in a long time, the most vulnerable among us feel they can return to a sense of normalcy," Gianforte said. "Slowly but surely, we are all returning to normalcy. Before we can fully return to normal, however, it's critical COVID-19 vaccines are available to every Montanan who wants one."
In announcing the change, Gianforte cited improving data about the pandemic in the state. He said 42 counties reported active case counts in the single digits and that 15 counties had no active cases Tuesday. Only three counties, he said, reported more than 100 active cases.
After Gianforte's announcement Tuesday, a spokesperson for the Gallatin County health department said the local incident command did not have any prior knowledge of the change in rollout.
"The governor's new direction will be discussed with the Gallatin County Vaccine Task Force on March 23," said spokesperson Whitney Bermes in an email. "The task force will provide us with recommendations and direction for implementing the governor's new guidance for vaccinating everyone over 16 years of age beginning April 1."
Bermes said the county will prioritize at-risk individuals who have not yet been vaccinated.
"The community needs to recognize that while the pool of those eligible has been expanded, our allocation of vaccine has not been increased," Bermes said. "There will continue to be more people desiring vaccine than we have vaccine to give. Gallatin County is positioned to administer more vaccine to our community as our allocation from the state increases."
In Missoula County, health officer Ellen Leahy said the community has been reading for ramping up.
"Missoula County has been preparing for advanced tiers of vaccine administration and, with our more than two dozen vaccinating partner agencies, we have the infrastructure ready to receive and administer a much greater supply of vaccine," Leahy said in an emailed statement.
In Billings, more vaccine clinics will be added in April only if vaccine availability also increases, said Barbara Schneeman the public information officer for RiverStone Health, the county's public health department.
"We'll just have to see what (vaccine) supply looks like and make adjustments to our clinics as appropriate," she said.
If the county continues to receive a similar amount of vaccine doses the clinics will likely continue to operate unchanged. Until then, people in phases 1A, 1B and 1B+ will continue to be vaccinated through March 31.
Schneeman estimated that about 16% or 17% of the population in those three categories have been vaccinated in Yellowstone County.
To date, the county has administered 55,002 doses, and 23,497 residents have been fully immunized.
Schneeman said she did not anticipate seeing a significant surge in supply of vaccine doses by April 1. The supply has varied weekly, but Schneeman expects the availability of vaccines will slowly increase moving into the summer.
"We certainly hope the vaccine supply will continue to increase as time goes on," she said.
Retired Maj. Gen. Matt Quinn, the head of Gianforte's task force, said the state is working with about 400 partners that the state is looking to expand vaccine availability.
Earlier in the day, Gianforte said Walgreens by Wednesday will have completed three vaccine clinics at all of the long-term care facilities it was providing shots at.
As part of the Federal Retail Pharmacy Program that began Jan. 4, the nationwide pharmacy chain has helped vaccinate more than 12,300 long-term care facility residents and employees in Montana over the course of 270 clinics.
The Federal Retail Pharmacy Program for COVID-19 vaccination is a collaboration between the federal government, states and territories, and 21 national pharmacy partners and independent pharmacy networks to increase access to COVID-19 vaccination across the United States.
"When we first got the call in late December, we knew it was a big task," said Kevin Stake, Walgreens' district manager of pharmacy and retail operations based out of Missoula, adding that his team was committed to making it work. "The feedback we've gotten from patients has been tremendous."
Stake made his comments during a Tuesday morning press conference held at Renaissance Senior Care in south Helena, the second to last stop on his vaccination tour.
Helena resident Sharon Neyer's 94-year-old mother Clara Longmier was among the residents who received the vaccine.
"It is a big relief to me, to everyone," Neyer said. "I want to thank everyone who made (the vaccine) available."
Neyer said her mother's isolation throughout the pandemic was a struggle.
"She was used to having someone around all the time," Neyer said. "Christmas was really tough."
She said she is thankful visits can now be face to face as opposed to through her mother's window.
— Reporters Nolan Lister, Juliana Sukut and Jordan Hansen contributed to this story.