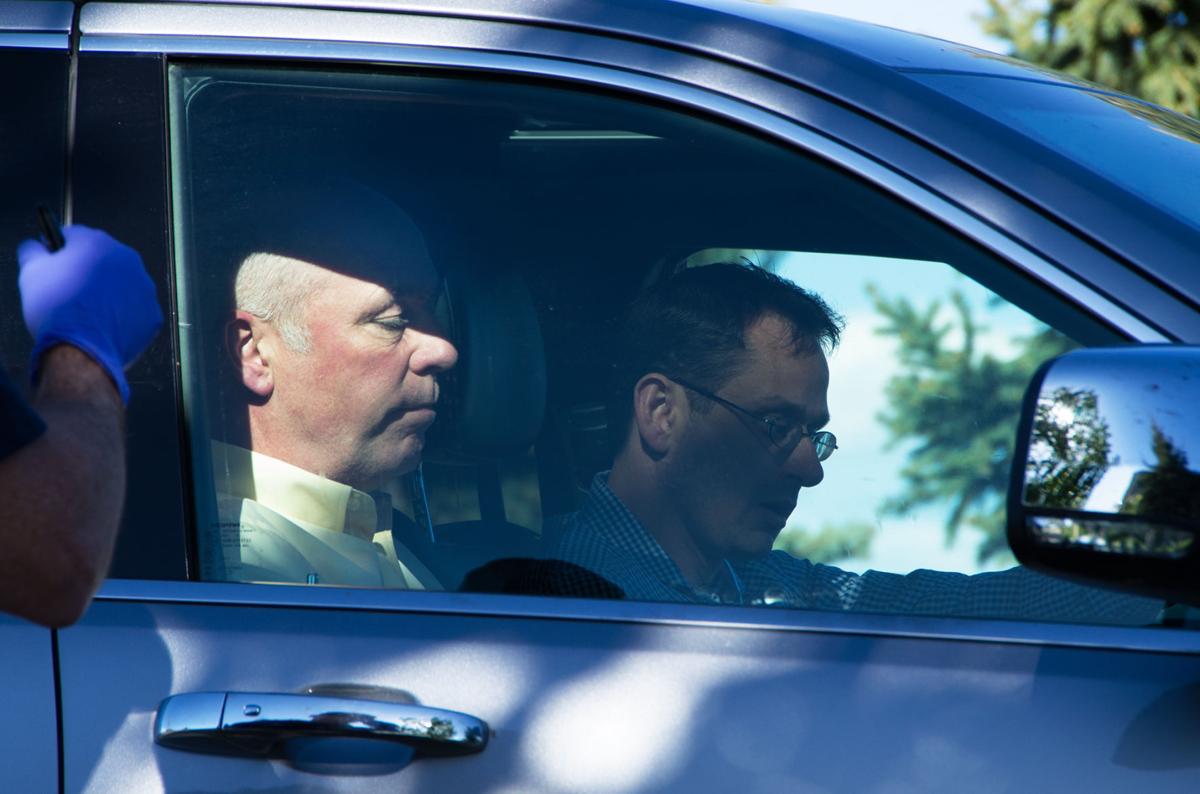 U.S. House candidate Greg Gianforte has been cited for assaulting a reporter from the Guardian at the Republican's campaign headquarters in Bozeman.
Gianforte was cited for misdemeanor assault, according to the Gallatin County Sheriff's Office. 
In a recording of the incident, Guardian reporter Ben Jacobs said he was "body-slammed" by Gianforte and wanted to call police.
A Fox News TV crew in the room reported seeing Gianforte grab Jacobs by the neck and slam him to the ground.
The nature of the injuries did not meet the statutory elements of felony assault, according to the office. He is scheduled to appear in Gallatin County Justice Court by June 7.
Gallatin County Sheriff Brian Gootkin told the press that Jacobs had been taken to the hospital and later released. The reporter was being interviewed by deputies three hours after the incident. Gootkin said that interview would take a couple hours.
Deputies will treat the incident like any other investigation, Gootkin said, meaning they will not rush the process for the election, which is Thursday.
Gianforte is running to be Montana's next congressman, a seat that was vacated by Ryan Zinke when he resigned to join Trump's Cabinet as secretary of the Interior. Gianforte, a candidate from Bozeman who had an unsuccessful campaign for governor in 2016, built his reputation on founding a software business. That business sold to Oracle for $1.8 billion in January 2012.
Gianforte's opponents are Democrat Rob Quist, a musician from Creston, and Libertarian Mark Wicks, a mail carrier from Inverness.
The incident
Around 5 p.m. Wednesday, Gallatin County Sheriff's deputies responded to an incident at 212 Discovery Drive, Gootkin said.
The Guardian has released an audio recording of the incident. It's unclear if there is any additional audio or video of the incident.
The following is a transcript taken from the 45-second recording between Gianforte and Guardian reporter Ben Jacobs:
Jacobs: "The (Congressional Budget Office) score, because you know you were waiting to make your decision about health care until you saw the bill and it just came out."
Gianforte: "We'll talk about that later."
Jacobs: "Yeah but there's not going to be time. I'm just curious about how you'd react right now."
Gianforte: "Speak with (Gianforte campaign spokesman Shane Scanlon), please."
Some garbled noises follow before Gianforte speaks again.
Gianforte: "I'm sick and tired of you guys, the last guy who came in here, you did the same thing. Get the hell out of here. Get the hell out of here. The last guy did the same thing. You with the Guardian?"
Jacobs: "Yeah, you just broke my glasses."
Gianforte: "The last guy did the same damn thing."
Jacobs: "You just body slammed me and broke my glasses."
Gianforte: "Get the hell out of here."
Jacobs: "You'd like me to get the hell out of here, I'd also like to call the police. Can I get your guys' names? He just body slammed me."
Scanlon: "You've got to leave."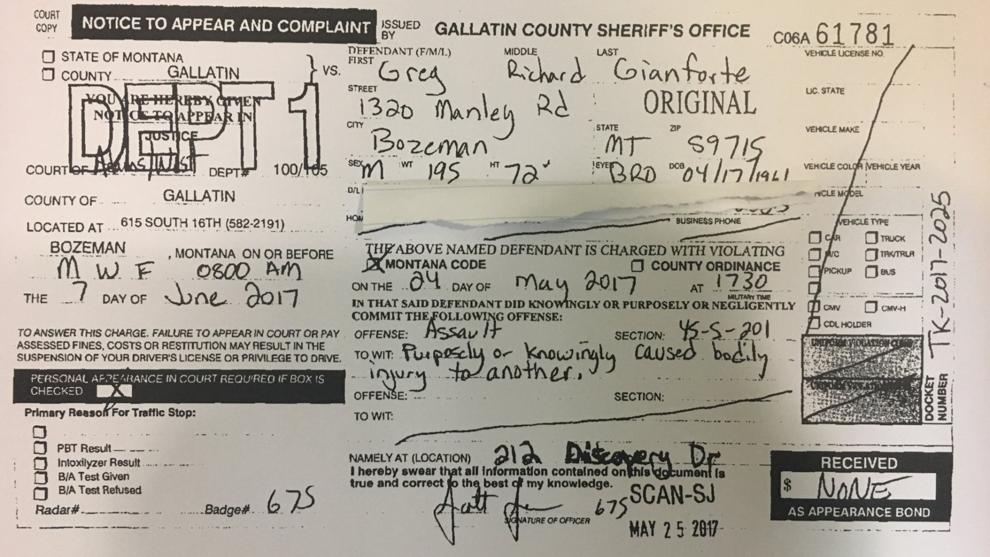 In addition to Gianforte and Jacobs, four other people were in the room at the time of the incident, Gootkin said. 
In a first-person account posted on its website, a Fox reporter says the three-person crew went to the Republican's campaign headquarters to interview him Wednesday.
Alicia Acuna wrote that they watched Gianforte in disbelief as he punched Jacobs after slamming him to the ground.
Jacobs had walked into the office and asked the candidate about the GOP's health care bill and persisted when Gianforte referred him to his spokesman.
After Jacobs left, Gianforte apologized to the Fox crew.
Shane Scanlon, spokesman with the Gianforte campaign, issued the following statement regarding the incident:
"Tonight, as Greg was giving a separate interview in a private office, The Guardian's Ben Jacobs entered the office without permission, aggressively shoved a recorder in Greg's face, and began asking badgering questions. Jacobs was asked to leave. After asking Jacobs to lower the recorder, Jacobs declined. Greg then attempted to grab the phone that was pushed in his face. Jacobs grabbed Greg's wrist, and spun away from Greg, pushing them both to the ground. It's unfortunate that this aggressive behavior from a liberal journalist created this scene at our campaign volunteer BBQ."
Deputies briefly spoke with Gianforte after the incident. Gootkin said they would get back with him after interviewing other witnesses.
Greg Gianforte just body slammed me and broke my glasses

— Ben Jacobs (@Bencjacobs) May 24, 2017
Jacobs broke the news of the incident on Twitter, saying, "Greg Gianforte just body slammed me and broke my glasses."
There was a local TV crew there when Gianforte body slammed me. Audio is posting soon at @GuardianUS

— Ben Jacobs (@Bencjacobs) May 24, 2017
Effect at the polls
Jeremy Johnson, an associate professor of political science at Carroll College in Helena, classified the incident as "major."
Though 37 percent of registered voters have already returned absentee ballots, there will "still be plenty of people voting on Election Day," Johnson said. Turnout in special elections is typically low, and with this vote on the Thursday before Memorial Day many have predicted low numbers at the polls.
Johnsons said he couldn't think of any precedent for what happened Wednesday night a little over 24 hours before voting ends in the first U.S. House special election Montana has held since the 1960s. The 85-day campaign has been unlike any seen in the state, drawing more spending during a very compressed cycle than the November race for the seat.
Campaign spending has surged deep into record territory in this race, with at least $17 million flowing into the race from the campaigns and outside groups hoping to influence the nationally watched contest.
Campaign records show Sheriff Gootkin donated $250 to Gianforte's campaign on March 23.
Those who cast early absentee ballots tend to strongly support a candidate or party, Johnson said, meaning many who haven't voted yet could still be undecided — either about which candidate to support or about voting at all.
"If you're on the fence about voting, this might drive interest to go vote," he said.
"Some voters will view this as a character issue that could hurt Gianforte at the polls," Johnson said.
The timing of announcements from the Gallatin County Sheriff's Office could play a large role in the election.
"A lot of facts are not known yet," Johnson said, speaking before Gianforte was cited. "It will certainly be a challenge for the Gianforte campaign. It will be discussed. We have to see if new information comes out, if any further information is available to voters before they start voting tomorrow."
Gianforte and the media
This is not the first time Gianforte has displayed a short temper with members of the media or voiced a distrust of journalists.
During the Republican's first campaign for public office last year, Gianforte met with the Missoulian editorial board as well as its city editor Gwen Florio and reporter Jayme Fraser. Under persistent questioning for more details about his position on refugee vetting and resettlement, Gianforte raised his voice, threw his phone down and repeatedly pounded the table.
"I'm not playing this game with you," he said. "I've been very clear. Montanans' safety is at risk and I will protect it and my opponent will not."
Read a full transcript of that meeting here.
At an April campaign stop in Hamilton, Gianforte celebrated his 56 birthday and met with members of the Advancing Conservatism Society, a local constitutional Christian group. Reporter and Associate Editor Perry Backus wrote about the event including, as a later editorial described it, "the speech given by a local high school student, about the prayers and birthday cake."
Toward the end of Gianforte's talk, a man in the audience said to Gianforte, "Our biggest enemy is the news media" and asked, "How can we rein in the news media?" The man then turned to Backus, who was sitting next to him, and "raised his hands as if he would like to wring his neck."
Gianforte smiled, pointed at the reporter and said this: "We have someone right here. It seems like there is more of us than there is of him. I don't have a simple solution for you. I will say that doing town hall meetings and getting out and visiting with people is very important."
At a Billings Gazette editorial board a week later, he offered an apology for his comments about the press and said he fully supports the First Amendment, describing his remarks as a joke.
The Billings Gazette and the Missoulian pulled their endorsements of Gianforte Wednesday night.
The Associated Press and Bozeman Daily Chronicle contributed to this report.