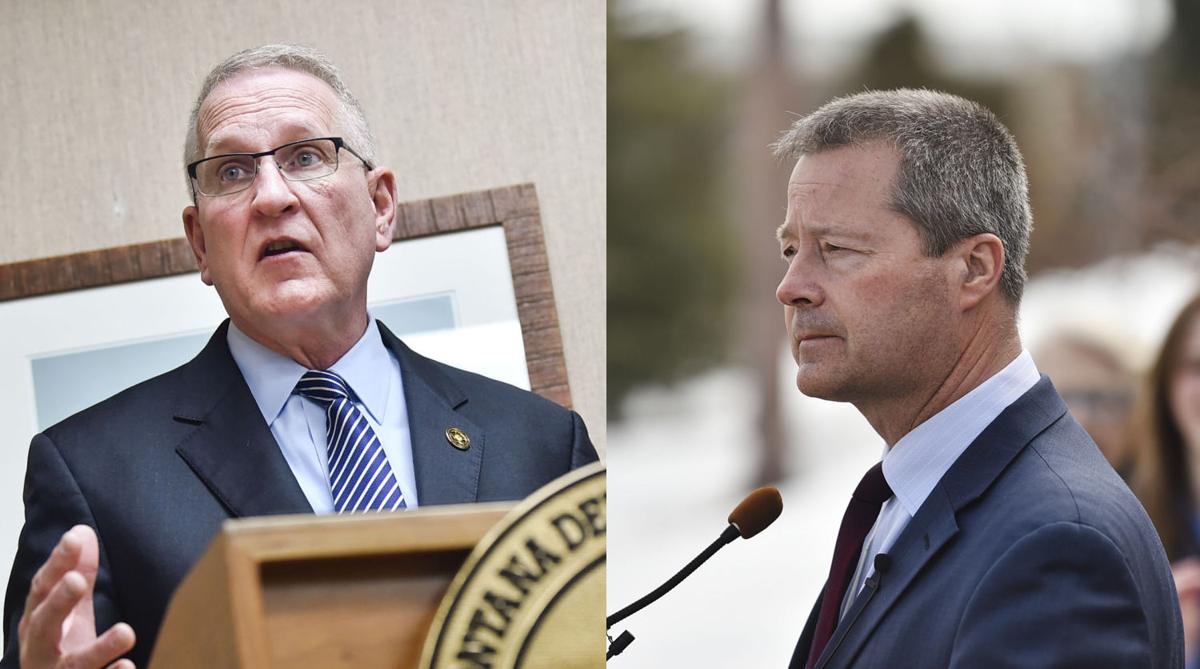 UPDATE: Late Monday, a member of the Lewis and Clark County Republican Central Committee said the committee voted to delay the debate until all candidates could attend. The Fox campaign said Monday night that Fox and Olszewski agreed to still debate Nov. 26 at a forum not hosted by the central committee.
---
Attorney General Tim Fox and state Sen. Al Olszewski will participate in a forum organizers said will center on their views about creating jobs and bolstering the state's economy. The event is organized by the Lewis and Clark County Republican Central Committee.
Fox's campaign sent out a press release Monday, with quotes from Olszewski as well, criticizing Gianforte for not making the debate.
"It's disappointing to hear that Greg Gianforte has chosen not to participate in the debate and that the people of Montana will not have a chance to hear where he stands on some key issues," Olszewski said in a statement in the release.
A statement from Fox read: "The ability to debate issues, ideas, and opportunities important to Montanans is fundamentally one of the most important skills needed for our next governor. Being able to debate fellow candidates with statesmanship and civility is a reflection of the leadership they will exemplify when elected."
But Gianforte's campaign said Monday the event was scheduled even though organizers were aware the dates proposed did not work with the congressman's schedule.
"Despite knowing for several weeks that Greg will be with family to celebrate Thanksgiving, Tim Fox still worked to schedule a debate during that time, all so that Mr. Fox could avoid appearing alongside the clear front-runner," said campaign spokesman Jake Eaton, who went on to criticize the timing of the debate two days before Thanksgiving.
Gianforte's campaign said it plans to participate in a Jan. 23 forum in Yellowstone County, hosted by the Republican central committee there.
Lori Hamm, the Lewis and Clark County central committee chair, said the candidate's campaigns took the lead on a series of negotiations to set the date of the Helena forum and faced challenges with the upcoming holidays.
She added the central committee knew it was unlikely Gianforte could attend when they sent out an email inviting candidates to the Nov. 26 event.
"The campaigns came up and said 'Here's where we are. Here's the date we'd like to do it. Both these candidates would like to do it, and we can't come up with a date Rep. Gianforte can do it,'" Hamm said.
"It would be silly for us to pick a date and then nobody could be there. We knew at the time we made the final decision that probably Rep. Gianforte was not going to participate. The door is still open."
Fox's campaign countered Monday that Gianforte's "absence speaks for itself. There is always an excuse."
"The Gianforte campaign has been dragging their feet for weeks on nailing down dates to debate. (Olszewski's) campaign and the Fox campaign gave them ample opportunity to participate in selecting what dates work best for Congressman Gianforte and Congressman Gianforte's response was to kick the can down the road," campaign manager Jack Cutter said.
Hamm said she couldn't speak to if it was common to have a debate with two-thirds of the candidates, and added the central committee had not done a lot of debates that she's aware of. She said the central committee thinks it will still be valuable to hold the forum.
"It still gives the other candidates a chance to be heard and have their views weighed and considered by the electorate," Hamm said. "If you can get all of them, that's great. If you can't, it's still important to hear those who are willing to speak to you."
Gianforte has raised just over $1 million since announcing more than four months ago, according to campaign finance reports filed in October. He's loaned his campaign $50,000. Fox is next in the money race, pulling in about $460,000. Olszewski trailed at almost $180,000, though $100,000 is his own money.