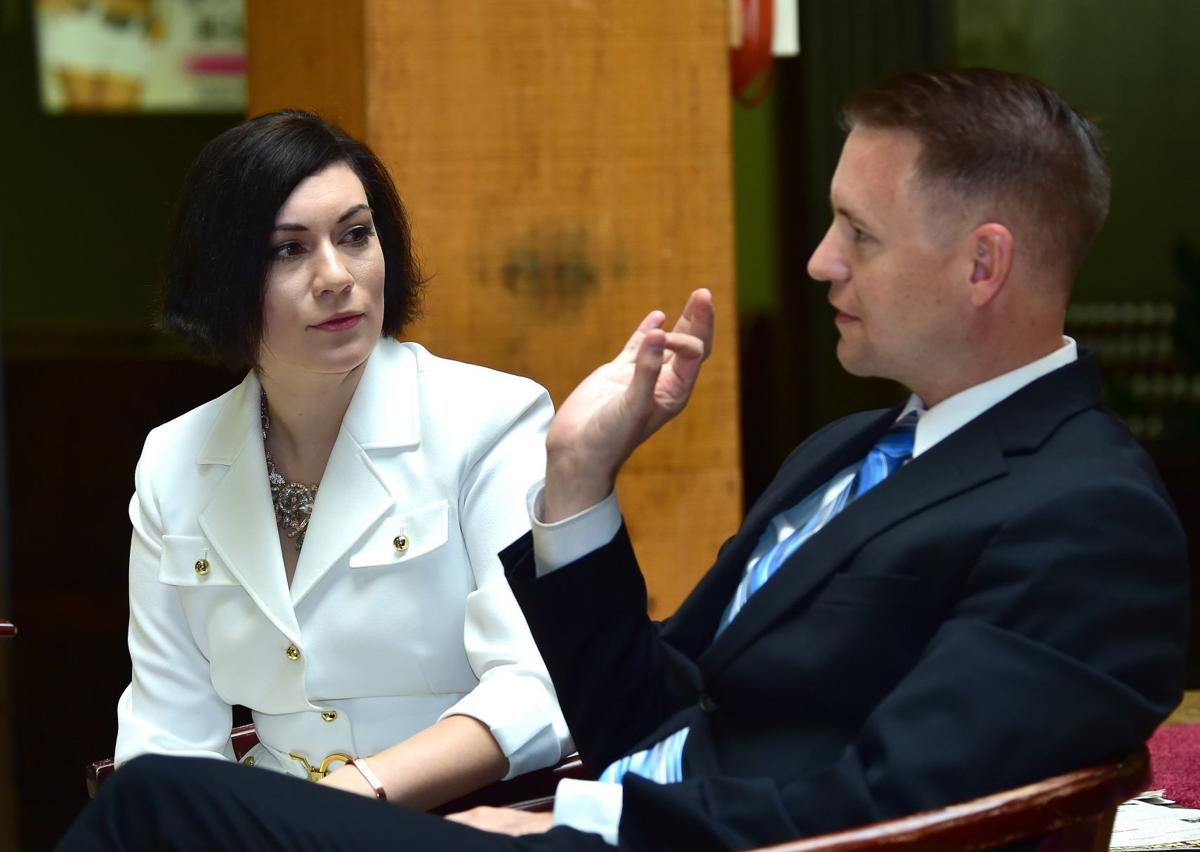 HAVRE — Montana's post-truth political power couple set the hook early.
By the time anyone questioned the truthfulness of a married couple running as U.S. Senate candidates for opposing parties, the media had already taken the bait.
William James Dean and his wife, Sarah, have an unlikely story. James the Republican financial adviser and Sarah the Democratic fashion designer this month set out to race through the primaries and meet on the ballot next November. They did their coming-out interview together in their local Havre newspaper. The Associated Press picked it up a few days later. And then television.
The heavy-hitters in Montana's U.S. Senate race were already tearing each other down. The Deans? Well, they love each other. They are a team no matter what, maybe even conspirators.
"Another Republican has announced he's running to unseat Sen. Jon Tester next year — and his wife is challenging Tester as a Democrat," reported one broadcast, which described the couple as first-time candidates.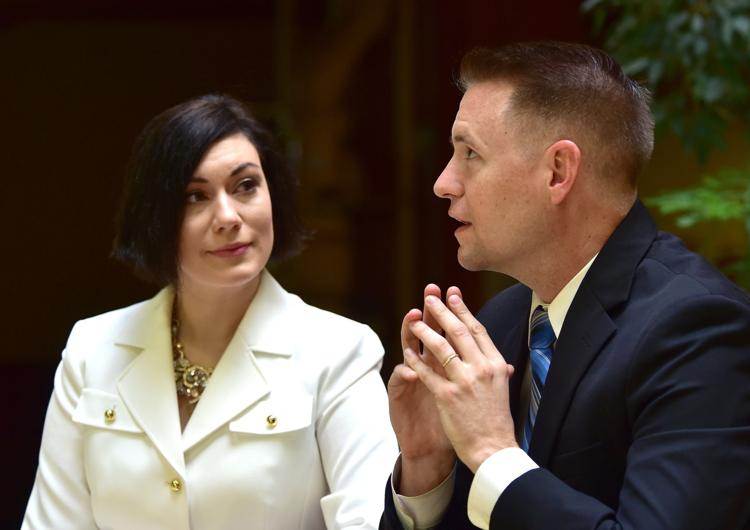 Mysterious origins
The Deans aren't who they said they are, at least not exactly. William James Dean is no newcomer. In the last election cycle Dean, who currently goes by James, filed to run for president in California under a different name, Daniel Lane Dean, the name that appeared on his Air Force Academy diploma, and his Hawaiian state bar exam, and a divorce record that shows him being served dissolution papers while working for the Judge Advocate General Corps at Guantanamo Bay.
Sarah Dean has used no fewer than four names, each affiliated with an online business, or a Christian ministry, a collection of children's books, or a crowd-funded charity.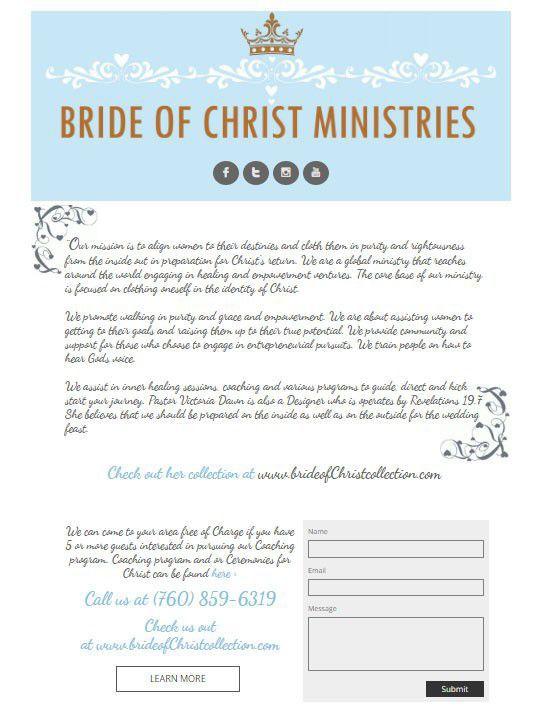 There is little verifiable truth to much of what they have said. And they promise, as politicians have come to do, that the proof to any unanswered question today will be revealed later.
Sitting in the atrium of a half-empty Havre shopping mall this week, sharply dressed for an interview with The Billings Gazette, the Deans couldn't confirm they were married, at least not by providing a wedding date, or a place where they tied the knot.
"Let's hold that one for a bit," James suggested.
Sarah: "We were together for a long time before we did but … ."
Sarah: "We are married. (laughs). We are married. We do have our wedding rings on."
James: "Um, we had to. It was not with her father's consent. We had to elope."
Sarah laughed. The interview moved on. Several of the answers offered by the Deans are like coins in the deep end of a swimming pool, vaguely recognizable but not reachable.
The couple asserted they were the only ones who could save the country, and only if one of them becomes Montana's next U.S. senator. The political boast resembles one Donald Trump used to win the presidency.
"I'm the only candidate in the country who has any chance of getting their agenda actually implemented in the United States. That's it. I'm the only person," William James Dean said. "There's nobody in the United States to solve the problems we have facing the country." 
The Deans are a riddle Democrats and Republicans can't fully unwind.
"When we heard that a husband and wife were challenging Tester on opposing sides, I think everyone was surprised and almost wondered if it was a joke, to be honest," said Jacob Bachmeier, a Democrat in Hill County, where Havre is the county seat. "Not a lot of people in Hill County really know them."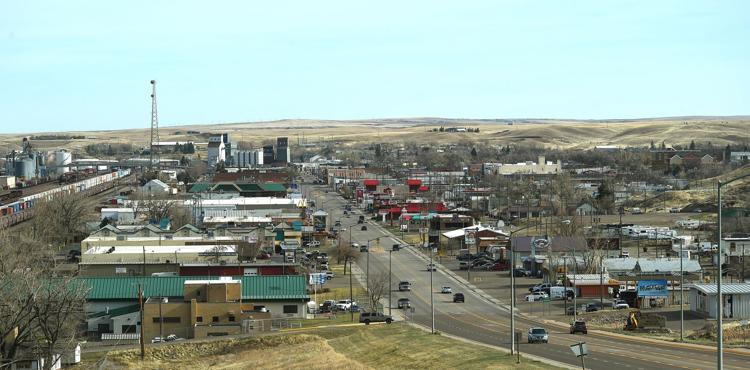 Moving to Montana
It's hard in Havre to escape being known at least by someone who knows someone else. It's a Hi-Line railroad and small-college community of 10,000 people less than a 45 minutes' drive from Canada. You can walk Havre end to end in half an hour, even quicker if a Chinook is pressing at your back.
When Bachmeier first heard about the Deans, he suspected Sarah would challenge him for his House seat in the Montana Legislature. Still a teenager, Bachmeier is the youngest-serving legislator in Montana history. Sarah Dean describes herself as a millennial candidate. He didn't suspect Sarah Dean was taking on Tester, a Democrat and two-term incumbent senator with an $8 million campaign war chest.
Andrew Brekke thought something was up when James Dean walked into the Hill County Republican Central Committee member's insurance office to make introductions. Dean, a 38-year-old Air Force veteran, looked like a salesman with his shiny black shoes, dark suit and high and tight military haircut.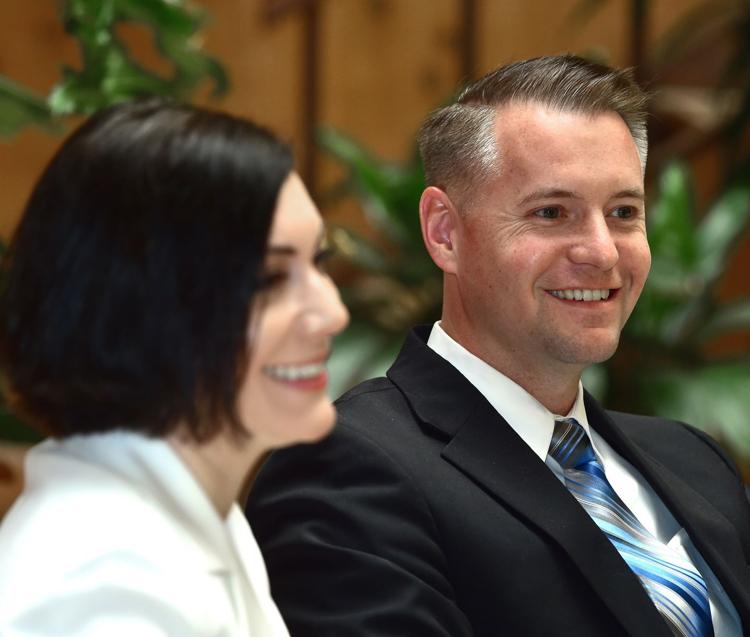 When Brekke asked Dean what the candidate did for a living, the answer was too long.
"If I ask you what you do for a living and you explain it in two minutes, and you never shut your mouth, I'm skeptical," Brekke said.
The stories the couple told to their respective parties weren't exact matches to the ones they have told in the past.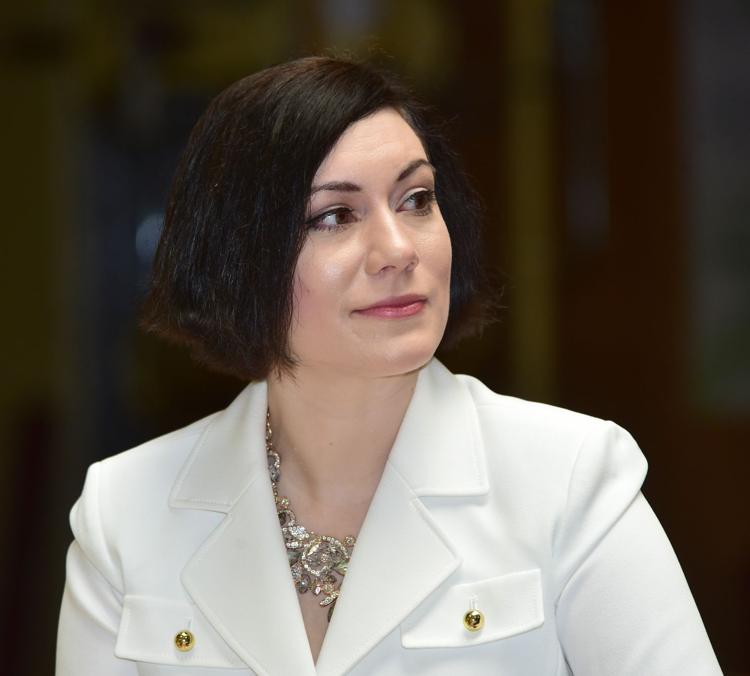 Sarah Dean described herself as a Chicagoan, an entrepreneur from the age of 15, whose family arrived in Havre in 1999 in search of a rustic, butter-churn existence.
"During the financial crisis in 2008, she used the remaining curtains in her house along with the scrap fabric to start a fashion business," her campaign website bio reads. She claimed to have been written up in Vogue and Glamour magazines as a trendsetter. The dress from drapes anecdote resembles Scarlet O'Hara's ball gown scene in "Gone With The Wind."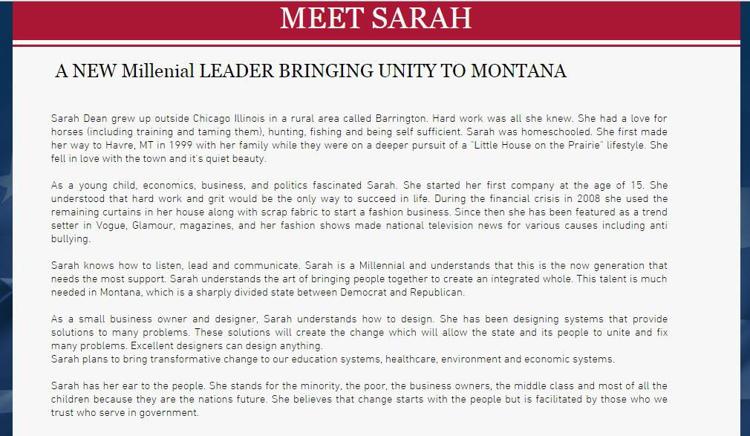 In person, Sarah Dean describes a much more disturbing upbringing, one in which her famous music producer father, who Sarah won't name, relocated his wife and eight children from Chicago to Montana, where he intended to set up a child labor camp. Sarah told The Gazette she escaped from the camp at age 25.
"He wanted us to grow up in a 'Little House on The Prairie' lifestyle, but he also had us to be his slaves. He wanted to build an empire, because there was eight of us kids," Sarah Dean said. "I escaped, I know my older sisters escaped, but a lot of them are fractured and they're all over."
Sarah was unable to provide contact information for her siblings, or say exactly where the family was holed up in Montana. Two hours north of Billings is as close as Sarah could come to nailing down the location of her family encampment.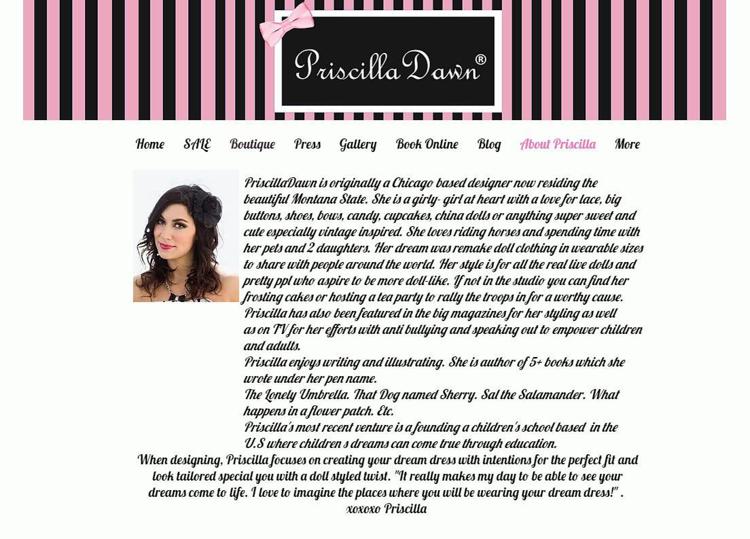 Parts of her story turn up on the website of Priscilla Dawn, a seamstress name that Dean uses to market dresses online.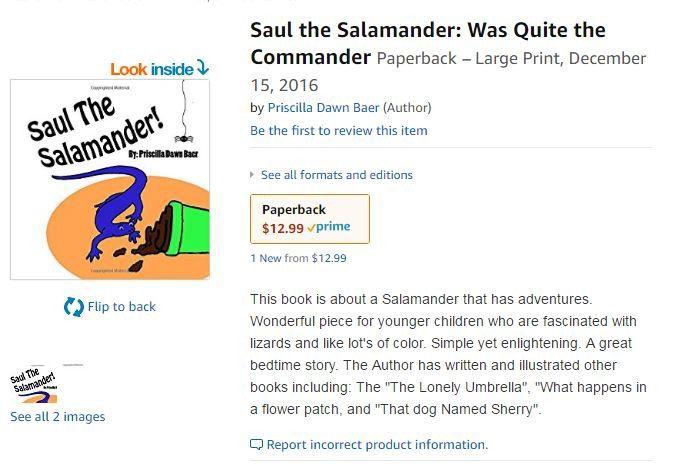 She's also penned and illustrated children's books as Priscilla Baer. Titles "Saul the Salamander," and "That Dog Named Sherry" are listed on Amazon.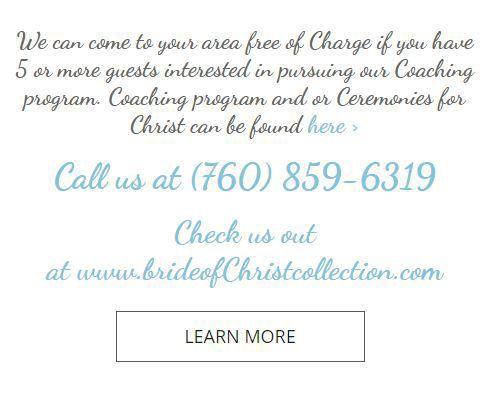 Another Dean website, Bride of Christ Collection, sells wedding dresses by Pastor Victoria Dawn, the contact number for the business is the same phone number Dean supplied to the Federal Election Commission on her Senate campaign's statement of organization.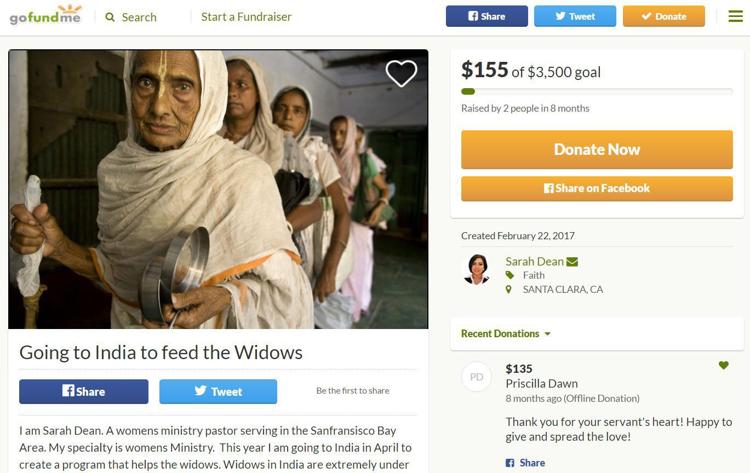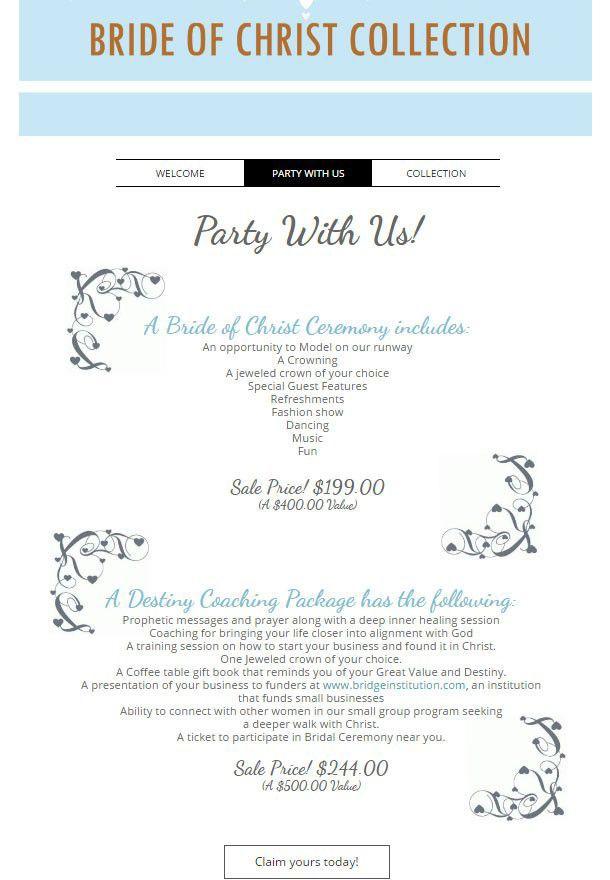 Sarah Dean said she uses alternative names for business purposes, but on Gofundme.com, where Dean presents herself as a San Francisco women's ministry pastor in need of $3,500 for "going to India to feed the Widows," Priscilla Dawn has donated $135 and offered Sarah a message. "Thank you for a servant's heart. Happy to give and spread the love."
Other business personalities also interact. For $244, Bride of Christ customers get prophetic messages and prayer, a deep healing session, a jeweled crown and, among other things, a presentation of the customer's business to funders at www.bridgeinstitution.com, which is presented as "an institution that funds small businesses."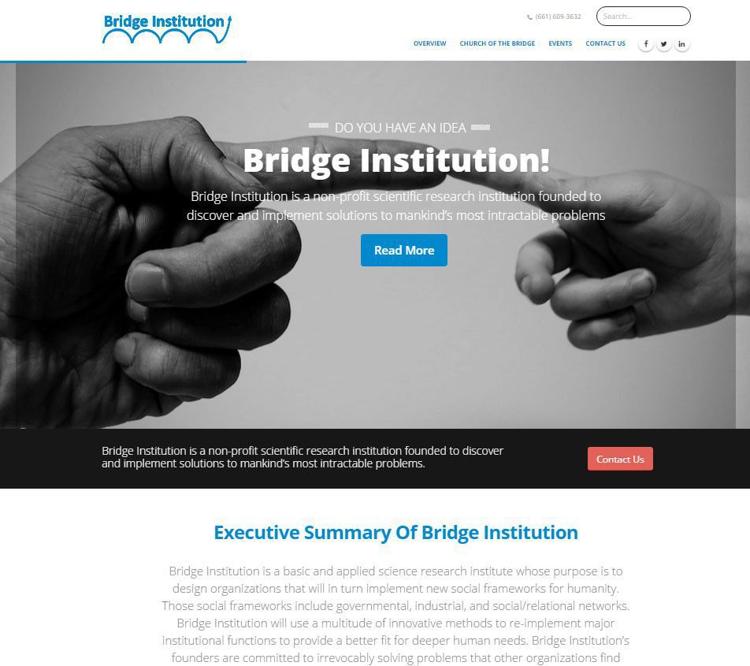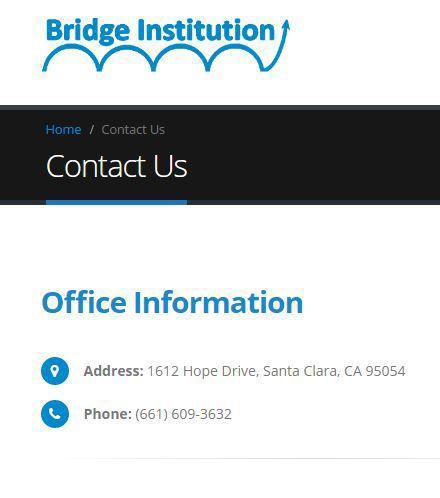 William and Sarah are listed on the "Church of the Bridge" page of Bridge Institution as "coaches in divine destiny and aligning your life, business, or job to God's plan for your life." The institution's services run the gamut, from helping heroin-addicted military veterans, to large-scale engineering projects.
The contact number for the Bridge Institution is same number James Dean provided the FEC in his campaign filings.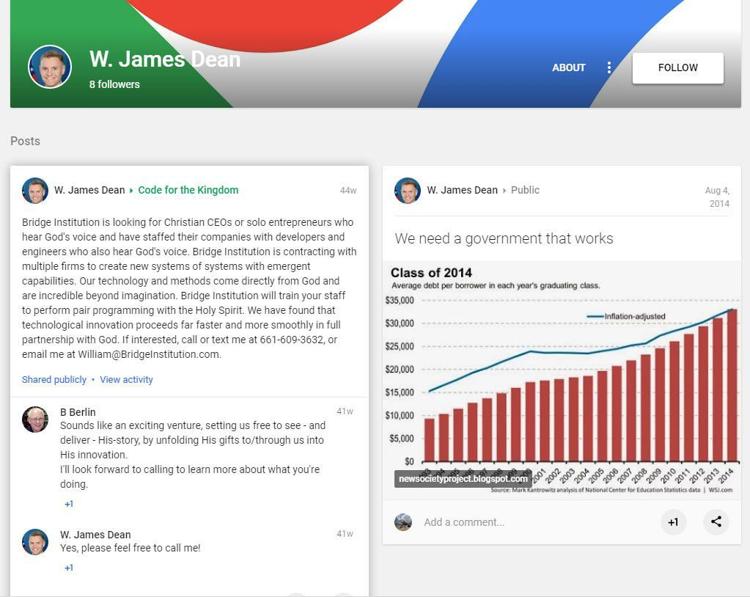 It was William James Dean's telephone number that tied him to an online professional biography, where he cited his law education at University of Hawaii at Manoa. But Dean's law school accomplishments are credited to Daniel Lane Dean, a name the candidate acknowledged is his.
Daniel Lane Dean, according to Air Force records, was a student at the Air Force Academy. His yearbook lists the slender-framed Dean's cadet nickname as "beefcake." His hometown is listed as Vancouver, Washington.
Dean received a medical retirement in 2013, according to the Air Force.
The candidate told The Billings Gazette he changed his name for religious reasons, but he was cut off by Sarah Dean, who grabbed his arm.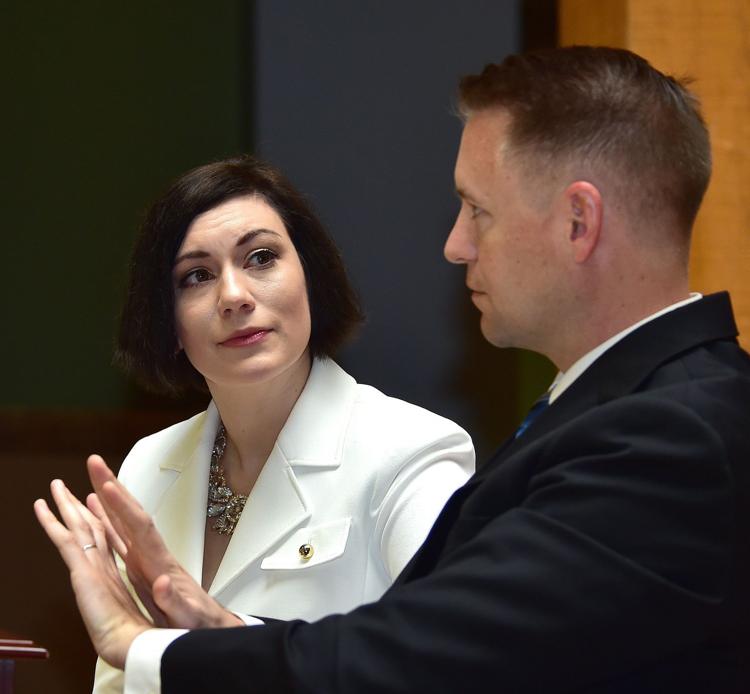 "I just didn't like it, I didn't like his name because they called him Dan and I just didn't see him as a Dan," Sarah Dean said. "And he thought that it was because I prayed about it and I got an answer, but no, I honestly wanted him to be a William. And I told him, you have to be a William. I didn't like his name and all these complications that went with me thinking of him being a Dan and I'm just like, 'I'm over this.'"
Finding a platform
Democrats and Republicans, at least the ones who have visited with the Deans, question the couple's backstories, but not their motive for running for Senate. The Deans have an economic theory for retooling banks, insurance companies and even how the dollar is valued. Advancing that agenda is the couple's stated priority, and partisans don't doubt it.
"Initially, I thought it was a scam, never a doubt, but I don't believe that after meeting him face to face," Brekke said.
James Dean's children live in Havre with their mother, which explains why the candidate relocated there from California, Brekke said. James Dean speaks clearly about his economic platform.
The Deans explain their economic solution by starting with flat incomes, which, for the middle class, adjusted for inflation, haven't increased for more than three decades. Consequently, people rely on credit to buy things, which enslaves them in debt. The banking and securities theme targets both Tester, as a senior Democratic member of the Senate Banking Committee, and State Auditor Matt Rosendale, an early Republican front runner. Rosendale regulates securities as auditor.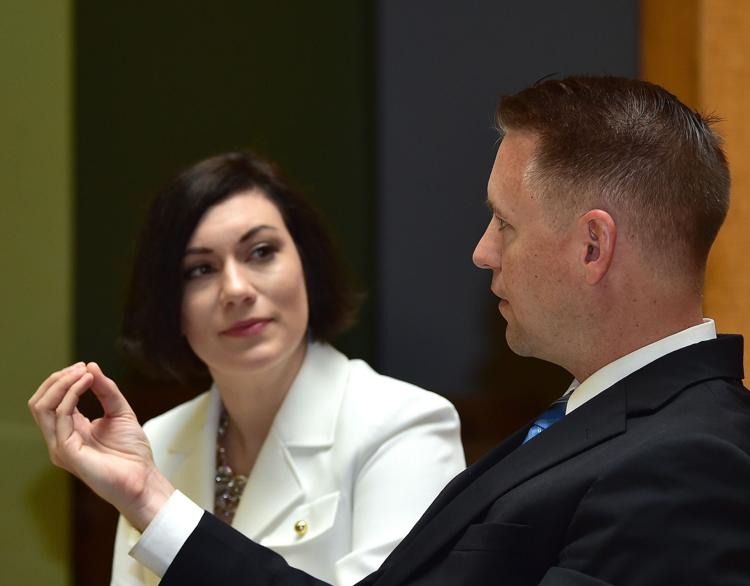 "Debt itself creates inflation, and debt itself creates asset bubbles. Any solution to financial crisis has to go directly to the root of the problem," James Dean said, "which is the debt. And you can't regulate debt. You have to make it different. So we're not just criticizing bankers, we have an entirely new financial system."
And the Deans cannot roll out their financial plan without getting elected, Sarah Dean said.
"We have to find things that we love to do and we're passionate about," Sarah Dean said. "We do a lot of that and we get paid for that, instead of taking jobs where we're what I call stuck in a veal pen. And we're sitting there because we have to pay our bills. We have to put food on our tables and we're becoming slaves. We have been devalued."
Billings Gazette reporter Michael Kordenbrock contributed to this story.
Get Government & Politics updates in your inbox!
Stay up-to-date on the latest in local and national government and political topics with our newsletter.