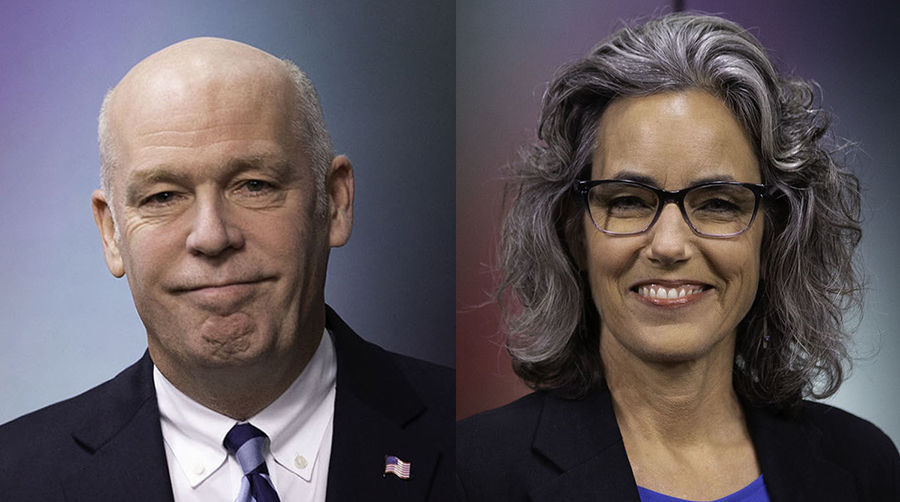 Improving the economy should be a priority for Congress, both Republican U.S. Rep. Greg Gianforte and Democrat Kathleen Williams agree, but how to improve it is where the candidates differ.
We asked the two candidates about the economy last week. Here is what they had to say:
How much credit do you give President Trump for the current economy? Which Montanans are benefiting most from the Trump tax cuts? Are middle and lower class Montanans receiving a large enough share of the benefit?
Gianforte: President Trump and Republicans cut tax rates for all hardworking Montanans and doubled the child tax credit to make it easier to start a family and take care of our kids. We also reformed the tax code to help Montana's Main Street businesses. Our economy is booming as a result. Unemployment is at a 49-year low. Wages are growing at their fastest rate in about a decade. More than 4.3 million new American jobs have been created since President Trump took office. We've turned a corner from the failed policies of Barack Obama and Nancy Pelosi of sluggish growth and stagnant wages.
Unfortunately, Kathleen Williams would have us go back. She'll claim that about 80 percent of the tax cuts go to the top 1 percent. It's a line that Nancy Pelosi uses, too. Nonpartisan fact-checkers say it's not true. Kathleen Williams' misleading claim is an effort to distract from her record of voting at least 24 times against tax cuts for Montanans that total more than $1.1 billion. Nancy Pelosi has said if Democrats take over the House, they will repeal the tax cuts, costing the average Montana family of four more than $25,000 over 10 years. We can't afford to go back.
Editor's note: Gianforte cites 11 tax Montana bills from three different state legislative sessions opposed by Williams, of which only one became law. The other 10 bills either died in the Legislature or were vetoed by the governor.
Williams: I support tax cuts for small businesses and the middle class. While in the (Montana) Legislature, I worked to lower taxes on businesses and individuals while helping grow and diversify our economy.
The economy has been improving (and unemployment declining) since 2011. While deficit spending is justified to jump-start an economy out of recession, the current Congress has missed an incredible opportunity for fiscal responsibility — instead of now working to level off the deficit as the economy improves, they drove up the deficit further, with much of the benefit going to the wealthy. This further aggravates income inequality in America and saddles our children and grandchildren with the highest debt in American history. Meanwhile, unnecessary trade wars threaten our agricultural industry, and Congress is looking at cutting Social Security and Medicare, while skyrocketing health care costs are bankrupting working families.
Congressman Gianforte's tax giveaway to corporations and millionaires like himself isn't helping middle- and lower-class Montanans; it's benefiting the top one-third wage earners and not those who need tax relief the most. Congress should focus on long-term stabilization of the economy instead of further benefiting special interests.
The Tax Cuts and Jobs Act passed last December cut taxes by $1.5 billion and boosted economic growth. But the federal deficit also grew by $779 billion in the 2018 fiscal year. The Congressional Budget Office expects the deficit to grow beyond $1 trillion in 2020 and continue increasing thereafter. How can lower tax revenue catch up with the deficit? How would you manage this growing federal deficit? Would you have to raise taxes? If you plan to cut spending, what would you cut and how would your constituents be impacted?
Gianforte: During the eight years Barack Obama was president, America's economy grew an average of 1.6 percent per year. In the 50 years before that, our economy grew an average of 3.4 percent annually.
Thanks to the pro-growth policies of President Trump and Republicans in Congress, we've turned a corner, and America's economy is set to grow above 3 percent for the first time since 2005. Our economy is thriving because of the pro-growth policies of President Trump and Republicans in Congress. The tax cuts we enacted have jump-started the stalled-out Obama economy, leading to lower unemployment, higher wages, and greater opportunities for more Montanans to realize the American dream.
As Montanans know, the federal government doesn't have a revenue problem. It has a spending problem. Even with the tax cuts, the federal government raked in record revenues this year. The problem is spending outpaced those record revenues. We have to turn off the spigot.
I will continue opposing outrageous spending deals that unnecessarily drive up spending and burden our kids and grandkids with more and more debt.
Williams: I support tax cuts for working people. I support tax cuts for small businesses. Hardworking Montanans should keep more of their hard-earned money in their pockets. The tax bill supported by Congressman Gianforte overwhelmingly benefited corporations and millionaires like himself. Meanwhile, what will happen to working class families when they retire and no longer have their Social Security or Medicare benefits?
Without a plan to pay for these tax cuts for the wealthy, Congressman Gianforte and others in Congress are looking at cutting those retirement investments, or saddling our children with trillions of dollars of debt, or both. I passed balanced budgets for three terms in the state Legislature. In Congress, I'll work for balanced budgets while championing Social Security and Medicare, and I'll use my experience as the former vice-chair of the House Taxation Committee in the state Legislature. The federal tax bill was rushed through so quickly that it many mistakes and unintended consequences. We need experienced policy-makers in place in 2019 to help fix the additional problems taxpayers will encounter when filing their taxes under the new law.
If you did one thing to benefit the economy of Montana's Native American communities, what would it be? How would you accomplish it?
Gianforte: "As we're seeing with the pro-growth policies of President Trump and Republicans in Congress, a thriving economy leads to more jobs, higher income and greater opportunity.
One key factor to ensure Montana's Tribes experience the benefits of a thriving economy is to keep the federal government out of the way.
Earlier this year, I was appointed chairman of the Subcommittee on Interior, Energy and Environment. The committee has vast oversight jurisdiction, including over public lands, the EPA, and energy policy. Since I became chairman, the committee to focus on issues important to Montana — from preserving grazing rights on federal lands to examining why more than 21,000 miles of Forest Service roads have been closed in Montana.
I also convened a congressional hearing that explored challenges the regulatory process poses for tribes to develop their energy resources. Crow Tribal Chairman AJ Not Afraid joined others in testifying about the obstacles facing resource development. It is clear from that hearing that we must reduce federal barriers to opportunity that Montana's Native American communities face.
Getting the federal government out of the way is one way to ensure Montana's tribes have increased access to greater opportunity.
Williams: In the short-run, we need to address infrastructure — whether water systems, adequate housing, or roads — which is crumbling or non-existent and hampering economic opportunity in reservation communities. In the long run, education is vital. We need to ensure quality access to and provision of educational services — pre-K-12, as well as tribal college opportunities, and access to further higher education and job training. Education can help build healthy lifestyles, economic opportunity, entrepreneurism, and future tribal leaders. Federal programs such as TRIO that help first-time college attendees access college are critical to opportunity and success. Support for tribal colleges is also key, and ensuring off-reservation, on-campus support for Native students helps them adjust to being away from family and culture. There are inspiring stories about youth returning to reservations and providing leadership in entrepreneurship and governance, as well as role models for continuing to build a cycle of opportunity both on- and off-reservation."
Larry Kudlow, director of President Trump's National Economic Council, opposes the federal minimum wage, saying this week that 80-year-old law is a terrible idea and that raising it from its current $7.25 an hour would damage small businesses. Do you agree with Kudlow that raising the minimum wage would be damaging? Some Democrats have advocated for establishing a "living wage" of about $15 an hour. Explain your position on a federal minimum wage and a federal living wage.
Gianforte: I remember working low-wage jobs when I was in school. I earned a paycheck, but I also learned the value of work. The fact is the minimum wage is generally an entry-level wage for young people. According to the Bureau of Labor Statistics, 542,000 Americans earn the minimum wage. Of those, about 60 percent are under 25, and about 3 in 4 work part time.
Ultimately, we should focus on increasing opportunities so that more Americans can work full-time and earn a good living. The best way to get there is to grow our economy.
There is good news. On Friday, the Bureau of Labor Statistics reported that wages increased at their fastest rate in nine years. It's the first time wages have grown by at least 3 percent since 2009. One reason wages have increased to a nine-year high is there are more people looking for jobs than there are jobs available. Employers must pay more to attract well-qualified employees, and as a result, wages are growing.
Ultimately, greater economic growth raises wages, and we must keep the economy going to keep wages growing. We can't afford to go back to the failed policies of Barack Obama and Nancy Pelosi.
Williams: Wages need to be higher, but rural Montana and entrepreneurs aren't broadly ready for a blanket $15 minimum wage. The federal minimum is even lower than Montana's minimum wage. Today's average wages have about the same buying power as they did 40 years ago. As costs for consumer products, housing and healthcare rise, wages for working families must keep pace. Since 2011, we've had a healthy economy and low unemployment, but getting health care costs under control is critical. I support raising the federal minimum wage and making it more like Montana's, which automatically adjusts for inflation.
As President Trump raises tariffs on destination countries for U.S. farm products, Montana agriculture is has a lot at stake. In China, progress in exports of Montana wheat and beef has been impacted. In India, where trade talks stalled this week, American pulse crops are now facing tariffs up to 66 percent in retaliation over U.S. tariffs on steel, aluminum and most recently the loss of duty free status for 50 India exports. Montana is the nation's largest producer of pulse crops, for which India is the world's biggest buyer.
Do you support President Trump's approach to trade? What steps would you support to protect Montana agriculture from trade wars? The president has asked farmers to be patient as new trade agreements are reached, assuring that a little economic pain will be met with bigger trade wins in the future. How long of a wait for results is too long?
Gianforte: Montanans sent me to Washington to put Montana first, and that's what I'll continue to do. When President Trump announced tariffs that could impact Montana agriculture, I reached out to our farmers and ranchers, and I listened. I took their concerns directly to President Trump. I emphasized the importance of free and fair trade with foreign markets that are open to Montana ag products. Since day one, I have been a strong, consistent voice for trade disputes to end and for tariffs to be short-lived.
There have been promising developments. We're beginning to see new trade deals with the European Union, Canada and Mexico that benefit America.
Having a seat at the table with President Trump allows me to speak with the president frankly about issues important to Montana and to advocate for our interests. That seat at the table is more effective than any letter could be.
Williams: Agriculture is our heritage and a top economic sector. It's been my honor and pleasure to work with farmers and ranchers in Montana and across the West in my personal career. Montanans should be able to stay on the land or go back to the land if they choose. I support fair trade, but this escalating trade war is hurting our producers and markets. It's driving up prices for our businesses and for hardworking Montanans.
Tariffs on steel and aluminum are driving up prices on bins and rebar, increasing costs for bridges, schools and libraries. Montana's working families can't afford Congressman Gianforte's lack of leadership much longer.
Montana worked for 50 years to develop a wheat strain attractive to Japan. There has been much work to foster beef exports to China. Mexico is looking elsewhere for barley. Soybean farmers are suffering losses that are in no way made up for by proposed government hardship payments. There are challenges to finding purchasers for durum wheat. We need to do foreign policy with a scalpel instead of a sledgehammer. When we lose market share, it's really hard to get it back.
Congressman Gianforte isn't watching out for farmers and ranchers. He had a chance to sign a letter with 107 other members of his caucus, urging caution over the trade war. He didn't sign it. Since, he's talked about "bending the President's ear" while aboard Air Force One, but no solutions have been offered.
And, this significant level of foreign economic policy decision-making is Congress's job. They have gradually abdicated that responsibility over many years. A bill that would have required Congress to approve tariffs never even made it to Committee. We need leadership in Congress, and a representative that will stand up for Montana.