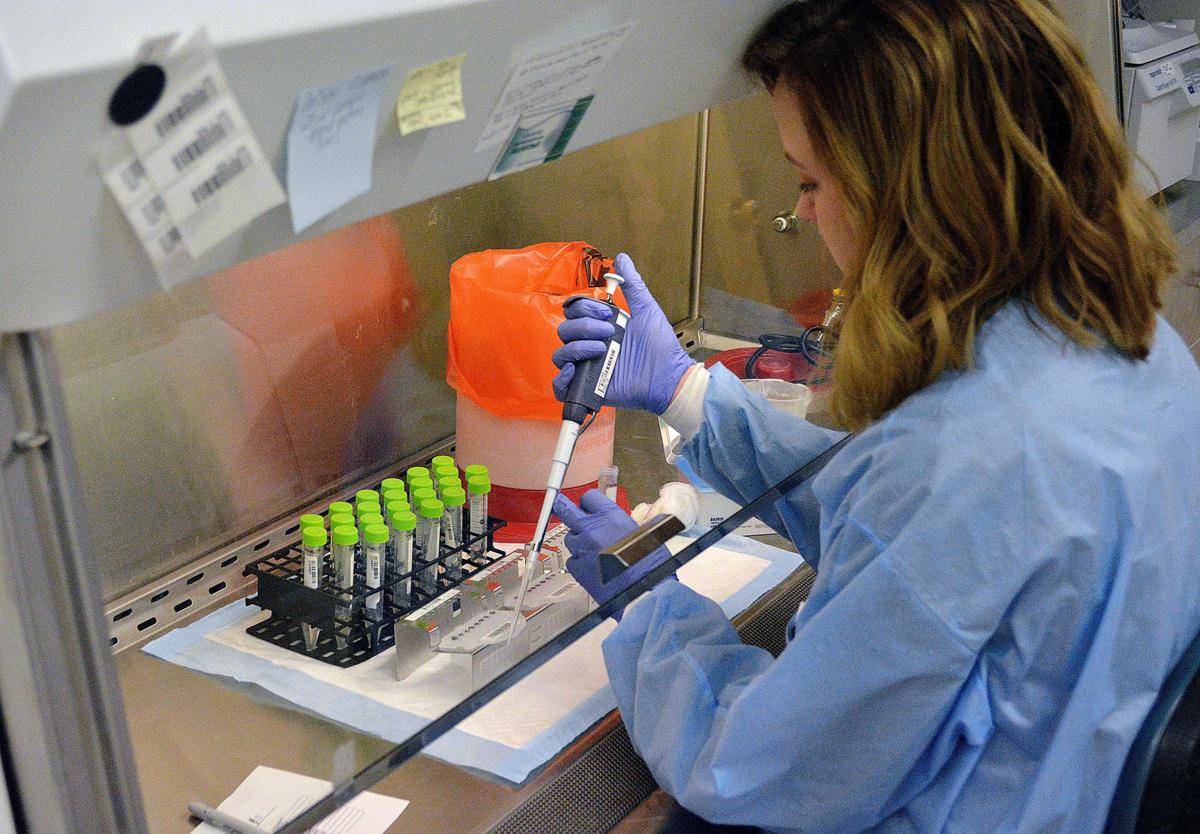 As the novel coronavirus solidified just how much governors can determine the fate of their states, the already high-profile contest to see who becomes Montana's next leader feels more critical this year.
The candidates running will face, if elected, what's expected to be a dire revenue picture when proposing their first biennium budget. He or she could be sworn into office during another wave of the virus, leaving them to weigh what measures are necessary to protect Montanans' health while balancing effects on the state's economy.
On both sides of the aisle, each of the men and woman running say they've got the best approach to steer Montana forward.
The governor's seat is open as Democratic Gov. Steve Bullock is termed out from running again. After closing down public K-12 schools in mid-March and later implementing a month-long stay-at-home order, the governor at the end of April moved the state into the first phase of a gradual reopening.
The restrictions dramatically slowed the spread of COVID-19 across Montana and, Bullock said, has given hospitals, public health workers and more time to prepare for a possible future spikes in cases. But they also severely affected the state's economy, with nearly 86,000 people applying for unemployment benefits. Businesses in the state have received more than $1.7 billion from the Payroll Protection Program.
Republicans
In the Republican primary, state Attorney General Tim Fox, U.S. Rep. Greg Gianforte and state Sen. Al Olszewski are squaring off.
Fox said while quick actions put the state in a good position, he's heard from county commissioners, mayors, public safety officers and others who feel like they were excluded from decision-making and said he'd include more voices in crafting directives if elected.
Fox also called for a study of how the state's response worked this time around, to see what went well and what could have been done better
While it's already clear the coronavirus will have a severe effect on the state's budget, Fox would focus on funding things he says the state has a moral obligation to pay for, such as providing for the needs of the most vulnerable citizens: those who are disadvantaged, disabled or disenfranchised.
"While there will be some tough budget decisions to make in the next legislative session, one of the things that concerns us most at this moment is the lack of mental health services in our state and at at time when mental health issues have risen to the forefront in such a challenging way because of this pandemic," Fox said.
Moving into the new normal, Fox wants to find a way to continue to tap the benefits of a tourism and recreation economy in Montana, citing the benefits those travelers bring to local revenues.
"We need to leverage the things that make Montana so attractive, and that includes our people who are the best in the world at hospitality and welcoming visitors," Fox said. "There's much more that state government can do to leverage that and assist those in the tourism and outfitter and guide industries to capitalize on the day that our outdoors are open again."
Gianforte said if there's a silver lining to the pandemic, it's that people are learning they don't need to be at an office to do their jobs and can work remotely. He plans to offset significant revenue challenges by trying to increase the number of people with high-paying jobs in the staying by recruiting former Montanans to move back with their careers in tow.
"We should be aggressively recruiting Montanans to come home and bring their jobs with them," Gianforte said. " ... The only solution is a vibrant economy. The reason I'm running is to create more good-paying jobs."
Before his first run for governor in 2016 and 2017 election to the U.S. House, Gianforte founded RightNow Technologies in Bozeman. He said that taught him much of business is about uncertainty, and that he'd be prepared to deal with an uncertain economic landscape again in the governor's office.
When crafting his first budget, Gianforte said he would count on building a vibrant private sector but also freeze spending. He'd also like to lower taxes, but said that may be a challenge immediately given the coronavirus.
"I'm an optimist, and I think there are ways to grow the state revenue without raising taxes," Gianforte said. That could also include the state prudently approving natural resources projects.
If Montana were to see a second wave of the virus, Gianforte he'd work to balance public health concerns with economic ones. Gianforte also said that he would look at a more localized approach to stay-at-home orders.
"Not all areas of Montana have been affected in the same way," Gianforte said, adding that he's spoken with local officials in counties that haven't seen any COVID-19 cases.
"Clearly they could start opening up more quickly than some place like Bozeman," Gianforte said. "I don't think a one-size-fits-all approach makes sense."
Olszewski said that his experience as a flight surgeon and rapid mobility trauma surgeon in the Air Force has given him the tools to respond in a crisis.
"As an Air Force officer, I was trained to make decisions and how to adapt and then quickly make new decisions if necessary when dealing with uncertainty," Olszewski said. "We don't have all the information, so you just don't make one decision and then that's it. You have to be vigilant, and if you make a command decision, you have to follow it and if you see unintended consequences you need to adapt quickly."
Olszewski said that he expects there to be later waves of the disease, and while he understood the need for the initial stay-at-home order, he wanted to see the state reopen faster than it did.
"One of the things that we need to do and we need from government is to make sure that we balance our freedoms and our constitutional rights along with the public health, welfare and safety of our state," Olszewski said.
As a state lawmaker, Olszewski said he also has seen bad examples of how to cut the state's budget in the face of low revenues, such as in the 2017 special session.
"We can't cut government like we did last time," Olszewski said. "We're going to have to prioritize what's essential in the Legislature. I believe that we're going to have to have a serious discussion about opening up the coal trust fund for this once-in-a-lifetime rainy day and then close it and heal it." Fox has also said he would consider tapping the coal severance tax trust fund.
The coronavirus and its potential challenges to the state's health care system have led Fox and Gianforte to say they now support the state's Medicaid expansion program, while Olszewski still would like to see it replaced and repealed.
Democrats
On the Democratic side, Lt. Gov. Mike Cooney is running against Missoula businesswoman Whitney Williams.
Cooney, who has spent his career in government, has emphasized in his campaign that he has the experience that makes him ready to lead the state through a crisis. As lieutenant governor, he's been a part of the Bullock administration's decisions he says have given the state "guidelines on what we need to either continue to do or what to expect" in the future.
"Until there's a vaccine, the virus is going to continue to be with us, and we need to anticipate that," Cooney said.
If elected governor, he said he would continue to aggressively prepare the state by continuing to fight for enough medical equipment, personal protective gear, testing supplies and more.
"When it does flare up again, which we hope it doesn't, (we need to be) prepared and not scrambling and competing against other states looking for the equipment and the materials that we've had to scramble for this period," Cooney said.
Being ready to avoid spikes in cases, Cooney said, is also a good defense for the state's Main Street businesses by creating scenarios where they can continue operating.
When it comes to crafting a budget, Cooney said he would prioritize essential services.
"We have to live within our means," Cooney said. "Even under tough times, I think it's very important the state put itself in the strongest financial position, and we have to be fiscally responsible."
During the Bullock administration, the state has built up a beefy rainy day fund Cooney said puts Montana on solid ground.
"That's one of the reasons right now we've been able to weather the storm better than a lot of states are, because we put ourselves in a better position," Cooney said.
Williams has worked to contrast herself with Cooney by saying she has the experience from her business career that has equipped her to rebuild communities after disasters.
As the founder of Williamsworks, Williams has brought together philanthropists and major companies to back recovery efforts in countries around the world. Following Hurricane Maria in Puerto Rico, for example, her company connected financial backers and coffee giants like Starbucks and Nespresso to get farmers back on their feet and guarantee a market as their crops matured.
"I've helped dozens of communities around the world rebuild after these disasters, and I would bring the same sense of energy that I've brought to those projects to rebuild Montana's economy," Williams said.
To handle future possible outbreaks, Williams said Montana should be watching other states' and countries' experiences with reopening parts of their economies and daily life to glean lessons about what works well and what doesn't.
Williams said her professional experience has also taught her how to navigate tight budgets. "We have to question every single expense and make sure every penny of hard-earned taxpayer dollars are spent wisely," Williams said.
The state can do a better job, Williams believes, of enforcing some of its existing tax laws and finding ways to have wealthy out-of-state people who buy property in Montana contribute more to the economy here.
Williams said the state needs to prioritize public health and safety, along with providing a high-quality public education. She said statewide public preschool, which failed to pass in 2019, is an economic issue for families that will be highlighted in the upcoming legislative session. It might get more attention and support this time around because of the coronavirus, she said.
"There is opportunity that comes out of these crises," Williams said. "I always see silver linings."
Get Government & Politics updates in your inbox!
Stay up-to-date on the latest in local and national government and political topics with our newsletter.