Without a hitch, for 14 years Congress has reauthorized the tax breaks for Indian coal. Not anymore.
House lawmakers voted June 20 to leave the Indian Coal Production Tax Credit out of its package of "tax extenders," the method by which representatives resuscitate tax deals nearing expiration.
The credit of $2.43 per ton is intended to attract mining wherever American Indians own coal, which isn't many places. Montana's beneficiary is the Crow Tribe, which accepts royalties on 7.5 million tons of coal dug annually from the open-pit Absaloka Mine in southeast Montana.
The Crow, who have lost millions in income as the U.S. coal economy craters, say losing the tax credit will only make matters worse. In a Thursday letter to U.S. Sen. Steve Daines, R-Mont., Crow Tribal Chairman A.J. Not Afraid asked that the tax credit be made permanent.
"The most critical support that the federal government can provide to us is to make the ICPTC permanent," Not Afraid said in the letter. "As you know, the ICPTC levels the playing field for Indian coal, helps to create high paying jobs and incentivizes our industry partners to make the kinds of large-scale investments that are needed in Crow."
A tribal spokesman told the Gazette if the tax credit ends, the loss would be felt beyond the Crow Reservation as regional spending associated with Absaloka Mine declined.
In the Senate, Daines obliged Not Afraid with a bill proposing the permanency the tribal chairman wants. A similar proposal was introduced by Greg Gianforte in the House.
But with Democrats in the House majority and the Indian coal tax credit already cut out of House tax break plans, reviving the credit for Indian coal isn't a sure bet.
The Indian coal tax break was amended out of renewal last week by the House Ways and Means Committee. Rep. Lloyd Doggett, a Texas Democrat, proposed ending the credit, which the committee did on a voice vote. Neither Doggett's office, nor the Democratic Ways and Means Committee office responded to Gazette inquiries about the decision to drop the tax credit.
A source familiar with the markup said Doggett's amendment was a surpise. Doggett argued that Congress shouldn't subsidize fossil fuel. There were 30 different tax credits expiring. The Indian Coal Production Tax Credit was the only one amended out by a Democrat. There were Republican committee members who sided with Democrats because as policy conservatives they generally oppose temporary tax schemes.
Montana Republicans have been bullish on Indian coal for years. It was Daines during the President Obama era who added a Native twist to the Republican accusations of a "war on coal," recasting it as "a war on coal is a war on Indian families."
The senator's message worked at least with Crow Chairman Not Afraid and some tribal leaders. Vice Chairman Carlton "Duke" Goes Ahead met with Vice President Mike Pence at Absaloka Mine in 2017, where Pence announced "the war on coal is over." Daines and then-Interior Secretary Ryan Zinke, a former U.S. representative from Montana, were in tow.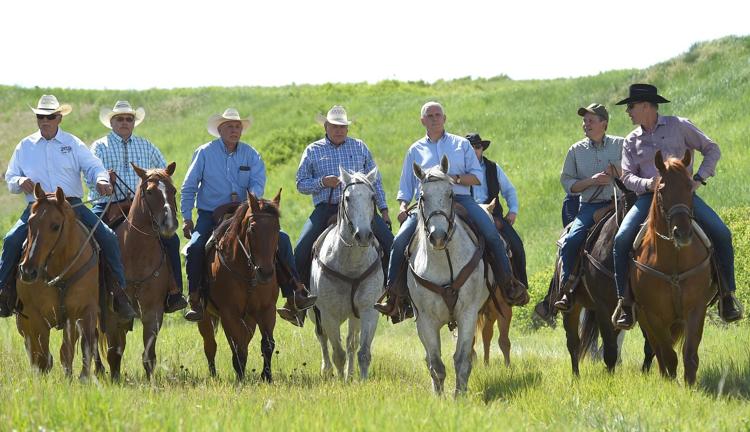 In 2018, there were Crow Tribe members on national television standing in ceremonial headdress behind President Donald Trump as he rallied support for Republicans Rep. Greg Gianforte and Senate candidate Matt Rosendale.
Montana's seven Indian reservations have been solid supporters of Democratic candidates, who have often found narrow victories combining those votes with strong support in a half-dozen urban counties.
There was outrage among the Crow in 2018 as Not Afraid endorsed Rosendale and Gianforte. Other tribal leaders insisted Not Afraid spoke for no one but himself. The Crow Tribe's Legislative Branch said the Crow officially endorsed neither candidate.
Daines is up for the re-election in 2020. His support for the Indian Coal Production Tax Credit dates back to 2013 when he served in the U.S. House.
"This is about bringing economic opportunity and jobs to Indian Country," Daines said, leading up to the introduction of his bill to make the tax credit permanent. "This tax credit will create good, high-paying jobs, generate vital local tax revenue to support essential services, and promote tribal self-determination and energy independence."
You have free articles remaining.
Keep reading for FREE!
Enjoy more articles by signing up or logging in. No credit card required.
Gianforte said in an email after introducing his version of the Indian coal bill that he is proud to carry the bill.
"The Indian Coal Production Tax Credit benefits the Crow Tribe, its members, and the people of Montana. I am proud to introduce legislation to permanently extend the tax credit, support tribal development, and help strengthen Montana's economy with good-paying coal industry jobs," said Gianforte, who is a Republican candidate for Montana governor in 2020.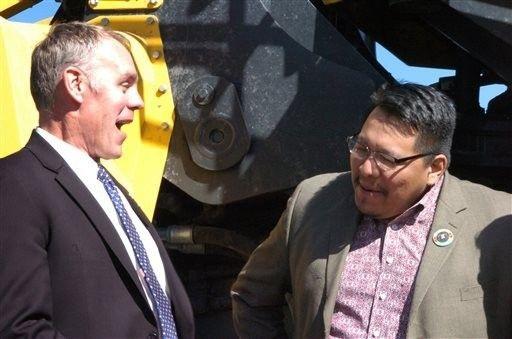 Republicans haven't cornered the market on supporting Crow coal, though Tester hadn't signed onto the bill when filed Thursday. In 2017, Sen. Jon Tester, a Democrat, and Daines introduced the bill to permanently extend the tax credit. Tester's staff pointed out Thursday that in 2015, the extension of the Indian Coal Production Tax Credit was tucked away in the Bipartisan Budget Act. Tester voted for the bill, which also avoided a government shutdown. Daines opposed the budget bill, which was unpopular with conservatives.
Montana's longest serving senator, Max Baucus, supported the tax credit from its beginning in 2005 until he left office in 2014.
But the tax credit is no longer an incentive to mine Native American coal. Rather, it's been baked into coal sales for more than a decade. If the credit goes away, the lost savings has to either be recovered from the consumer through increased coal prices or accepted as a cut in revenue by the mining company, Westmoreland Mining LLC. Neither Westmoreland, nor the buyer of Absaloka coal are doing well.
The mine emerged from bankruptcy this spring as creditors of the Westmoreland Coal Co. took over the company's secured assets and began operations as Westmoreland Mining LLC. Gazette calls to the new entity's headquarters were not returned this week. At one point, a keypad search of the office directory forwarded a call to Kemmerer Mine in Wyoming.
At least twice in the past four years, the Crow Tribe has been asked to take a revenue cut to keep the mine operating, including in 2016 when Westmoreland gave two month's notice that Abasloka mine was shutting down if its payments weren't reduced.
The Crow Legislature agreed to lower Westmorland's payment of the Tribal Severance Tax by 85 cents a ton. It then agreed to cut the amount Westmoreland paid in the Tribal Gross Proceeds Tax by 40 cents a ton.
Tribal leaders obliged, creating a $10 million drop in revenue that resulted in mass layoffs within tribal government, but the mine survived, as did the 150 mining jobs that on average paid about $75,000 a year to each Crow miner, though there have been job losses since then.
The Crow Tribe Legislative Branch posted a notice in February that another cut was being considered to keep the mine operating. Whether the cut was made was never disclosed.
The mine supplies coal to Minnesota's Sherburne County Generating Station, which will retire one coal-burning unit in four years and a second in seven.
The region's coal economy is struggling, having just this year seen Westmoreland and Cloud Peak Energy in bankruptcy. Multiple coal-fired generating units are targeted for closure, including four in Wyoming, three in Montana and two in North Dakota.
Seth Feaster, an analyst at the Institute for the Ohio-based Energy Economics and Financial Analysis, said a tax credit isn't going be enough to stop coal's economic slide.
"It's really hard to see how Absaloka is going to survive too much longer, given the restraints on the mine," Feaster said. "You can see what's happening in the rest of the Powder River Basin, the Arch-Peabody merger, two of the largest mines in the country, if not the world. You would think those mines would be competitive, if for no other reason than economies of scale."
In Northeast Arizona, where Peabody Coal has announced the Aug. 12 closure of Kayenta Mine, Navajo Nation and the Hopi Tribe are looking a million dollar revenue losses. Those Natives, who have also used the Indian Coal Production Tax Credit, are turning to solar power for which a production tax credit is being teed up. The Crow would be wise to transition, too, Feaster said.
As tax breaks go, the Indian Coal Production Tax Credit has had a modest drag on federal revenue, about $33 million in 2017, according to the U.S. Congress Joint Committee on Taxation, in part because there aren't many Native American tribes with coal mines.