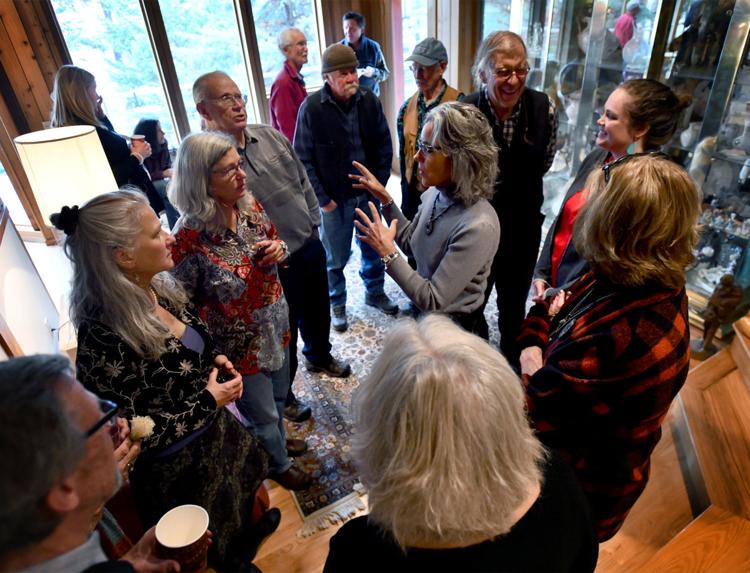 EUREKA — It was getting late after a six-hour drive and Kathleen Williams was starting to wonder how many voters in this remote northwest corner of Montana would turn out to support a Democrat running for Congress.
There's MAGA hat red and then there's Lincoln County, a place Donald Trump won 72.4 percent of the vote. You can see NAFTA from here, 8 miles to the north in the thick, British Columbia forest steadily being milled into Canadian softwood lumber. There are two hard rock mines in the works and the battle over them is often framed as pro-mineral conservatives versus liberal environmentalists.
Enter Williams. True to her pledge to meet with any Montanan, anywhere, she's packed her German wirehair, Danni, and a campaign staffer into a cramped car to make the 766-mile roundtrip from Bozeman. When she's asked to come, she comes, Williams explains.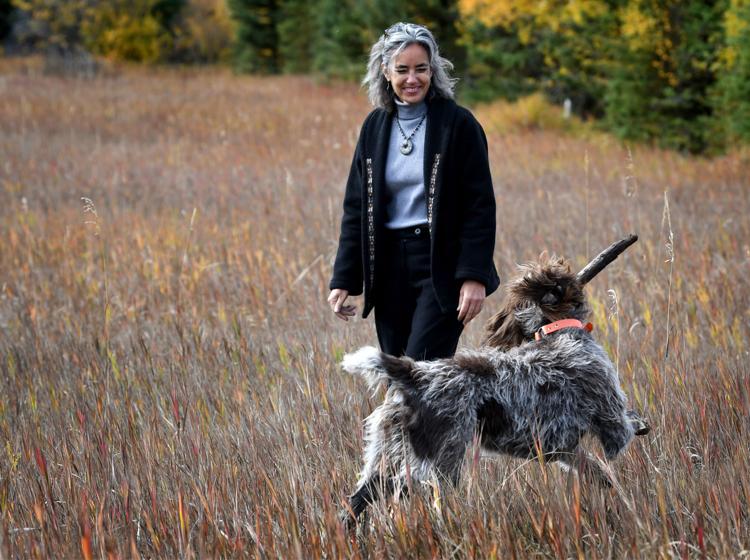 "We try to go wherever we're invited. Sometimes the logistics are hard, but we do our best," Williams said. "In the primary, we went from Troy on a Tuesday night to Sidney on a Thursday night to Miles City and Billings," a 1,457-mile round trip from Williams' home in Bozeman. There are 42,000 campaign miles on her hybrid car, thousands more on the pickup and slide-in camper that have become a rolling billboard for her campaign.
Now the exit to the 2018 midterms is coming into view. Absentee ballots have been mailed to voters. Soon, Williams will know if she's Montana's first female congresswoman in 77 years.
The Democratic Congressional Campaign Committee in mid-September added Williams to its "Red to Blue" list of top-tier candidates. Only 18 percent of the party's 435 candidates make the list, and Williams is one of the few from the Rocky Mountain West. She's raised $2 million in the past three months. Her individual donors, she said, number 14,000.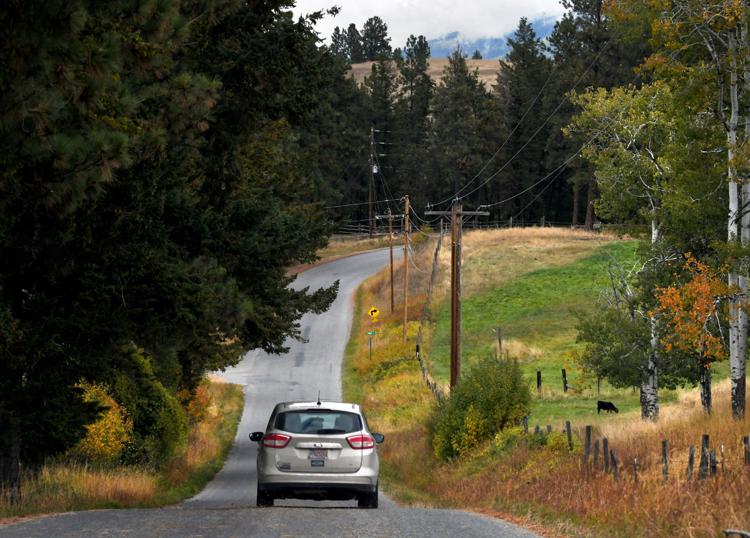 "Her advantage is that she's a very effective retail campaigner, more than many on both sides," said Jeremy Johnson, political science professor at Carroll College.
Williams' ability to rustle up votes in places where Democrats don't usually bother is what's making Montana's House race interesting, partly because those are the very places Gianforte previously underperformed. When he ran for governor unsuccessfully in 2016, he won reliably Republican areas like Eastern Montana and ruby red Flathead County, but it wasn't enough. In Lincoln County, anchored by Eureka to the north, those same voters who gave Trump 72.4 percent of the vote gave Gianforte 60 percent, meaning that 1,001 Trump voters in Lincoln County didn't go two races down the ballot to fill in the circle beside Gianforte's name. They did however give more votes to every other Republican running for statewide office. If that weakness in rural areas still dogs the incumbent, Williams' strengths could fit it like a key in a lock. If not, Republicans will extend their 24-year winning streak with the seat.
Williams is relying on five priorities to get her within spitting distance of the incumbent: fixing the health care system and lowering prescription drug prices; protecting the public path to college education and retirement; and protecting Montana's environment and outdoor heritage. Another one is returning integrity and civility to a broken Congress. She receives big applause for that last one from audiences.
"My fourth priority is returning stability integrity, stateswomanship (in my case) to a broken Congress. It is so close to broken," Williams said. "And we can do that. I did that in the (Montana) Legislature."
Some of those Republicans with whom Williams served have made cameo appearances in campaign ads, at least until buckling to partisan pressure and asking to be edited out.
There are community-specific priorities, too. Williams keeps a running list of local concerns given to her in every community in which Williams stops. She writes them down in a hymnal-sized Chickadee notebook, along with the name and contact information of the people who raised the issue. Williams is on her second book, and it's filling up fast.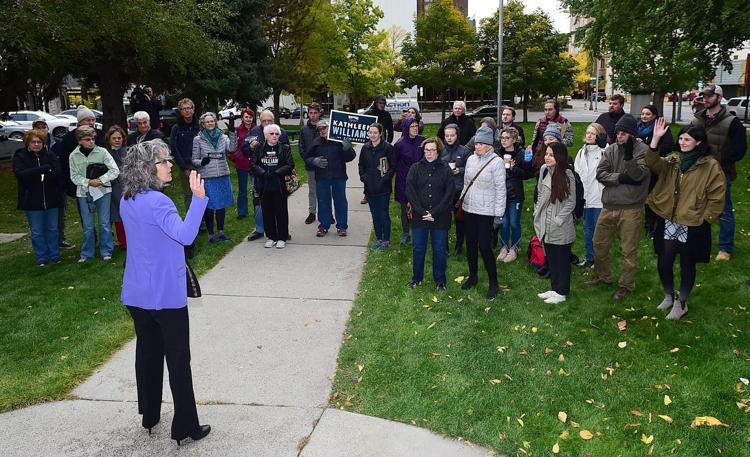 En Route to Eureka, the candidate rattles off the federal issues unique to each stop — an irrigation project crucial to Sidney sugar beet farmers, a levee to gird Miles City from flooding. Williams talks about the particular varieties of wheat Montana has developed to compete in Asian markets and why good foreign trade is crucial to ensuring that effort pays off for Montana agriculture.
The issue coming into view as Williams rolls up a driveway to her Eureka stop is health care. There is a giant yellow school bus from Libby parked at the front door of Ursula Pappas' home. Pappas is the host for the Eureka fundraiser. There are people inside worried about what happens to Libby, where a few thousand people have been sickened or killed from asbestos-related diseases, as Congressional Republicans retool insurance rules for people with pre-existing conditions.
You have free articles remaining.
Keep reading for FREE!
Enjoy more articles by signing up or logging in. No credit card required.
Libby's health crisis is 20 years old, but people are still dying from asbestos-related illness. In August, President Trump's Environmental Protection Agency suggested allowing businesses to explore new uses for asbestos, based on "best available science," but without considering lessons learned from Libby. The move has Democrats here shaking their heads.
"What I hear most broadly, most deeply, most urgently is that we need to fix our health care system. There are people on the individual market that are paying $2,000 a month with a $10,000 deductible. That is bankruptcy, right?" Williams asks the crowd inside. "That is totally unacceptable, and they're dropping their coverage."
Williams gets her biggest applause of the evening for making health care a top priority. In the gathering of 100 people, smartphone screens light up as the candidate prompts voters to find her detailed health care plan online. Among the highlights is giving people 55 and older the option of paying a government-set rate for Medicare coverage until they fully qualify at age 65.
Knowing about the 57-year-old's life experiences helps explain her platform. Williams was 11 when the undertow of Alzheimer's began to steal her mother, Maria, who was only 49.
When Williams talks health care she does so as someone who as a child pedaled through streets looking for a parent lost to the world.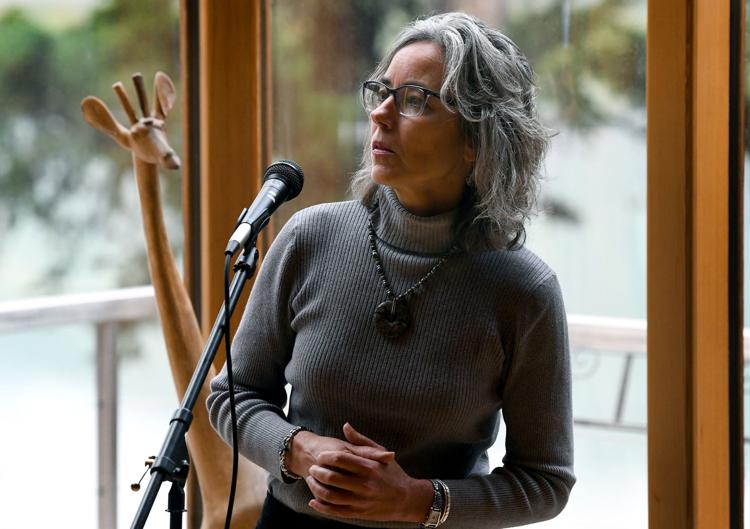 Williams is widowed. Her husband, Thomas Pick, died unexpectedly in Beartooth Wilderness backcountry in early 2016. They were a conservation couple. Pick worked for the U.S. Natural Resource and Conservation Service, and spent three years in Iraq as an agriculture adviser on reconstruction. Williams worked as associate director for the Western Landowners Alliance. Water issues are her specialty.
In Eureka, one Libby man asks Williams how she feels about mining, whether she opposes it. Williams tells him she does not. There was a time when she worked on water issues for the state of Montana and before that for the Department of the Interior, trying to give nature an economic foothold on the balance sheets of oil, gas and coal projects.
"I'm not really pro or con mining. I'm for all kinds of good jobs we can attract and sustain in Montana, but many of us remember some mining companies walking away and leaving the taxpayers with the bill. So, we need to solve this problem."
It's not on her list of priorities, but Williams' position on gun violence comes up at every stop. She was quick to call for action on school shootings after the February massacre at Marjory Stoneman Douglas High School in Parkland, Florida.
Just days before Parkland, Williams and five other Democratic House candidates elicited groans at a candidate forum as they waffled through questions about gun violence.
After the shooting, Williams, a gun owner and hunter, changed her tune, saying it was time to address mass shootings, even if it meant limiting public access to rapid-fire weapons.
"I've been a champion for sportsmen and women in the Legislature. I'm endorsed by the Montana Sportsmen's Alliance," Williams said. "I've also talked to I don't know how many kids and parents that are terrified to go to school. And we need to be not afraid to have a conversation.
"But after the Parkland massacre, hearing everyone saying 'thoughts and prayers,' I thought we shouldn't just be doing that. It's a disservice."
To suggest she's a threat to anyone's Second Amendment right is just fear mongering, Williams said. The NRA is hot on her trail.
It takes grit as an elected official to face the public when there are people who disagree with you, said Mike Phillips, a former Montana legislator who has supported Williams for years.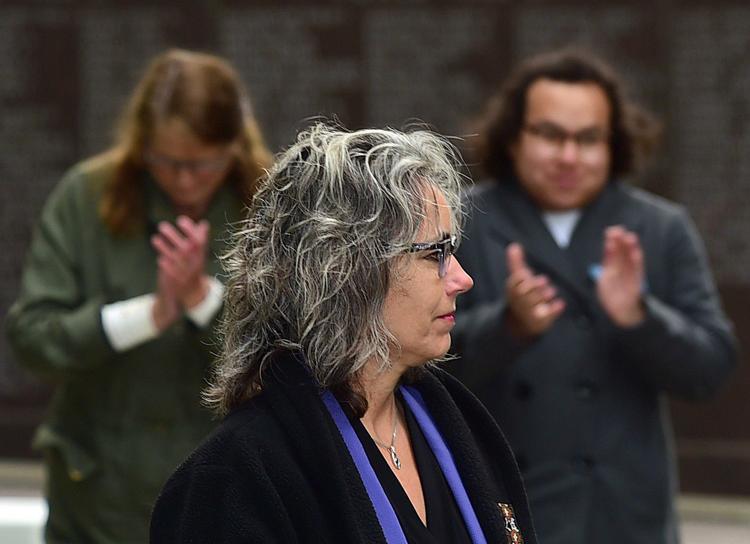 Phillips thinks Williams has that grit, but doesn't think Gianforte does. Like many Democrats, he still fumes about Gianforte assaulting a journalist the day before the 2017 special election.
"It's easy to serve when everybody agrees with you. Where your mettle gets tested is when they don't," Phillips said. "You have to say 'I will not dismiss you. You matter to me. I may disagree with you, but you matter to me. You assault people who don't matter to you. I don't think Kathleen would dismiss anyone, and that's a key characteristic of someone who serves the public well."