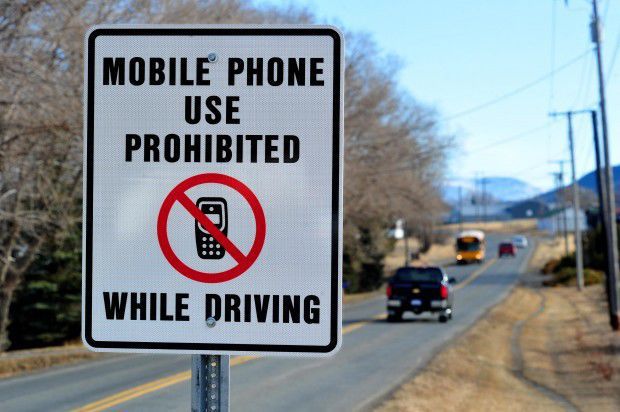 HELENA — Nearly every state in the country has banned the use of cellphones while driving to some extent, but not Montana. In fact, one legislator wants to take the state even further in the opposite direction.
On Tuesday, Rep. Jeremy Trebas, R-Great Falls, introduced House Bill 194 that would prohibit local governments from creating cellphone or texting bans. The measure would nullify ordinances enacted in numerous Montana cities, including Billings, Missoula, Great Falls and Helena. 
"I know unbanning an activity that is dangerous makes people uncomfortable," Trebas said. "I understand that being distracted while driving is dangerous. We are picking one small area of distracted driving and saying it's the worst form."
His main argument was that research has not yet shown bans to be effective in reducing collision rates, although he admitted distracted driving does increase the likelihood of a wreck and the bans have been shown to reduce cellphone use while driving.
The Montana League of Cities and Towns, State Farm Insurance, Montana Medical Association and public health experts opposed the bill. They argued bans are effective in reducing the dangerous behavior. Cities also argued that the bill would infringe on their right to local control and residents should be able to make decisions about their own communities without state interference.
"We're talking about local authority and local control," Ed Bartlett, a lobbyist for Billings, said. "We do believe it has had an impact."
Studies completed since the first ban in 2001 have generally concluded bans have no effect on crash rates, according to researchers at the National Institutes of Health, National Safety Council, National Highway Transportation Safety Administration and the Insurance Institute for Highway Safety. Some of those researchers have cautioned the available crash and insurance data might not accurately reflect the true incident rates because nothing at a wreck scene confirms whether a driver was using a phone and people are unlikely to offer up that information freely to police or insurance adjusters, especially if it's illegal activity. Some studies using insurance data focus on low-speed, low-severity crashes, where researchers say changes in crash rates from distracted driving should be easiest to spot. 
The first laws targeted phone calls made while driving. More recent laws focus on texting while driving, as federal statistics show texting makes a driver 23 times more likely to crash. Research also shows that bans decrease the number of people who use their phones while driving and how frequently drivers do so.
But so far, studies have not shown bans to decrease the number of crashes caused by drivers distracted by cellphones.
"Drivers are distracted by a lot of things," said Russ Rader from the Insurance Institute for Highway Safety. "The research we've done suggests that when they're not on the phone, they do other distracting things. Things like talking to passengers, scolding the kids at the wrong time, eating, drinking coffee. Singling out one very visible distraction and banning it doesn't address the whole problem. Even though you may get a substantial number of drivers to put down their phones, it doesn't seem to affect crash risk."
That's why, Trebas said, Montana should stop cities from creating bans.
"Bad drivers are still going to be bad drivers," he said. "We have to find a way to talk to them to change their behavior besides telling them not to do it."
He suggested public and behavioral health experts should take the lead and find effective ways to communicate the safety hazards of distracted driving.
Assistant City Attorney for Great Falls Joseph Cik presented an alternative reason for the inconclusive studies: Cities are still learning which types of penalties are most effective, especially as drivers' cellphone habits have changed in recent years.
"Recently, the city of Great Falls saw a dramatic increase in the number of tickets handed out in violation of our cellphone ordinance. More than 1,200 tickets a year (in 2016), almost triple the speeding violations handed out," he said.
The fines first approved in 2012 did not seem to be working to deter the behavior. Cik said officers were sometimes told by drivers "it was just the cost of doing business," implying they would not stop. As a result, the city council decided in November to change the penalties, increasing the fines and adding community service, loss of plates and loss of license as possibilities for subsequent offenses. Cik said Trebas was the only person to testify against the changes.
"While it may be understandable that a statewide ban might be unreasonable given that Montana is a vastly rural state, cities like Great Falls, Billings and Bozeman should be able to regulate their public safety needs," Cik said.
Great Falls Commissioner Bill Bronson said that cellphone bans are a more exact tool to combat this particular form of distracted driving. As written, current careless driving laws leave room for offenders to argue their cellphone use wasn't distracting and because the offense affects insurance rates drivers are more likely to fight it in court. He compared cellphone bans to drunk driving laws, noting they do not stop the behavior entirely but send a clear message.
"It's OK to have a social drink once in a while. It's not OK to drink and drive," he said. "We have very strong laws against drinking and driving. Do people still drink and drive? Absolutely. Have we been able to stop them from drinking and driving? Obviously, we have not. But we still hold that to be inappropriate behavior and we punish it."
Rep. Laurie Bishop, D-Livingston, echoed public health experts and worried that reversing bans would actually encourage more distracted driving, especially among teens who might see it as proof that texting and driving is not actually risky.
Several Republican members of the committee asked Great Falls representatives pointed questions about how much money the city makes in fines from their cellphone ban. Cik said he did not have the figures on hand and they would not capture the new fine structure, which he hoped will be better at reducing usage.
"Frankly, we're hoping our revenue is less under the new ordinance than it was before," he said. "The idea is to deter people from this specific type of activity, not just cite them and fine them."
No action was taken on the bill Tuesday in the House Judiciary committee.