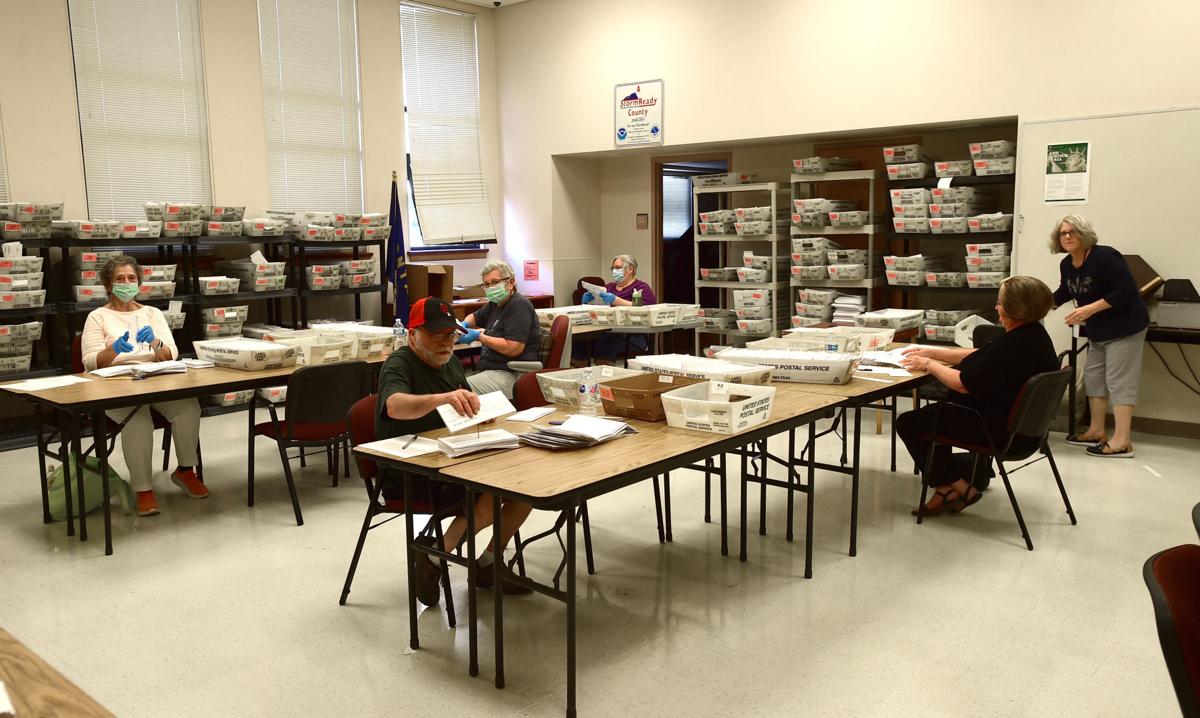 Montana's first mail-ballot primary election set records for participation and the went fairly well, but it would take a fall emergency to set up a mail ballot general election.
That's because there's no language in Montana law supporting a mail ballot general election. The exception would be another order by Gov. Steve Bullock giving counties the option of a mail ballot election to protect public health.
"It is too early to tell what, if any, steps will need to be taken in the general election to protect the public's health, while protecting the right to vote," said Marissa Perry, Bullock's communications director. "As he did in issuing the primary directive, Gov. Bullock will consult with county election administrators, public health experts, emergency management professionals, the Secretary of State, and political leaders from both parties to determine the safest way to proceed once more is known about how the virus could impact communities in the fall."
More to the point, said state Sen. Doug Kary, R-Billings, the governor's executive order that triggered the mail ballot primary has a July expiration date. Bullock would need a new, 120-day order to raise the option of a mail ballot general election.
The Bullock administration said Thursday that the governor's current emergency order will last as long as the president's. The normal, 120-day expiration rule doesn't apply.
Kary has a keen interest in the subject, as he was the most recent legislator to propose converting Montana to mail ballot elections.
Kary liked what he witnessed in Montana's first mail ballot primary. Voter participation was at an all-time high for a primary. At least 381,000 ballots were returned, according to the Montana Secretary of State's office, which posted a higher total return of 389,741 ballots in its daily count than it posted on its results page. Calls to the office Wednesday were not returned.
There were as many as 96,193 more returned ballots than in 2016, the previous high mark for primary participation.
There were a few glitches. A Yellowstone County District Court judge briefly ruled that ballots that reached elections officials after Election Day still had to be accepted if the ballots were postmarked June 2, the reasoning being that not everyone has easy access to mail service, particularly in rural areas and on American Indian reservations. The state Supreme Court later overruled the judge after Secretary of State Corey Stapleton objected.
"It performed like it should," Kary said. "There's some glitches in there. And the judge in Billings that ruled. That was totally wrong. If everybody gets a ballot, they had to pick it up at a post office box and they sure as heck can get it back to the that same spot. Evidently they get there now and then."
There have been several attempts to move Montana to mail-ballot elections. Kary sponsored the last attempt in 2013 after being approached by Montana's county elections administrators who have long wanted mail ballots, which local governments can already use for school board and county elections.
"Over the years, one time it was a Democrat who brought it, (and it) gets shot down by the Republicans. Next time a Republican brings it, (and it) gets shot down by the Democrats. I was probably the fifth one to bring a bill and it was shot down by our own party," Kary said.
The record shows that it wasn't just the Republicans who shot down Kary's bill. There were groups representing Native Americans who opposed it because on reservations not everyone has a mailbox. AARP testified mail voting would be too complicated for some seniors. And, Tea Party conservatives said they were concerned about voter fraud.
Elections officials came out strongly in support of mail ballots. Linda McCulloch, Montana's Democratic secretary of state at the time, said the mail ballot elections would be more affordable.
Kary thinks that opposition has changed some in the years that followed. One of the more high-profile opponents was Senate President Scott Sales, a Bozeman Republican. Sales was a Republican primary election candidate for secretary of state. When the pandemic hit, Sales was one of the first people to call on Bullock to trigger a mail ballot election.
Kary took some convincing, too. Yellowstone County Elections Administrator Bret Rutherford walked Kary through the process of how Montana's absentee ballots are handled. Those ballots are typically mailed in over the month ahead of election day. Kary saw the historical database of signature samples from every voter, which elections officials used to verify the signature on new ballots. If the signatures don't match, the voter is contacted to verify the ballot. Sometimes an irregular signature can be caused by a nerve condition, or a stroke. The point is the signatures are checked, Kary said.
Rutherford said the mail ballots made Election Day much easier. In Yellowstone County, were there was record turnout, there wasn't a line of newly registered voters still waiting to vote when polls closed at 8 p.m.
"I think the turnout speaks for itself, obviously," Rutherford said. "Statewide, a 54% turnout was pretty darn good for a primary election. It sounds like everything went well across the state. I know Missoula and Gallatin County hadn't fully reported as of this morning. I haven't checked on them in a while."
Missoula County Elections Administrator Bradly Seaman told Lee Montana Newspapers on Monday that he planned to stop counting ballots at midnight on Election Day and return to the job Wednesday morning, giving his staff a few hours sleep after a long day.
"That's part of our new law change that allows for the early counting. I think it's so important that our results are accurate, that we're going to make sure that after running from 7 a.m. to midnight, we all get a little rest and come in and finish strong," Seaman said.
Turnout in Missoula County was 53.4% according to the Secretary of state.
The ballot counting started Monday morning. As a result, Election Night reports were fairly complete by 11 p.m., maybe with ballots left to count, but clear voting trends established in races helped determine outcomes. The Associated Press was calling races decided in Montana's most high-profile elections as early as 10 p.m.
Get Government & Politics updates in your inbox!
Stay up-to-date on the latest in local and national government and political topics with our newsletter.