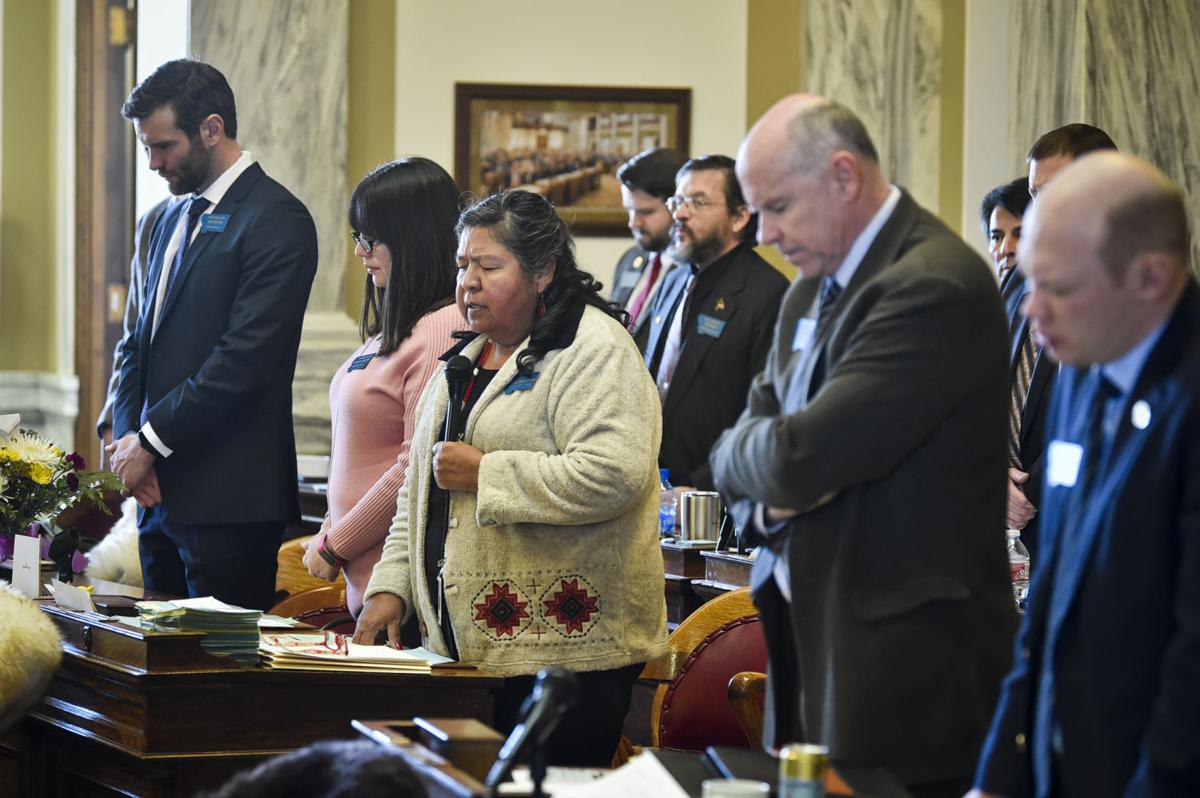 Lawmakers on Thursday heard three bills that would bolster the state's response to the missing and murdered Indigenous persons crisis, with backing from the new Montana Department of Justice administration.
Rep. Sharon Stewart-Peregoy, D-Crow Agency, presented the legislative package to the House Judiciary Committee on Thursday morning. House Bill 98 would extend the Missing and Murdered Indigenous Persons Task Force at the Montana Department of Justice, a House version of the same proposal Sen. Jason Small, R-Busby, pitched to a Senate committee a week earlier, but with an extension of the program's current grant funding mechanism.
In Montana, Native Americans make up roughly 7% of the state population but account for roughly 26% of the missing persons cases. Native Americans are four times as likely to go missing than non-Natives. Of those Natives who were reported missing between 2017 and 2019, nearly 80% are teenagers younger than 18 years old. Reported numbers are presumably lower than the number of people actually missing, Stewart-Peregoy said.
Stewart-Peregoy and a liaison for the Montana Department of Justice spoke Thursday of a case before the U.S. Supreme Court which could determine the reach tribal law enforcement has to investigate and gather evidence of non-Natives committing crimes on the reservation. Montana's response in recent years has taken on new urgency and become the national standard — even as tribal police wrestles with faulty enforcement from federal officials in court, as Small pointed out during the hearing — but more needs to be accomplished here, Stewart-Peregoy said
"We have our foot in the door, but we need to get into the room," Stewart-Peregoy said. "When we get into the room there's a whole lot of things that still need to be done." 
The MMIP task force's primary objective is to identify jurisdictional barriers, bolster communication and cooperation between agencies and increase reporting and investigation of missing Indigenous people.
House Bill 35 would establish a review commission that would be able to investigate into cold cases, armed with the resources developed by the task force and the ability to look through confidential criminal justice information. House Bill 36 creates a grant program to train community-based missing persons response teams who can get to work on MMIP cases without tripping over jurisdictional and organizational hurdles. 
No one stood Thursday to oppose the legislative package.
The nucleus of the state's response to the MMIP crisis is its task force with the Montana Department of Justice. Peregoy's proposal would extend the task force funding through 2023, just as its initial legislation in 2019 put it on the books through 2021. Rep. Kathy Kelker, D-Billings, told the committee Thursday she plans to bring two amendments for HB98: one would extend the task force through 2025, and the other would fund the task force indefinitely. 
Alan Doane is a former Republican lawmaker who chaired the House Judiciary Committee in 2019 and is now the legislative liaison for the Montana Department of Justice under newly-elected Republican Attorney General Austin Knudsen, also a former legislator. Doane disagreed with a further extension of the MMIP task force, saying he believed it better to revive the MMIP crisis publicly every few years before lawmakers, the public and the media. A closer management of the task force, he said, would also ensure it doesn't become "another department floundering away in a huge sea of government out there."
Doane did, however, offer support of all three bills, signaling the new Department of Justice is fully backing efforts to address the rate at which Indigenous men, women and children are killed or go missing.
"I want you to know that these bills, these cases, this issue is very important for the Department of Justice," Doane said. "They are at the forefront of our thoughts here."
The MMIP crisis is interwoven with priorities set out by justice officials, Stewart-Peregoy said, including drug trafficking, which translates to addiction and human trafficking. Drug traffickers find safe haven on reservations because of jurisdictional complexities there, she said. 
"A woman on the Crow Reservation, whose husband could not pay his meth bill, was taken and prostituted out to Mexico," Stewart-Peregoy said. "Eventually, she made her way back home."